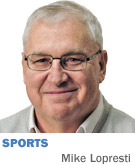 OK, so maybe the 101st running of the Indianapolis 500 doesn't have quite the ring to it as No. 100 did. Kind of like your 51st high school reunion.

But that was always going to be the challenge, right? Such a swell anniversary party they threw at the Speedway in 2016—big crowds, lots of hoopla and history, and a surprise ending, with a rookie from California in Victory Lane. Alexander Rossi's Cinderella story was so sweet, nobody in Indiana even cared that he's a New England Patriots fan. Now that it's May again, the glow has to spin forward, somehow.

So, is it? Mark Miles on the line, the president and CEO of Hulman & Co.

"The hundredth was an inflection point for us in the approach we took and the confidence we had that the community—and community means the whole state—would embrace it at a whole other level," he said. "Which we're building on for the 101st.

"We set an internal objective of trying to keep at least half of the increase from '15 to '16 for race ticket sales, and we're running well ahead of that. So if we hadn't provided a really good experience to year-in and year-out fans, to those who returned last year, and to those who came for the first time, we would be back to where we were in '15. It has had a lasting effect we can see this year.

"Pretty much everything you saw last time is happening again."

You want artwork on the side of the JW Marriott again? They have artwork on the side of the JW Marriott again. You want more sponsored porch parties? They have more sponsored porch parties. They have checkered flags on all the taxis.

They have an opera baritone—Jim Cornelison, known for his boffo national anthems for the Chicago Blackhawks—ready to belt out "Back Home Again in Indiana." They have a big A.J. Foyt display in the museum, and a new spectator mound inside Turn 4.

They might not have the number 100 as a hook, but they have enough landmark anniversaries to choke a Chevrolet engine.

Fifty years ago, the turbine came to the Speedway, and nearly wooshed its way to a runaway victory, until a $6 ball-bearing killed Parnelli Jones' chances on the 196th lap.

Forty years ago, Foyt won his fourth Indy, Janet Guthrie broke the gender barrier, Tom Sneva broke 200 miles an hour, and Tony Hulman saw his last 500.

Thirty years ago, Al Unser Sr. came into May with no sponsor and no ride, and left it with his fourth 500 title, winning in a car that had been on display in a hotel lobby weeks before.

Twenty-five years ago, Al Unser Jr. beat Scott Goodyear by .043 second in what remains the closest finish in history. On the same day, Foyt, Sneva, Rick Mears and Gordon Johncock all drove in their final Indianapolis 500s.

"Anything where you hope to capture the public's attention requires great narrative," Miles said. "I think our sport always seems to have them."

And this May, they even have something they didn't have last May: a Formula One world champion.

"If you were kind of looking for an extra shot of adrenaline for the 101st," Miles said, "this thing with Fernando Alonso and his decision to come has provided that, with a whole other level, particularly internationally, of focus and attention—frankly, bigger than the 100th, the way it feels right now."

A global giant like Alonso passing on Monaco to drive in Indianapolis? Boy, he must really like milk. Which is why Miles started this month of May not hunkered down on West 16th Street, but on a four-day blitz through Paris, Barcelona, Madrid and London. His itinerary sounded like the secretary of state's.

"Just use the occasion of the piqued interest in us to go tell them more about us," he said.

So there's all that. Not quite the aura of a centennial bash, perhaps, but buzz nonetheless. Which begged the question of how 2017 might be different from 2016 for the man at the top.

"On one level personally, I'm probably less stressed because, basically the team that was put in place that executed the 100th is there, and, if anything, slightly improved," Miles said. "So I know internally, the processes are in a much better place than two years ago, and that was proven last year. That takes a little bit of the angst out of it.

"But I know when it gets to be prime time in May, all the things that can happen and all the things that you have to be prepared for, from weather on down, will rear their heads. I'm sure in May it will be very much the same."

In the end, the difference between 100 and 101? At the Speedway, they're hoping it's 364 days—and not much else.•

__________

Lopresti is a lifelong resident of Richmond and a graduate of Ball State University. He was a columnist for USA Today and Gannett newspapers for 31 years; he covered 34 Final Fours, 30 Super Bowls, 32 World Series and 16 Olympics. His column appears weekly. He can be reached at mjl5853@aol.com.