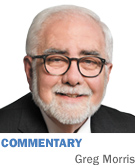 IBJ's sister publication, Indiana Lawyer, recently honored Hoosier attorneys with Leadership in Law awards. The program, in its 12th year, has recognized 360 lawyers for their commitment to serving their clients, their communities and their profession.

Members of the legal community were asked to nominate attorneys with a minimum tenure of 20 years who they feel have earned the title "distinguished barrister." These veterans have shepherded their firms, clients, companies and organizations through evolving markets and game-changing innovations in the practice of law. Their handprints are on case law and statutes that affect how we live and work in this state and world.

Nominees in the Up-and-Coming Lawyers category have less experience but demonstrate what it means to "hit the ground running." The significant impact they've made early in their careers should motivate all of us.

It was a privilege to honor them at a reception for all current and past Leadership in Law award honorees on May 9 at the Columbia Club on Monument Circle.

For the fourth year, Indiana University Maurer School of Law sponsored the Leadership in Law awards and reception. Many thanks to law school Dean Austen Parrish for his comments at the event and for the ongoing partnership.

You can read the profiles of this year's honorees and see past honorees online at www.theindianalawyer.com. In the profiles, one of the questions we asked honorees was, "Why did you become a lawyer?"

One of my favorite stories came from up-and-coming lawyer honoree Brian Weir-Harden. He was inspired to become a lawyer by his grandfather, a well-respected attorney in Indianapolis and Jackson, Tennessee. Brian recounted a story he was told, that his grandfather would carry his briefcase in one hand and a pistol in the other on his way to work to let the Jackson Ku Klux Klan know he was not to be messed with. I do admire a person who exercises his Second Amendment rights in the name of justice.

Individuals honored as Distinguished Barristers:

• Jamie Andree, managing attorney, Indiana Legal Services

• Judge Michael Barnes, Indiana Court of Appeals

• Judge Nancy Eshcoff Boyer, Allen Superior Court

• Douglas Brown, partner, Bose McKinney & Evans

• Lee Christie, partner, Cline Farrell Christie & Lee

• Julie Conrad, associate chief counsel, Eskenazi Health

• Jeffrey Dible, member, Frost Brown Todd

• Thomas "Buddy" Downs, partner, Ice Miller

• Thomas Froehle, chairman and managing partner, Faegre Baker Daniels

• Michael Harrington, senior vice president/general counsel, Eli Lilly and Co.

• Kenneth Isley, vice president/general counsel/secretary, Dow AgroSciences

• D. William Moreau Jr., partner, Barnes and Thornburg

• Karl Mulvaney, partner, Bingham Greenebaum Doll

• Martha "Marti" Starkey, partner, Harrison & Moberly

• Greg Zoeller, mediator, Van Winkle Baten Dispute Resolution, and former Indiana attorney general

Individuals honored as Up-and-Coming Lawyers:

• Jenai Bracket, senior associate, Frost Brown Todd

• Kayla Britton, associate, Faegre Baker Daniels

• Caitlin Byczko, associate, Barnes & Thornburg

• Colin Connor, associate, Plews Shadley Racher and Braun

• Amy Cornell, of counsel, Bose McKinney and Evans

• Trisha Dudlo, associate, Bamberger Foreman Oswald and Hahn

• Jared Haller, staff attorney, Indiana Legal Services

• James Hamstra, corporate counsel, MOBI

• Jonathan Knoll, associate, Cohen & Malad

• Erik Long, partner, Ice Miller

• Mallory Long, legislative counsel, Secretary of State

• Shelbie Byers Luna, associate, Drewry Simmons Vornehm

• Ryan Marques, associate, Faegre Baker Daniels

• Lauren Sorrell, senior associate, Krieg DeVault

• Brian Weir-Harden, partner, Barnes & Thornburg

Congratulations to Indiana Lawyer's 2017 Leadership in Law honorees. These lawyers are making a significant and positive impact on our lives and community.•

__________

Morris is publisher of IBJ. His column appears every other week. To comment on this column, send email to gmorris@ibj.com.