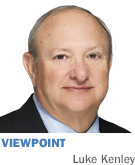 The Legislature just finished a very successful session with a good, balanced budget and passed a needed road funding bill designed to secure Indiana's road infrastructure needs for local and state government.
In spite of this significant achievement, one more element regarding road infrastructure is needed to make Indiana a successful state with appropriate road infrastructure.
Interstate 65, from Louisville to Chicago, and Interstate 70, from Richmond to Terre Haute, are the two roads most in need of expanded capacity for the safety of our traveling public and to enhance the state's business needs. We need to expand these two roads to six full lanes all across the state. In order to pay for this, we need to toll these roads. No other roads are in as poor a condition as these two, nor carry as much traffic. Tolling is not a viable concept beyond these two, but it is the best solution for these two roads. This follows our "user pays" philosophy.
The capital cost of improving these roads to six lanes is estimated to be $4.6 billion. About 38 percent of those who drive these roads are from out of state and don't contribute to the current maintenance cost, which is more than $100 million per year.
Under current federal law, adding one lane each way and improving every bridge to six-lane capacity provides authority for tolling.
The state could enter a public-private partnership with private industry and financial institutions with the following steps: 1) Build the roads. 2) Contract to maintain the roads for 30 years using tolling revenue. 3) Build an electronic tolling system that does not slow traffic. 4) Privately contract the tolling operation.
Estimates place the tolling costs at about 5 cents per mile for cars and 15 cents per mile for trucks. Discount credits for Indiana commuters could be given on Indiana income tax returns, and special rules would be developed for local traffic situations around metropolitan areas.
Using a model based on voluntary user fees is the fairest way to solve our problem. Travelers across Indiana would appreciate the fine roads and recognize that Indiana, once again, is a state that works.
Even if we start now, the first tolls would probably be implemented four or five years down the road. Gas-tax revenue is going to continue to diminish as federal fuel-efficiency requirements ramp up and people transfer to electric and hybrid vehicles.
In House Bill 1002, the Legislature asked the governor to investigate these tolling opportunities and to report back to the General Assembly. No actual tolling can take place without a review by the State Budget Committee, ensuring that oversight and consensus will be broad-based.
The Legislature, with the governor's approval, has developed a thorough plan for our future. We must not rest on our laurels but must continue to attack this problem with vigor. Tolling these two roads would go a long way in producing a successful program.•
__________
Luke Kenley of Noblesville represents District 20 in the Indiana Senate, where he serves as chairman of the Appropriations Committee.
Please enable JavaScript to view this content.