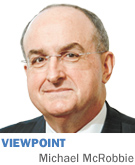 Indiana University has just concluded its annual spring commencement season, during which we awarded more than 20,000 degrees on our campuses across the state—a new record for our nearly 200-year-old university.
These graduates came from all 92 Indiana counties, and nearly three-quarters of them were state residents.
Among IU's newest alumni is Morgan Mohr, one of only 32 college students nationwide—and the only from a Big Ten university—to receive the highly prestigious Rhodes Scholar award. Morgan is also a home-grown success story: She is the former valedictorian of Kokomo High School.
Along with Indiana's other colleges and universities, IU is fully engaged in responding to the call to ensure an affordable and clear path to higher education, generate greater numbers of Hoosier graduates, and ensure they leave our schools with the skills and experiences they need to succeed in the workforce.
For Indiana to remain viable in today's ultra-competitive marketplace, it is critical that we fill our talent pipeline with highly skilled, smart, flexible and experienced workers who will thrive in an ever-evolving economy.
This means that, early in our students' academic lives, we must expose them to what it will take to meet the needs of our employers—particularly in those strategic sectors of the state's economy, such as information technology, public health and the life sciences—sectors we know will be vital to the growth of our state. We must also grow our students' global literacy, something our state's business leaders are increasingly seeking as they recruit and employ new talent. And we have to find new ways to motivate our students to stay and work in our state after they graduate.
Indeed, Indiana simply cannot afford to be a net exporter of talent, which is why we must be more strategic, deliberate and intentional in more effectively aligning our academic offerings to new and emerging areas of importance to students, as well as Indiana employers.
To this end, IU has recently established a large number of new schools and academic programs—in such key disciplines as art and design, international studies, media, philanthropy and public health—all designed to meet the evolving needs of our students and all based on a strong liberal arts foundation that has made American higher education the best and most admired in the world. This year, we launched a new engineering program at IU Bloomington, and in 2018 we will begin offering a master of architecture degree in the campus's new School of Art and Design that will have its primary focus on Columbus, an internationally recognized center for architecture. The architecture degree also anticipates a major state employment need. According to the Indiana Department of Workforce Development, employment of architects is projected to grow more than 20 percent through 2022.
We must also be more innovative, flexible, convenient and cost-effective in enabling more of our citizens to complete a quality college education. Through IU Online, which we launched five years ago to accelerate the development and delivery of leading online courses and programs at our campuses statewide, we currently offer more than 110 academic programs, including new bachelor's degree programs in applied health science and informatics that will start next fall. This year, IU had more than 27,000 students enrolled in more than 2,000 online courses, including more than 4,800 students in online degree and certificate programs. And currently, one in every four IU students is taking at least one online course, which reflects our students' strong need for expanded access to educational resources and flexibility in scheduling and mode of instruction.
Clearly, more work needs to be done statewide in graduating more and more highly skilled Hoosiers. There are still 1.4 million working-age adults in Indiana who have a high school education or less and another 750,000 who have some college experience but no degree or certificate.
But collectively, Indiana's colleges and universities are making very strong progress toward keeping the pipeline of talent in our state flowing, building a powerful workforce that meets our most critical economic development needs, and strengthening our proud culture of innovation and entrepreneurship.•
__________
Michael A. McRobbie is president of Indiana University.
Please enable JavaScript to view this content.