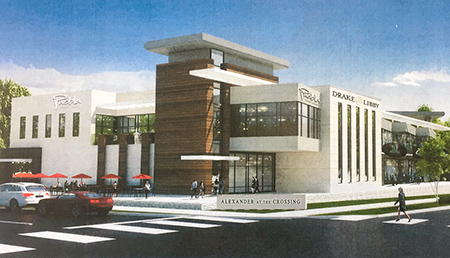 The 16 acres of woodlands along East 86th Street near Keystone at the Crossing is the last undeveloped property in the area—a sanctuary of sorts for residents living near the city's ritziest retail destination.
Stacey Clark wants to keep it that way.
"It's a little oasis," she said. "It's near all of the shopping, but it's tucked away."
Clark, 34, is among several residents in the adjacent Driftwood Hills neighborhood who have organized in hopes of stopping a local developer from tearing out the trees to make way for a big commercial project.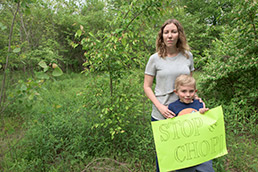 Stacey Clark, with son River, and other Driftwood Hills neighbors hope to stop the removal of trees for Keystone Realty's proposed development. (IBJ photo/Eric Learned)
An affiliate of Keystone Realty Group wants to build a $20 million, 60,000-square-foot office and retail building at the northwest corner of East 86th Street and North Keystone Avenue, just west of the Fashion Mall, and hopes to break ground this year.
The development, dubbed Alexander at the Crossing, would feature 30,000 square feet of ground-level restaurant and retail space, and 30,000 square feet of second-floor office space.
Keystone Realty, led by Indy Eleven owner Ersal Ozdemir, filed its plans with the city in December but has yet to present them to the Metropolitan Development Commission.
The developer has sought several continuances as it works to gain support from both the Driftwood Hills Neighborhood Association and the Nora-Northside Community Council, an umbrella organization of neighborhood groups in the area.
"We've met with Nora more times than any other developer," said Michael Patarino, a Keystone Realty senior vice president. "We want to build something for Nora."
Patarino
Keystone Realty is slated to present its plans to Driftwood Hills on May 25 and to the Nora council on June 1, to gather feedback before presenting final plans to the Metropolitan Development Commission.
Opponents of the development, including the Indiana Forest Alliance, are expected to attend the commission meeting in full force.
"We'll take our dog-and-pony show down to the Metropolitan Development Commission and voice our opposition," said Elizabeth Mahoney, president of the alliance's board. "Everybody's talking about smart cities and smart growth. This is dumb growth."
The Indiana Forest Alliance recently won a bitter battle to preserve an old-growth forest north of Crown Hill Cemetery where the Department of Veterans Affairs had planned to build a national cemetery. On May 5, the VA announced it instead would pursue a land swap and build the project on an adjacent parcel.
Ruth Hayes, president of the Nora council, said her organization's two biggest concerns with the development are the loss of trees and the additional traffic it would bring to the already-busy corridor.
"I think the developer has tried to come up with a building that will be a landmark building and not terribly intrusive," she said. "But we'll lose trees, and it will be more congested."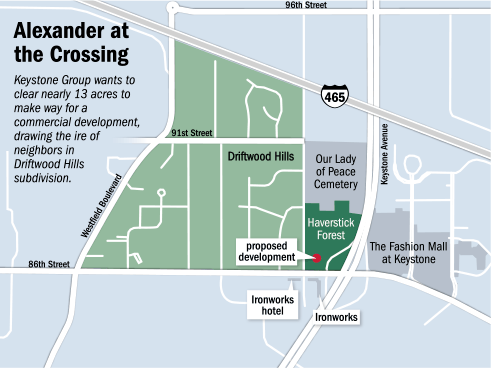 Keystone Realty is not the first developer to draw the ire of neighbors opposed to building on the property.
In 2006, Driftwood Hills neighbors fought a similar battle, suing the city after it approved a zoning change allowing developer Paul Kite to build a Whole Foods grocery, plus as many as 30 condominiums, on the site.
The Austin, Texas-based specialty grocery chain ultimately chose to open its first local store in Nora Plaza, to the west. Kite's project stalled when the Great Recession hit, wiping out the availability of financing for commercial projects.
Kite had a contract to buy the land from Gabriel, David and Abraham Farahan, brothers who also own Royal Gallery of Rugs in the nearby Shops at River Crossing.
Marion County assessor records show Keystone Realty affiliate Green Indy LLC paid the Federal Deposit Insurance Corp., receiver for the former Irwin Union Bank, $2.2 million in 2011 to buy the property.
Keystone Realty executives say they've met sporadically with the Nora council since then in an effort to present a project it will support.
"It is a better project for Nora [than the Kite proposal], because it reduces the footprint, saves trees, and generates less traffic," Patarino said.
With two, 30,000-square-foot levels, Alexander at the Commons would swallow up less ground than the Kite proposal. In addition, Keystone Realty plans to build an underground retention system, which would spare it from cutting down additional trees to accommodate an above-ground retention pond.
About 40 trees that are at least 10 inches in diameter would be removed to make way for the development. Keystone Realty has committed to plant eight times as many trees on the north side of the city to compensate for the loss.
A traffic study commissioned by the developer shows the project would generate 55 percent less traffic than would a Whole Foods grocery. Even so, Keystone Realty plans to add a turn lane to allow residents of Driftwood Hills to turn left onto East 86th Street without waiting for traffic from the Ironworks apartment and hotel buildings across the street to clear first.
Wisconsin-based Hendricks Commercial Properties developed the 120-unit Ironworks apartment and retail project and is building the adjacent 120-room hotel, scheduled for completion in September.
The property Keystone Realty wants to build on is already zoned for a 60,000-square-foot commercial building. But Keystone Realty wants to amend the zoning so it can move the building forward to front East 86th.
The building and 360-space parking lot would be constructed on nearly six acres, leaving 10 acres for potential future development. Keystone Realty has no plans to develop the rest anytime soon.
"Anything else we would do here would be years away," Patarino said.
Residents of Driftwood Hills and the Indiana Forest Alliance want Keystone Realty to donate the land for a park—a request Patarino said is "not reasonable."
Hayes of the Nora council said it's inevitable the city will support development of some sort on the site.
"So, the question is, is this what we want?"•
Please enable JavaScript to view this content.