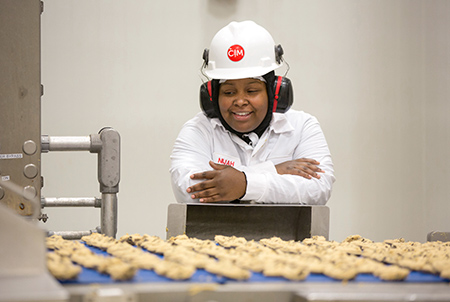 CraftMark Bakery LLC is a startup—but a mom-and-pop shop it's not.
The commercial bakery, which produces frozen bread dough and cookie dough and fully baked flatbreads for Subway and other quick-service restaurants, started out big and says more growth is on the horizon.
Formed in 2013 by three individuals and a Dallas-based private equity firm called CIC Partners, CraftMark invested an initial $78.3 million to build a 225,000-square-foot facility in the Purdue Research Park at AmeriPlex, near Indianapolis International Airport.
The facility was completed in November 2014 and started shipping products within three months. Originally built with three production lines, it has since added a fourth—and it's expecting to grow even more in coming months.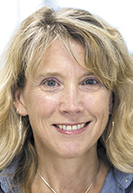 Rayo
"When you consider we have only been producing and shipping products for 27 months and have already added a fourth production room and are looking to expand the bakery later this year, it's pretty amazing," said Liz Rayo, CraftMark's senior vice president of marketing and innovation.
The planned expansion will add 113,000 square feet to the south side of CraftMark's existing building, giving it space for another three production lines. Based on business demand, the company hopes to begin construction by year's end, said Executive Vice President Jim Zakian.
CraftMark has 265 employees and will hire an additional 130 to 150 people once the additional lines are up and running, Zakian said.
So how did a startup establish such a big presence so quickly? An experienced leadership team, a big customer and strategic planning all played a role.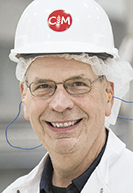 Zakian
The 12 members of CraftMark's senior leadership team have a combined 250 years of bakery experience—and several already knew one another.
Zakian, Rayo and CraftMark CEO Ahmad Hamade all worked together at California-based Otis Spunkmeyer, which was then an independently owned company.
Otis Spunkmeyer launched in 1977 as a cookie company with one store. It grew and morphed, and by 2006 was looking to go public.
According to filings with the Securities and Exchange Commission, Otis Spunkmeyer had four production facilities and 1,200 employees in 2006. Its net sales in 2005 totaled $336.3 million. That year, Subway accounted for nearly 16 percent of the company's sales. In August 2006, the two companies entered into a new agreement in which Otis Spunkmeyer would supply frozen bread dough to Subway franchisees.
Hamade
"We are the sole source cookie supplier to Subway in North America (through its franchisee purchasing organization) and have been named Subway's Supplier of the Year twice since 2000," Otis Spunkmeyer said in the SEC paperwork it filed as it prepared to go public.
Instead of going public, though, Otis Spunkmeyer was acquired. It is now owned by Switzerland-based Aryzta AG.
The transition from independent company to a brand within a corporation changed the working environment, Zakian said, and many top-level employees left.
Then, in 2013, Zakian and Hamade, along with partner Bennie Bray, teamed up with CIC Partners LP to form Specialty Bakery LLC. Subway became its first customer.
(The bakery changed its name to CraftMark last year, after a Pennsylvania company called Specialty Bakers LLC filed a trademark infringement suit.)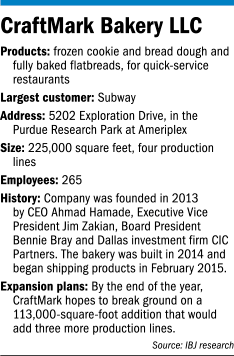 IBJ was unable to reach CIC or Subway to discuss their involvement with CraftMark, and CraftMark declined to disclose information on its financials, including annual sales or sales growth.
But on its website, CIC describes its investment focus as companies "in the $10 million to $500 million revenue range and within the food, restaurant, energy and healthcare services sectors."
CIC typically makes equity investments of $5 million to $50 million, and it can take either minority or majority ownership positions, the website says.
Starting up in such a large way, especially with private money, sets CraftMark apart from other bakeries, one local bakery owner told IBJ.
"I'd say it's uncommon," said Drew Taylor Allen, who co-owns Taylor's Bakery with his father, John, and brother, Matt.
Taylor's, which specializes in cakes, is a fourth-generation, family-owned business that has 70 employees between two locations—one in Indianapolis and one in Fishers.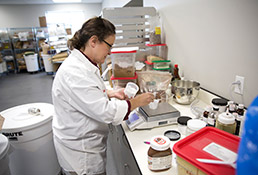 Michael Ort is a member of CraftMark's research and development team. The bakery develops and tests new products at its production facility. (Photo courtesy of CraftMark Bakery)
Most private equity firms wouldn't consider investing in a startup bakery unless it had already locked in a big customer, Allen said.
"No [investor] in their right mind's going to say, 'Hey, go try being a baker,'" he said.
Once Hamade and his partners determined to start a bakery, they scouted sites and settled on Indianapolis. CraftMark ships its products nationwide directly from the bakery, so Indianapolis' central location and its interstate access were big draws.
"For us, Indianapolis is an ideal place to start a new business," said Hamade, who moved from San Francisco.
Zakian designed the company's production facility, with food safety in mind. Each production line is in a separate room with its own air-handling system, which cuts down on the chance of cross-contamination from allergy-inducing ingredients. The plant uses sanitized plastic pallets rather than wooden pallets that could splinter. Robots mix ingredients and stack the boxed product for shipping.
The facility also develops and tests products on site.
As it's grown, CraftMark has received state and local financial incentives.
Last month, the Indianapolis Department of Metropolitan Development offered the bakery an eight-year tax abatement on $16.5 million in new equipment it expects to purchase by the end of this year. The City-County Council approved the incentives on May 8, and the DMD is set to consider final approval May 17.
The city also offered CraftMark 10-year abatements on its real property and personal property taxes in 2013 when it built and equipped its plant.
And in 2014, the Indiana Economic Development Corp. approved $2.9 million in tax credits, plus another $300,000 in training grants, based on the company's investment and job-creation plans.
Currently, CraftMark has about 10 customers; Subway is the largest.
Looking ahead, Rayo said, CraftMark hopes to break into new markets with new products.
Subway was CraftMark's first customer, Rayo said, and the restaurant chain uses all three products CraftMark currently makes.
But the bakery would also like to tackle the grocery in-store bakery market and add batter products like muffins and brownies. It is also considering other baked goods: tortillas, croissants, biscuits, pancakes and pizza crust.
"There's so many opportunities out there," Rayo said. "I wouldn't rule anything out at this point."•
Please enable JavaScript to view this content.