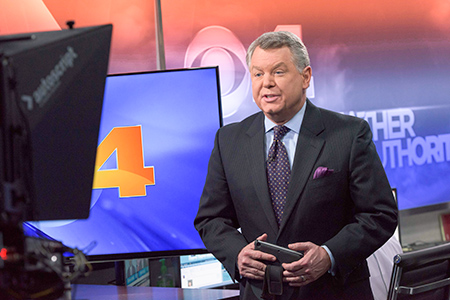 The Maryland-based company that's acquiring two Indianapolis TV stations as part of its $3.9 billion purchase of Tribune Media is renowned for its frugality—a reputation that leads some observers to predict deep staff cuts at the local CBS and Fox affiliates.
And that's not all. Experts say Sinclair Broadcast Group could push the news on WTTV-TV Channel 4 and WXIN-TV Channel 59 to the political right.
Sinclair on May 8 an-nounced it reached a deal to buy Tribune for $3.9 billion in cash and stock and assume $2.7 billion in debt.
Before the deal can be approved, the U.S. Department of Justice will review it for compliance with antitrust law, and the Federal Communications Commission will review whether the acquisition is in the public interest.
Sinclair officials, who did not respond to requests for comment, have voiced optimism that the deal will be approved quickly. If that happens, industry experts said, Sinclair won't wait long to make its mark on the 42 stations it is buying.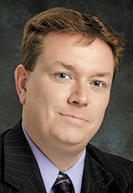 Uecker
"When you acquire a portfolio as substantial as the one they have with Tribune and the amount of debt they're going to have, you're not only going to be conservative with your spending, you're going to look to cut costs, and probably substantially so," said Scott Uecker, communications instructor at the University of Indianapolis and general manager of a campus TV station, UIndyTV.
While Sinclair registered a $245 million profit on $2.7 billion in revenue last year, it has $4.2 billion in debt. After the merger, the company could have nearly $7 billion in debt, which many think will require the company to make deep cuts.
One local industry executive said he expects the two Indianapolis stations—as well as others from the Tribune acquisitions—to have their staffs "gutted."
Tribune officials referred all questions to Sinclair.
"Standard operating procedure after an ownership change is to replace the general manager and news director and maybe the sales director," said Kevin Finch, an assistant professor of journalism at Washington and Lee University in Virginia and veteran Indianapolis journalist who worked as news director for WISH-TV Channel 8 and WRTV-TV Channel 6.
"Sinclair is going to want their people in there," he said.
Sinclair also will likely cut off-air and support staffers, especially those in accounting and human resources jobs that can be done regionally, Finch said.
Another industry source said Sinclair and Nexstar Media Group, the new parent of WISH-TV Channel 8, "are the two biggest cost-cutters in this industry."
Changing tactics?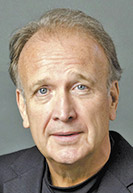 Tompkins
Al Tompkins, senior faculty member for the Poynter Institute, said that, while Sinclair has long been known for its frugality, this acquisition might change that. Until now, Sinclair has dominated in small and midsize markets such as Green Bay, Wisconsin, and Scranton, Pennsylvania.
"This deal changes their entire profile," he said. "They're moving into some of the biggest media markets in the nation. You have to spend money in the big markets to be competitive. There's just no way around it."
While Indianapolis isn't nearly as big as Chicago, New York and Los Angeles—where Tribune also owns stations—it's still the 27th-largest TV market in the United States. Indianapolis is also hyper-competitive, with five TV stations running local newscasts.
WXIN joins WTHR-TV Channel 13 in leading the market in local TV news ratings. WTTV is still trying to find its place in the market after launching a local news operation in early 2015.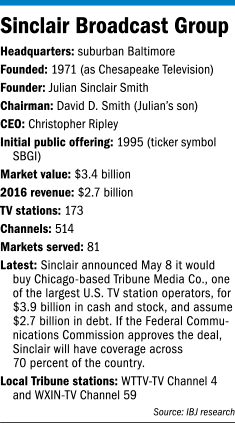 Still, many in the industry wonder what Sinclair will do with the two stations' most popular—and high-priced—on-air talent.
"It will be very interesting to see what happens when [WXIN and WTTV personnel] contracts start to expire," Uecker said. "I think there's a question whether or not some of those will be renewed."
Right-leaning content
Perhaps of equal concern to WXIN and WTTV news staffers—and certainly to viewers—will be how the deal affects the stations' content, especially local news.
Sinclair, which was founded by Julian Sinclair Smith as Chesapeake Television in 1971, has long marched to the beat of its own, politically conservative, drummer.
Smith started with three stations in Baltimore, Pittsburgh and Columbus, Ohio, and grew the company slowly until his son, David D. Smith, took over in 1988. The younger Smith began an acquisition binge that has landed the company 173 stations in 81 U.S. markets.
The Tribune acquisition will boost the company's holdings to 215 stations, giving it coverage in an unprecedented 70 percent of the country. That has given rise to speculation that the FCC might force Sinclair to sell some stations to avoid running afoul of federal ownership regulations.
But a recent loosening of those regulations under FCC Chairman Ajit Pai, a President Trump appointee, means Sinclair probably won't have to sell much.
While the company went public in 1995, it is still controlled by the Smith family. Under that leadership, Sinclair has not only become known as right-leaning, but has also taken the unusual steps of occasionally using its stations to trumpet those views.
While cable TV news outlets have taken political sides—Fox News on the right and MSNBC on the left—local broadcast news has historically strived for political neutrality.
But just two months before its announced acquisition of Tribune, Sinclair informed its stations they were being sent a video they were required to air.
In the piece, Sinclair's vice president for news, Scott Livingston, said in front of a wall of video monitors that "some members of the national media are using their platforms to push their own personal bias and agenda and control exactly what people think."
Livingston went on to accuse national news outlets of pushing out "fake news stories"—a charge often voiced by Trump—and asked viewers to visit the station's website to share "content concerns."
While TV station conglomerates often disseminate "must-run" materials to their stations, the content is usually promotional.
March's must-run content from Sinclair wasn't the first that raised eyebrows.
In 2004, when Democrat John Kerry was running for president, Sinclair planned to have its stations air a documentary called "Stolen Honor: Wounds that Never Heal," which by most accounts was anti-Kerry. After a controversy over the documentary erupted that affected the company's stock price, the Smith family backed off. Stations instead were required to air only an excerpt from the piece.
During the 2012 presidential election, Sinclair stations in several battleground states broadcast a 30-minute news segment that criticized President Obama for his efforts on the economy and for his handling of terrorist attacks in Benghazi, Libya.
Democrat accusations
And during last fall's presidential election, Democrats accused Sinclair of airing in-depth interviews and favorable coverage of Trump, a Republican, while not giving Democrat Hillary Clinton similar opportunities.
Sinclair officials at the time said they reached out to Clinton's campaign, but got no response.
Adding fuel to the fire, Politico reported last year that Jared Kushner, Trump's son-in-law and now a White House adviser, told supporters Sinclair and Trump's campaign forged an agreement for favorable coverage on the company's TV stations. Trump campaign officials denied that.
According to Politico and The New York Times, Kushner told a group of business executives the Trump campaign reached a deal with Sinclair to give more access to Trump and his campaign officials if Sinclair stations would air the Trump interviews without commentary.
Many within the broadcast industry say Sinclair is positioning itself to be the local broadcast version of Fox News and that the Tribune acquisition fortifies that plan.
Fueling that speculation, Sinclair in April hired former Trump White House official Boris Epshteyn as its chief political analyst.
Epshteyn, known for his combative on-air style, was on cable TV stumping for Trump seven days a week during the heat of the presidential campaign, according to The New York Times.
Epshteyn, who grew up in Moscow and met Trump's son, Eric, at Georgetown University, worked with the White House press corps—sometimes contentiously—before departing the Trump administration in March.
Gevers
Rick Gevers, an agent representing on-air TV talent who also pens an industry newsletter, isn't sure Sinclair can continue down its current path.
"As they get bigger, they may not be able to act as boldly as they did when they were smaller," Gevers said. "There will be a lot more eyeballs on them and they will have to be even more concerned with pushback from viewers and advertisers."
Poynter's Tompkins said Sinclair stations in a red state like Indiana "may reflect that a little more brightly. But I don't think you're going to see a replication of Fox News as some are predicting.
"I don't think the marketplace will tolerate it," he said. "People want their local news without bias."
But, he countered, "it will be interesting to see how it affects the midterm elections if the sale goes through that quickly. That will be a big—and very important—test. The midterms will be more important this year than they have been in a very long time."•
Please enable JavaScript to view this content.