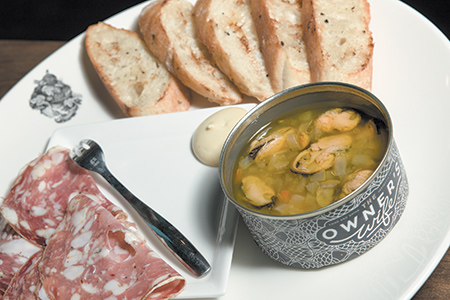 From the outside, The Owner's Wife (608 Park Ave., 317-423-8765) seems to be doing its best to keep anyone from knowing it's a restaurant and bar. The simple signage on the nondescript building on a side street off Massachusetts Avenue gives no hint of the pleasures inside and there's no menu under glass to reveal specifics. Its parking lot is even hidden, tucked around the corner next to Outliers Brewing Co.
But don't let its seemingly Garbo-like desire to be left alone keep you from trying The Owner's Wife. Because what I found on a dinner visit was among the most adventurous and satisfying meals I've had in Indy in quite a while.
Upon entering, there's an immediate sense of breathing room. The high ceiling, spaced-out tables, refreshing lack of TV screens and/or blasting music, and shareable menu items make clear this is a place designed for casual congregating.
But first: the name. Apparently, a few too many patrons at previous joint ventures identified co-owner Shannon Stone as "the owner's wife"—so many that she suggested it as the moniker for this new establishment she created with co-owner Ted Miller. Now you know—and you've got an anecdote to share with your dining companions as you await your first dish.
Our party stepped into the unknown with two items from the Conservas portion of the menu. Here, three choices of seafood are prepared and conserved in sealed tins, which are opened and served with any of three preparations (you do the math on how many options that presents). Mussels Escabeche ($12), which we paired with the Romantica preparation, won us over not only by the shellfish itself, which had absorbed the sauce it had been bathing in, but also with the thinly sliced Spanish chorizo and delicious aioli that accompanied it. The Pickled Laughing Bird Shrimp ($12) offered less to celebrate in its Americana preparation consisting of lemon, hot sauce, parsley and saltines. Not bad, but not something we'd reorder—although the pickled sauce made for a nice dip with Amelia's Bread (a bit steep at $5, but with house vinegar to go with the more common olive oil).
Simple Ribbon Fry Poutine ($9) is listed as a Tavern Snack, but more power to the person who can simply snack on this massive mound of thin potatoes cooked to an almost chip-like crispness, generously mixed with cheese curds and dressed—but not smothered—by a delicious mustard onion gravy. Also from the snack zone, the Half-Sour Pickles ($4) were, indeed, half-sour and worthy of better delis everywhere.
On the small-plate side, spicy Jerk Frog Legs ($13) slid easily off the bone but were upstaged by, of all things, the steamed rice that shared the plate. When so much care is taken on the small things, you know you're in good hands.
We had a similar reaction to the Black Mole Skirt Steak ($21). Here, the steak was very satisfying but was elevated to a total win by the couscous, black bean corn relish, cotija, cherry tomatoes and pickled jalapeno that topped and surrounded it. And the Chicken Thighs Under a Brick ($17) didn't have a brick in sight, but it did feature a wonderful stone fruit panzanella, with prominent peaches and a character-packed wild-rice pan sauce.
Service was knowledgeable, casual and never intrusive. And while we clearly covered a wide swath of the menu, The Owner's Wife presents as a place where stopping in for snacks and a beer before or after a show would be perfectly acceptable. If you don't accidentally walk by it.•
—Lou Harry
Please enable JavaScript to view this content.