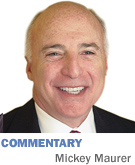 Remember me? I'm the modern day Rip Van Winkle.

In 1769, old Rip wandered into the Catskill mountains with his dog, Wolf. As the sun began to set, he met some strange fellows who shared too much from their jug of the finest schnapps Rip had ever tasted. Rip fell asleep—fast asleep. When he failed to return to his village, his friends conjectured that he probably fell over a cliff, or was carried off by Indians or eaten by bears. He awoke decades later to find that the world had changed. Unaware that the American Revolution had taken place during his slumber, he proclaimed himself a faithful subject of King George III. He was shocked to find that the national leadership had been turned upside down.

My slumber began in June 2016 after the publication of my last column. Like Rip, I did not fall over a cliff. I wasn't carried off by Indians or eaten by bears. I simply took a hiatus in order to write a book. Like Rip Van Winkle, I awoke to find a different world.

This is hardly relevant, but before my slumber I enjoyed an extraordinary season of IU basketball under coach Tom Crean. The Hoosiers won the 2016 Big Ten championship, posting their best Big Ten record since the 1992-1993 season. They knocked off archrival Kentucky in the second round of the NCAA tournament, 73-67. Expecting four starters to return and a few superstar recruits, I nodded off with visions of a 2017 Final Four team. I awoke to a team that had trashed its early season top-three ranking and had finished 10th in the Big Ten. And no sign of Coach Crean.

But that is just basketball.

In June 2016, Hoosiers were suffering under Gov. Mike Pence, who made social issues the hallmark of his reign. In 2012, he had defeated an underfunded candidate by the skinniest margin in Indiana history. He then embarked on an anti-abortion, anti-women's rights and anti-gay-rights rampage that culminated in the Religious Freedom Restoration Act. Many Hoosiers were outraged. Most were embarrassed. Organizations including Apple, Salesforce and the NCAA threatened a reconsideration of their commitment to Indiana.

Voters and donors took notice. John Gregg, opposing Gov. Pence's re-election bid, was beating Pence to the wallets of some fat cats. IBJ reported that roughly half of the top donors to Pence's 2012 gubernatorial campaign had withheld monetary support, with some even donating to Gregg. Indianapolis Star columnist Matthew Tully called out Pence as unfit to govern.

I didn't share that opinion. Pence performed well on many fronts, including economic development, but he was toxic on social issues. I preferred more moderate behavior in the governor's office. Gregg was euphoric over poll results that, he claimed, showed he would outdraw the incumbent. I entered my slumber knowing that Pence would not have four more years to wreak destruction on Hoosier values. I awakened to find that Pence was not our governor. He was our vice president!

Just as Rip Van Winkle experienced, an upheaval played out in my absence. Republican presidential nominee Donald Trump had launched his campaign by calling Mexicans "rapists." He referred to women he didn't like as "fat pigs," "dogs," "slobs" and "disgusting animals." He said that women should be punished for abortions. During a presidential debate, he boasted about the size of his penis. Surely, no one would vote for this clown. Yet he captured the nomination from a large field of candidates. I favored the Democratic party nominee, Hillary Clinton, only by default. Scandal, confusion and innuendo chased her on the campaign trail. Neither candidate was immune. I dozed off last June with confidence that Clinton would win the presidency. She had commanding leads in every poll. Like Rip, I slept through an American Revolution and woke up to discover that national leadership had been turned upside down. Only this time, the clown won.•

__________

Maurer is a shareholder in IBJ Corp., which owns Indianapolis Business Journal. His column appears once a month. To comment on this column, send e-mail to mmaurer@ibj.com.