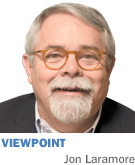 In its recent federal budget proposal, the White House spotlighted several programs for elimination, including Legal Services Corp., the federal civil legal program that gives all Americans a chance for access to the courts.
On "Law and Order," when the police arrest someone and tell him he has the right to an attorney—that applies only in criminal cases. There is no right to a lawyer in civil cases. However, people with critical civil legal problems—domestic violence, child custody, eviction, illegal debt collection, losing medical coverage—need legal help. Civil legal aid provides free lawyers to those unable to afford access to the justice system.
The Legal Services Corp. provides much of the funding for these low-income civil legal services. While the federal budget hasn't yet been determined beyond September, it is unlikely this important funding program will be scrapped, in part because of the value it provides the business community.
Recently, the chief legal officers of 185 major American corporations wrote all members of Congress to voice their support for civil legal aid funding. These leaders—representing businesses with significant Indiana presences, including Cummins, Kroger, Salesforce and FedEx—noted the "significant positive return for business" from civil legal aid as well as benefits "for the health of individuals and communities across the nation."
There are at least three reasons local business leaders ought to support civil legal aid:
• Businesses depend on the legal system themselves, and they know it won't work if people lose confidence in it. Making sure low-income people have access is essential to ensuring confidence.
• Civil legal aid makes the system work more smoothly. There are currently millions of cases in the system in which low-income litigants lack lawyers, and those cases slow down the system for everyone. Providing lawyers makes the system work better.
• Civil legal aid provides legal help to businesses' low-wage employees. At a recent meeting, the general counsel of a national food service business with 150,000 employees expressed his thanks to civil legal aid lawyers who helped his low-wage employees cope with everyday legal disputes that could be distracting and cause them to take time off work.
Civil legal aid provides other economic benefits. Precluding evictions and foreclosures reduces the multi-generational cost of homelessness. Protecting families enmeshed in domestic violence can save shelter costs and prevent more serious problems down the road.
Specialized law offices such as Indiana Legal Services Inc., with eight offices across the state, are the most efficient way to deliver legal advice and representation to low-income clients. We depend on support from lawyers and law firms, both as volunteers and contributors, but we rely even more heavily on foundation grants and state and federal funding. The private sector cannot by itself fill the funding gap for these crucial justice services.
Last year, we provided legal help to more than 10,000 Hoosiers. We serve seniors, veterans and people with disabilities. If our funding is cut, we will be forced to serve fewer people. The impact inevitably will be felt most heavily in rural areas, which are the most costly to serve. But it ultimately will be felt by business owners across Indiana as well.
We need to stand up for the belief of justice for all, not just for those who can afford it. Civil legal aid helps keep our justice system fair for everyone, no matter how much money they have, and it is worth preserving.•
__________
Laramore is executive director of Indiana Legal Services Inc., a statewide not-for-profit law firm providing free legal help to low-income Hoosiers in civil cases.
Please enable JavaScript to view this content.