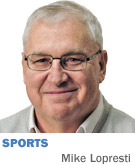 Same old Butler. Knocking off bigger fish, putting together a fine season, with a coach who understands The Butler Way. Yes, business as usual at Hinkle Field …

Wait. Change in location. Go down the hill to the diamond. We're talking Butler baseball.

The program has come back to life so dramatically, the mascot should be a defibrillator. A year ago, the Bulldogs were—Egads—14-40. Their 2017 record, with only three games left in the regular season and many of the same faces as last year, was 30-19. First winning season in 14 years.

A year ago, Butler lost to Indiana 27-1. Repeat, 27-1. This season, the Bulldogs beat the Hoosiers—and six other in-state opponents they played—to go 7-0 against Indiana. Threw a no-hitter at Purdue.

The new man in the middle of all this? His name is Dave Schrage. Schrage might not be Brad Stevens or Chris Holtmann, but he hits better. Wait till you hear his college batting average. You say your attention span with Bulldogs athletics stops after the NCAA Tournament in March? No worries. Here's Butler baseball for dummies.

Chapter 1. A year ago, Schrage was coach at South Dakota State. Not easy, trying to play baseball in the spring in Brookings, South Dakota. One season, they played only nine games at home and 50 away because of the weather. That was the year his players gathered one late March Sunday to knock a couple of inches of snow off the field, so they could actually play at home that week. Snowed 9 more inches the next day.

February in Indy? Piece of cake.

Chapter 2. Schrage has coached at seven schools—Notre Dame and Evansville among them—and revived nearly all of them. He once took over a Northern Illinois program coming off a 4-51-1 season and had a winning record in two seasons.

"It starts with two things," he was saying the other day in his office. "One, getting the kids to believe that they're good baseball players. And two, getting them to trust you and trust your system. When you can get those two things, the wins start to come."

He's had his ups and downs, like all coaches.

"I thought when I got fired at Notre Dame [in 2010], my coaching career was over," he said. He spent a year volunteering for a small high school team in Michigan that had 13 players, "and had the time of my life." So he stayed with the profession.

Chapter 3. About some of these Bulldogs. The leading hitter, Michael Hartnagel, comes off the baseball assembly line at Brownsburg. Same for the top homer and RBI man, Tyler Houston. They used to play Little League against each other. The right fielder's first name is—we're not making this up—Gehrig. Gehrig Parker, in homage to Lou. He was born on Sept. 6, 1995, the day Cal Ripken passed Gehrig's consecutive- games-played streak. So his father thought, "Why not?"

Chapter 4. The Bulldogs found something out about their new coach the first scheduled day of practice in late January. They were supposed to work out at the Colts complex at 5 p.m., hitting ground balls where Adam Vinatieri kicks field goals. But not caring for some attitudes, Schrage sent out a text at 3 o'clock canceling practice, and telling everyone to report to the locker room.

"We had a heart-to-heart talk. I said, 'Here's the thing, fellas. If you think you can do the same things you did last year and change the results, you can't. Until you decide to change the culture of the program from a work-ethic standpoint, from how you carry yourself off the field, there's no need to practice. We'll just show up for the first game, because we'll get the same results.'"

He told them to meet among themselves and figure it out, and, "This meeting better not be 15 minutes." It went 90.

As Houston said, "It was something that needed to happen. It allowed us to take a step back and think about what we really wanted to do this year."

And as Parker said, "We always talked about holding each other accountable, but you were able to see it more. Some guys were calling some guys out. We had never been forced into that kind of situation."

And as Schrage said, "From that point on, we've had a great culture, Sometimes you need to shock them a little bit and get them to know you're serious."

Chapter 5. Early on, the Bulldogs started piling up comeback wins. That was different. "Last year, when we were down, we were out," Houston said.

"We turned that around just by having confidence in ourselves," Hartnagel added.

Many of them point to a mid-March series with strong 14-2 St. Louis—the kind of team that has had its way with Butler lately—when the Bulldogs rallied in the eighth inning and went on to win two games.

"They came in and had a lot of confidence and thought they were just going to run over us," Hartnagel said. "That just kind of set the turning point for us that we can compete with any team out there."

Chapter 6. A month later, they snapped a four-game losing streak by winning at Indiana. From a 27-1 pummeling to a 7-5 victory in one calendar year. And three weeks later, they no-hit Purdue for a seven-game sweep against in-state opponents.

"I think the guys on the team looked at that as a respect factor," Schrage said. "I think Indiana embarrassed them last year. They wanted to make amends for that. We didn't approach it like, 'Hey, we want to win a mythical state championship.' We did talk a lot about garnering respect for the program, and letting the teams in the state know that Butler is going to have a good baseball program."

That can't hurt recruiting, either, changing many prospects' assumptions that Butler is a wasteland in baseball.

"I think it's mainly huge for the future of our program," Hartnagel said. "We're up there in those people's minds now."

Kind of fun to be in on the ground floor of rebirth.

"Being a part of that group that was able to turn the tide a little bit, and all that we've done this year, is something I've taken a lot of pride in," Parker said.

Chapter 7. Schrage came here partly because he has two daughters who live in Indianapolis, and partly because restoring programs is what he does.

"That's the fun part of coaching," he said. Once here, it didn't take long to become a believer in the motto of the place. "You can say The Butler Way is a hoax, or a marketing ploy, but it's not," he said. "As a coach, we put that in front of them all the time. It's our mantra."

Chapter 8. Now about Dave Schrage, the outfielder at Creighton back in the day. He hit .400 as a junior and .433 as a senior and was later named to the all-time Missouri Valley Conference team. Joining him in the outfield were guys named Kirby Puckett and Joe Carter.

"I don't bring it up much. That was a long time ago," he said.

But his players are starting to catch on. "I do remember one time the softball pitchers were throwing to us," Houston said. "I struck out. He stepped in there and just slapped it."

The man can hit. He can also coach. They play baseball at Butler, too.•

__________

Lopresti is a lifelong resident of Richmond and a graduate of Ball State University. He was a columnist for USA Today and Gannett newspapers for 31 years; he covered 34 Final Fours, 30 Super Bowls, 32 World Series and 16 Olympics. His column appears weekly. He can be reached at mjl5853@aol.com.