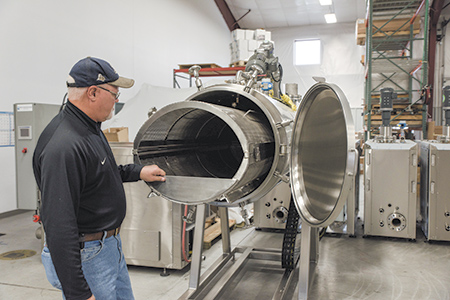 It's the best of times and the worst of times for Joe Wilson, CEO of Danville-based manufacturer Bio-Response Solutions. On the positive side of the ledger, his 11-year-old company has run in the black since day one, and its new, 14,250-square-foot factory sells to an ever-growing list of clients.
But the downside's a doozy. Wilson's flagship product is a controversial device that liquefies human corpses, turning muscle, flesh and fat into a coffee-colored effluent that can be swirled down the drain. The technique has drawn the ire of everyone from the Catholic Church, which objects on doctrinal grounds, to old-guard funeral operators who fear the technique will cut into their cremation business.
The green, energy-efficient process is called alkaline hydrolysis, and some experts see it as the future of the funeral industry—that is, if the general public can overcome the considerable "yuck factor" associated with the process.
And if the General Assembly can see fit to make it legal. So far, only about 17 states and several Canadian provinces have done so. Indiana, Bio-Response's home base, isn't among them.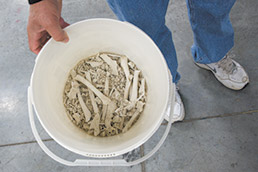 Joe Wilson, CEO of Bio-Response Solutions, is frustrated that state law means his company's signature product—a cremation device that liquifies almost every part of the body but the bone—can't be used in Indiana. The process can be used for animals in the state. (IBJ photo/Eric Learned)
"I will tell you right now, had I known this was going to happen, I would not have built my building in Indiana," Wilson said. "I would have gone to Florida."
The Sunshine State (along with Minnesota) was one of alkaline hydrolysis' early adopters. However, legalization has been repeatedly refused by Indiana legislators—most famously in 2015. That year, Wilson, 62, dropped around $40,000 lobbying for the rule change. He seemed on the cusp of success, until Republican Rep. Dick Hamm, moments before the vote, spoke against the technique.
"Now we're talking about, we're going to put them in acid and just let them dissolve away and then we're going to let them run down the drain and into the sewers and whatever," Hamm (who couldn't be reached for comment) told his colleagues.
The bill subsequently went down to defeat. And Hamm gained a shot of national notoriety over conflict-of-interest allegations: He owns two casket-making companies west of Richmond.
Wilson said that's par for the course.
"There's a good-old-boy network in the funeral industry in each state, and some of them are threatened by new technology, so they resist," he said.
Wilson is particularly galled by Hamm's last-minute speech, which he said was filled with misrepresentations—the most prominent being that bodies in his machines are "dissolved in acid." Nothing, from a scientific perspective, could be further from the truth.
Liquid cremation, which goes back all the way to the late 19th century (when it was used to decompose dead livestock) uses an alkaline bath—the chemical opposite of an acid—plus heat and constantly circulating water to break down organic tissue.
The potential
Bio-Response makes two human-rated machines, both of which look somewhat like old-school iron lungs. The "low heat" model heats the alkali solution to just over 200 degrees and needs 14 to 16 hours to liquefy a body. The "high heat" model cooks the mix at about 302 degrees and needs just four to six hours.
The heat and the alkaline solution kill all microbes and break the body's fat and proteins and DNA and RNA into their constituent elements. The resulting liquid can be safely drained away, without any special handling. All that remains are the bones (which are ground up and given to the family, as with cremations) and inorganic items such as fillings, dentures, pacemakers and artificial joints—all of which are buffed to a high shine by the alkaline bath.
"Efferdent is no comparison to this for cleaning false teeth," Wilson joked.
Though he's developed units for humans only recently (about a dozen are currently in use), Wilson has worked with alkaline hydrolysis for decades, and pioneered its commercial development. His first systems are still used by universities and researchers to dispose of wastewater and animal carcasses; the company does a big business in these "tissue digesters."
However, Wilson sees a bigger future for human corpse disposition—if the legal hurdles can be cleared.
"I have four funeral homes in Indiana that actually want to buy these," he said. "Indiana's got some pretty progressive people in the funeral industry. Some of the funeral homes want this technology."
Indeed, if one can set aside the unpalatable concept of "corpse melting," the system does offer unique advantages over cremation. The process doesn't produce smoke, ashes, CO2 emissions or mercury pollution (caused by the incineration of some types of dental implants) and requires far less energy and time.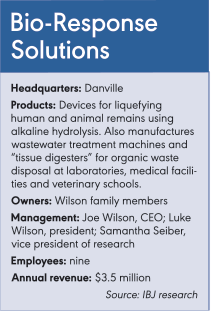 The units' upfront costs are, however, higher than for a typical crematory. Wilson said a basic "flame unit" sets operators back about $100,000, while his systems cost $175,000 to $250,000. However, he said operators make their money back over the long haul because his products need far less maintenance than incinerators, which require regular, pricey overhauls.
One person eminently qualified to compare cremation to alkaline hydrolysis is Curt DeBaun, owner of two Terre Haute funeral homes. A couple of years back, he purchased a Bio-Response pet-disposal unit, which cost about $80,000 and is legal in all 50 states.
"My pet business is separate, but I also operate a human crematory," DeBaun said. "I can compare the two, and I'm much happier with the alkaline hydrolysis process. It's cleaner, greener and just a better process altogether. I can't wait for [Indiana legislators] to approve it for people. It's just a matter of time. And politics."
He'd thought about starting a traditional pet crematory, but deferred because he didn't want to deal with the accompanying hassles.
"It doesn't matter how carefully you operate a crematory, every now and then you fill the neighborhood with black smoke, and that is not good for business," DeBaun said. "When I saw what Joe had at Bio-Response, I got it immediately. And it's worked out very, very well for me."
It's coming
Experts in the field say it's only a matter of time before alkaline hydrolysis gains wider acceptance.
"There does seem to be a certain level of pushback from within the profession by people who do not want to see this approved because they have a vested interest," said Thomas A. Parmalee, executive director of Kates-Boylston Publications, which publishes American Funeral Director and American Cemetery and Cremation magazines.
"In some states, until you see the public actively ask for this and really start to clamor for it, you might see adoption continue to be slow," he said.
Andy Clayton, executive director of the Indiana Funeral Directors Association, which represents about 85 percent of Indiana funeral homes, said his group doesn't take an official stand on alkaline hydrolysis—though he's hearing more and more about the process.
"I personally have a friend in Florida who uses it, and he's a very big proponent of it," he said. "He's provided a lot of education about it."
Clayton figures that more attention will be paid to legalizing the process if it gains a higher profile and the public starts asking for it.
"I don't think—right, wrong or indifferent—that there's a big advocacy for it right now," he said. "It's like anything else in this world. If you don't have 3,000 people standing in front of the Statehouse with picket signs, it's not going to get done."
Wilson, for one, sees a big future for his brainchild—no matter what Indiana does. He's lined up potential customers as far away as South Africa, and sees nearly unlimited possibilities in places such as China and Japan (where almost everyone opts for old-school cremation and burial plots can cost half a million U.S. dollars).
"We're going to be growing," he said. "Right now, we're on the cusp of it. With the property I've bought, I could triple the size of my plant. We have all of the things in place to grow this here."
Republican Hendricks County state Rep. Jeff Thompson, who championed previous attempts to legalize alkaline hydrolysis for humans in Indiana, predicted that legislation legalizing the process for humans will eventually pass. It won't happen in a hurry, he said, but that's just how things get done around here.
"It can be a decade-long process," he said, "but I'm not alarmed by that. It's just the way it works sometimes.
"I suspect, at some point, if I'm still in the House, that I'll consider introducing legislation again. I won't say I will, but I'll always consider it. You never know."•
Please enable JavaScript to view this content.