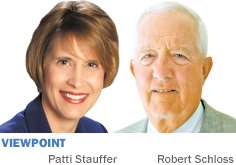 All of us want to reduce the number of abortions; we differ in whether the decision about a woman's pregnancy should be dictated by the state or is a personal one made in conjunction with family, faith and physician.
While politicians' tunnel vision remains fixated on creating roadblocks to safe abortion, not nearly enough attention is given to tackling the root cause—unintended pregnancy. Nearly half of Indiana pregnancies are unintended, costing the Hoosier public an estimated $350 million every year. This doesn't include the millions of dollars covered by employer health plans or the lost productivity due to unplanned leave. Planned Parenthood is a vital resource in and wise investment for the prevention of unintended pregnancy. Stigmatizing Planned Parenthood over abortion is a red herring and reducing access to women's health services is bad policy, bad business and bad for our society.
In the first months of the Trump presidency, we have witnessed an unprecedented attack on both women's health and Planned Parenthood. Seeking to make good on a seven-year promise, the U.S. House of Representatives hastily drafted and passed the American Health Care Act. Framed as a repeal of Obamacare, the AHCA is the worst bill for women's health in a generation.
Among other things, this bill reduces access to contraception, cuts coverage of maternity care and guts Medicaid. The AHCA also blocks low-income patients from receiving health care at Planned Parenthood health centers.
With this noteworthy movement of the AHCA, it astonishes us that politicians continue their assault on birth control and the medically underserved. Congress is now working to overturn a rule protecting health care for more than 4 million people who rely on Title X, the nation's family planning program. While the proposed legislation does not "defund" Planned Parenthood specifically, the move emboldens states to block government funding to select categories of family planning health care providers.
Here in Indiana, Planned Parenthood of Indiana and Kentucky serves nearly 50,000 Hoosiers each year with life-saving cancer screenings, clinical breast exams, contraception and STD testing and treatment.
Three-fourths of Indiana's counties suffer from a deficit of medical providers. The state's community and public health infrastructure simply cannot absorb Planned Parenthood's family-planning patients. If you are concerned about a sexually transmitted disease or preventing a pregnancy, you want high-quality, affordable and nonjudgmental care as soon as possible. Planned Parenthood health centers provide that assurance.
Over the last few months, we have witnessed an outpouring of organizing, activism and support. Planned Parenthood advocates and patients are showing up—from the Women's March to congressional town halls to hundreds of subsequent rallies across the state and country. These are not isolated occurrences; multiple polls (from Kaiser, Quinnipiac, PerryUndem) show Planned Parenthood with 75 percent public support.
In the same way that Indiana's business community opposed the discriminatory Religious Freedom Restoration Act, we urge all Hoosiers to acknowledge the very real economic burden of unintended pregnancy and demand meaningful action—not more abortion restrictions. It is in all of our best interest to insist on public policy that is compassionate, grounded in reality, evidence based and focused on prevention.•
__________
Stauffer is vice president of public policy at Planned Parenthood of Indiana and Kentucky. Schloss is president of Omega Communications and is a shareholder of IBJ Media.
Please enable JavaScript to view this content.