As a U.S. attorney in 2012, Joe Hogsett was instrumental in leading a raid of the Outlaws Motorcycle Club compound on the near-east side that resulted in dozens of arrests. Now, as mayor of Indianapolis, Hogsett hopes to transform the former site of the clubhouse into a park or other community gem.
The Metropolitan Development Commission is slated to vote Wednesday to transfer the property at 305 N. Jefferson Ave. and part of the 2200 block of East New York Street to the city's Department of Parks and Recreation "for beautification or use as a park."
The city currently owns the 0.3-acre property, having acquired it in 2015 from the U.S. Marshals Service under a forfeiture order.
"To transform this property, which was once the hub of serious criminal activity, into an asset for this neighborhood and our community is a great outcome," Hogsett told IBJ in a statement. "It is important to me to bring the property full circle by taking what is currently a reminder of what was, and start talking about what this now-empty lot can be."
The city said the parks department will lead the effort in activating the property, and hopes to hold a ribbon-cutting in the future. There's no definitive plan for the property yet, and thus no project budget, according to a city spokeswoman.
City-County Council Vice President Zach Adamson, who lives on the near-east side, said he would love to see a "public space that has a health and fitness component."
"I think that would be a real benefit to the community," Adamson said. "I really would like to hear what some of the community would like to do there. It was really a scourge for a long time, so it would be nice to turn it into something nice."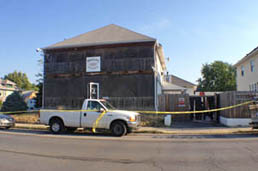 FBI and Indianapolis police taped off the Indianapolis Outlaws Motorcycle Club following a morning raid by federal officials on July 11, 2012. (AP photo)
In 2012, the arrests of 42 members of the Outlaws motorcycle gang was believed to be the largest organized crime bust in Indianapolis history at the time.
The arrests led to charges on a variety of offenses, including racketeering, fraud, money laundering, extortion, drug charges, witness tampering and illegal gambling.
"Examples of alleged criminal activities include numerous instances in which OMC members used violence and the threat of force to collect personal debts from individuals in Indianapolis and elsewhere," according to a press release from 2012. "The members are also alleged to have operated an illegal lottery scheme in Indianapolis that trafficked in thousands of dollars a day."
The compound was demolished in 2015.
Please enable JavaScript to view this content.