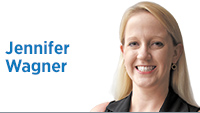 I recently found myself at a conference attended by hundreds of journalists from across the United States.
The location was our nation's capital, the epicenter of all things political.
The guest speaker at the opening luncheon was Washington Post Executive Editor Marty Baron, the former Boston Globe editor under whom that paper's "Spotlight" investigative team uncovered and reported on decades of sexual abuse within the Catholic Church, earning the newspaper a Pulitzer Prize. The Post has since won several Pulitzers under his leadership, while at the same time adapting to a new era where it often feels like headlines and clicks matter more than serious content.
In journalism circles, Baron is a pretty big deal.
As you might expect in a room of reporters, the conversation quickly turned to fake news and allegations thereof; reporters being physically assaulted or detained doing their jobs; and near-constant attacks on the Fourth Estate, which are nothing new but seem to have grown in ferocity since the last election cycle.
Baron reminded the audience to stay positive, to focus on how much the nation needs good journalism now more than ever. He's right, but I'll admit I didn't leave wholly uplifted.
As someone who went to journalism school and spent a couple of years practicing the craft, it makes my heart ache to see reporters lambasted and threatened simply for doing their jobs, and it's difficult to see how this situation gets better.
I've spent the last 15 years working in public relations and communications and can count on one hand the number of times I've lost my cool with a reporter. It's worth noting that, on one of those rare occasions, I was really pregnant and not entirely in control of my emotions.
At its most basic, the relationship between PR practitioners and journalists is transactional. We have a story to tell; they have an audience we want to reach.
But there can be so much more to it than that—an actual relationship built on years of trust and information and getting to know each other as people. That's how things operate in other industries. Two lawyers can go after each other as professionals in a courtroom and go out for a beer as friends afterward. That only works, though, if there's a certain level of mutual respect.
That's what it feels like has gone missing—or is being intentionally undermined—between reporters and those they seek to cover.
Am I happy with every story that's ever been written about candidates or causes I've worked for? Heavens, no. But I don't blame or attack the reporter; I ask myself what I could have done to more persuasively make my case.
Do I love the fact that sensational stories often drive the day, overshadowing coverage of more serious topics? No, but that's nothing new if you look back through history. We've just got myriad more ways to receive and process information than we did 100 or even 10 years ago.
Neither is it new that government officials don't always love the press. The process of unearthing and sharing information can be as uncomfortable as it is critical to our democracy. While some reporting jobs are dangerous, journalists on the whole should not have to fear being investigated, physically attacked or detained by those in power.
The good news is that spending time with hundreds of reporters reaffirmed my faith that journalism will persist, but it's hard not to worry that current antipathy toward the Fourth Estate will permanently damage how the public views a profession that has long been essential to our freedom.•
__________
Wagner is a lifelong Indianapolis resident and vice president of communications at EdChoice. Send comments to ibjedit@ibj.com.
Please enable JavaScript to view this content.