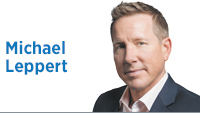 May was a big month for the three-way partnership between Indianapolis, Indiana and Salesforce. Two years ago, this is not where these distinctly different entities seemed to be headed.
It was March 2015, and the controversy surrounding the Religious Freedom Restoration Act had made the Indiana Statehouse ground zero. It was the center of a debate that was new to the region, and in many ways, the entire country. The ill-conceived statute that had just been signed into law by then-Gov. Mike Pence had caught the ire of Salesforce CEO Marc Benioff.
Benioff spoke up first and loudest in objection to the new law. He saw it as a public policy that would alienate what he believed to be the best and brightest people whom he wanted to attract to work for his company—specifically, in Indiana, where he planned to expand. Some of the "best and brightest" are also part of the LGBT community, or connected to that community in some way, and Benioff believed the discriminatory appearance of the law would kill recruitment.
Initially, his loud objections were described by some in the Statehouse as "economic terrorism." There were legislative supporters of RFRA who didn't much care for some entrepreneurial type from San Francisco telling us how to do things. His threat to walk away from investing here if they didn't fix this horrible law was difficult for some to take.
And then Mayor Greg Ballard sided with Benioff, not his fellow Republicans in the Statehouse. Of course, virtually the entire business community followed suit and the rest was a fascinating slice of Indiana history.
This dynamic in 2015 was full of intrigue and drama, and was a classic example of how urban and rural politics split.
If support for RFRA had also been prevalent in the city of Indianapolis, I do not believe the largest tower in our skyline would have a Salesforce sign on it today. Indianapolis had a non-discrimination ordinance in place, and Ballard reaffirmed his support for it when the heat was turned up.
Further, an impressive list of other municipalities in Indiana spoke similarly on the issue in the months that followed. So much so that it calls into question the real support for the state policy in the first place. But more important, it details a growing divide in our politics.
I predict that the membership in the Republican and Democratic parties—and the strategies to recruit membership—will dramatically shift in the coming years based primarily on the clash between rural and urban citizens.
Indiana's Republican power base was running people and businesses off in the state's largest city, through its own economic terrorism in 2015. The power base did it while attempting to cater to its rural base. In this case, that action backfired. North Carolina Republicans picked up the baton, and made a series of similar mistakes in 2016. Many thanks to the Tar Heel state for grabbing the spotlight.
The lesson to be learned is that a skilled politician at the state or federal level will prioritize issues by not harming constituents from one geographic class in favor of another. Civil rights don't harm rural communities. But running off Salesforce would have scarred Indianapolis for a long, long time. Meanwhile, an urban legislator actually does need to care about agriculture policy and county governments.
It's a complicated world out there; we don't need to make it more difficult by not embracing the inevitable and the obvious. Our differences are founded in where we are from these days. Who we are actually follows.•
__________
Leppert is a public and governmental affairs consultant in Indianapolis. He writes at HeartlandNow.com. Send comments to ibjedit@ibj.com.
Please enable JavaScript to view this content.