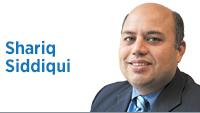 I got off the airplane, grabbed my luggage and got in the taxi for the hotel. As I traveled, I realized something was very different. I have never seen this many U.S. flags displayed in my life. There were constant billboards with President Trump looking at the passing cars. I was surprised because I was in Riyadh, Saudi Arabia.
It took me a few moments to realize this was the day Trump was arriving in Riyadh to kick off his first international trip.
Local television, taxi drivers, local merchants and nearly everyone I met during my short trip those few days were brimming with optimism. President Trump was here and things would get better. At the center of their concern—the rising power of Iran.
Iran and Saudi Arabia have long had a rivalry. This is in part because of the different sects (Sunni and Shiite) of Islam they seek to represent. But that is only one aspect of a deeply complicated geopolitical rivalry.
Although the president is having popularity problems in the United States, he has a very deep level of support among the people I met in Saudi Arabia. They hope Trump will break from what they saw as President Obama's support of Iran over Saudi Arabia.
It surprised them when I told them that, on basic Middle East policies, Trump was following the policies of Obama. Obama's administration considered Saudi Arabia one of its most important allies in the region, along with Israel; so does Trump. Obama's administration had approved the arms being sold to Saudi Arabia that were announced by Trump's administration. Obama signed an agreement with Iran that Trump indicated he would continue. Trump has stated an ambivalence on whether President Assad should remain in power in Syria, compared to Obama's opposition.
But despite this initial surprise, the Saudi Arabians I spoke with were adamant that Trump would be better for Saudi Arabia and the Sunni Islamic world.
They also argued there was a difference between Obama and Trump toward the Middle East. Obama might have stated positions and policies that align with Saudi Arabia and other associated regional powers, but they sensed he didn't like this alignment. Obama, in their minds, was an idealist who might partner with a nation while not liking them. Trump was a businessman. He was someone who understood them and they understood him. They felt Trump respected them for the wealth and business they had to offer America.
Obama was less likely to be influenced or dazzled by contracts worth billions that would have a direct impact on American businesses and jobs. Businessman Trump was someone who spoke a language they can translate into mutually beneficial policies.
Foreign policy is as much about what is left unsaid as what is spoken. While nations are likely to partner out of necessity, they crave mutual respect to ensure a true partnership. Trump, to my surprise, offers hope to the people I spoke to. They are willing to forgive his language about Islam and Muslims—not because it isn't offensive, but because they see wealth, contracts and economic incentives as a way to regain balance. These incentives, in the minds of those I spoke to, can change Trump's views and rhetoric about Islam and Muslims.
As a Muslim American, I am skeptical of whether this hope in the president is anything more than wishful thinking. However, I would deny no one hope and certainly pray for a better tomorrow.•
__________
Siddiqui is an attorney, has a doctorate from the Lilly Family School of Philanthropy at IU and leads the Association for Research on Nonprofit Organizations and Voluntary Action. Send comments to ibjedit@ibj.com.
Please enable JavaScript to view this content.