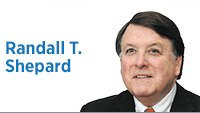 Recent announcements about new jobs in Indiana's growing technology sector from organizations like Salesforce and Infosys are nothing short of exciting.
We can all take heart at the prospect of thousands more people at work on technology, positioned in downtown's high-rises, surrounded by burgeoning neighborhoods of condos and apartments, connected by the Cultural Trail and BlueIndy autos.
These developments are part of a larger movement arising from Indiana's historic position in manufacturing. This sector and fields like trade and transportation provide more than a third of Indiana's jobs, placing us well ahead of a good many other states usually thought of as job heavyweights. More important, more than half of these Indiana jobs are in advanced manufacturing—activities like high-performance computing, advanced robotics, sustainable and green processes, and new industrial platforms. Our national lead in such employment is growing.
So how do we build on these strengths? Among the factors we can actually have some control over that will make a difference is building an even more effective education system.
Lumina Foundation has managed to shape the way our country thinks about the value of expanding the number of Americans who have earned college degrees or high-quality certificates reflecting a legitimate level of training and competence—as a way toward building what they've called "A Stronger Nation." Indiana has long lagged behind on this measure, but Lumina's latest data shows measurable progress. The proportion of Indiana residents who have earned such credentials is about a quarter higher than it was seven years ago. We are still behind the national average, but at 41.1 percent, we're making progress.
Part of why we are doing better is that Indiana has been more willing to finance higher education during the Great Recession than have a good many other states. The most common comparison state-to-state is how state funding per student has changed during this period. While state appropriations per student here did actually fall during the recession, our decline was the third lowest in the country as measured from 2008 to 2014. Put another way, you can count on one hand the states that did better for higher education on a per-student basis than Indiana.
This means we are standing on a stronger platform for improvement than many places, such as our four surrounding states, where spending per student dropped at least 20 percent to 25 percent during this period, with a 54 percent cut in Illinois.
The recent legislative session and the public dialogue demonstrate that we can take advantage of our position. Increases in higher-ed appropriations for the next two years, Gov. Holcomb's campaign to expand pre-kindergarten, and active efforts to build college programs matching the likely needs of the economy reflect a renewed determination.
And, of course, we must be much more purposeful in recruiting and retaining the young people who benefit from these advances. As Bill Oesterle argued recently in these pages, "Indiana should differentiate itself by becoming the most aggressive talent recruitment-and-retention state in America." As usual, Oesterle is right. He was issuing a revised version of the message he says Mitch Daniels gave him when Bill was headed off to Harvard Business School: "You need to come back to Indiana."
When speaking to young audiences, I put this message in a similar way. At a graduation dinner in Evansville last month, I reminded the students that, while Horace Greeley became famous for declaring, "Go west, young man," Greeley himself actually stayed in New York and built an illustrious and productive career.
We must ramp up our efforts to do the same.•
__________
Shepard, formerly Indiana chief justice, now serves as senior judge and teaches law. Send comments to ibjedit@ibj.com.
Please enable JavaScript to view this content.