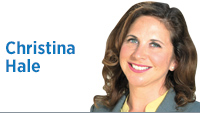 Gov. Eric Holcomb often touts the fact that more people are working in Indiana than ever before, and he is right.
His claim at first blush sounds so positive, but I'm hoping it inspires an important and deeper examination about what this means, good and bad, and what Hoosiers need to consider moving forward. I am hoping our governor will consider convening a roundtable on the Indiana family.
Not so long ago, most families in Indiana were supported by one breadwinner working one job. For far too many today, that has become an impossible dream. More people in Indiana are working than ever before, but this also means more people in each household are working, and individuals are often working more than one job.
This affects families in a practical way every day, and it deserves study. It deserves the attention of employers, faith leaders, elected officials, parents, educators—everyone who has a stake in the success of family in our state.
Indiana household income is less than what it was a dozen years ago.
Still, there is some good news. When I was born, not even 10 percent of law school students were women. But for the first time, in 2017, it looks as if more women will be enrolled in law school than men. Similarly, more women are enrolling in medical school, becoming engineers, truck drivers. More men are entering nursing, teaching, and more men are becoming flight attendants, too.
More women are serving as their family's head of household, yet Indiana has one of the worst gender-wage gaps in the nation. In fact, women here make only 76 cents on the dollar compared to our male colleagues on the job. Clearly, that is not so positive.
We have experienced so much change in the past 30 years that affects families here. But as stores are now open 24 hours a day and fast food has become a staple of the Hoosier diet, as most people now have a smartphone, the way we live our lives is forever changed.
Far too many Indiana families today struggle for economic stability. Yet, as our families have been working so hard over the past 30 years for less:
■ Indiana has become more obese and less healthy.
■ Indiana has become a net exporter of degreed talent.
■ Indiana's educational achievements relative to other states (like SAT performance) have declined.
■ Indiana has more people incarcerated than ever before.
■ Indiana has more people addicted to drugs than ever before.
We need to look at the impact of lower wages and more people working outside the home. And, yes, we also need to ensure that families not presently prepared to work, get prepared and working.
Yes, more people are working in Indiana than ever before. Yet more of us are taking home less money and working in lower-paying service and retail jobs than ever before. More of us fail to save for a rainy day and are declaring bankruptcy or losing a loved one to addiction or disease. And fewer of us are succeeding in school.
People are struggling here with a number of problems, and most of them relate back to the economy. Here in Indiana, we have an opportunity to set an example of good governing for our country by gathering people of different perspectives, experience and background, all with the common goal of supporting the success of family in our state.
Governor, you've raised a most important point. It deserves our best and brightest minds working together toward solutions. It deserves an Indiana roundtable.•
__________
Hale is a former member of the Indiana House and ran for lieutenant governor in 2016 on the Democratic ticket. Send comments to ibjedit@ibj.com.
Please enable JavaScript to view this content.