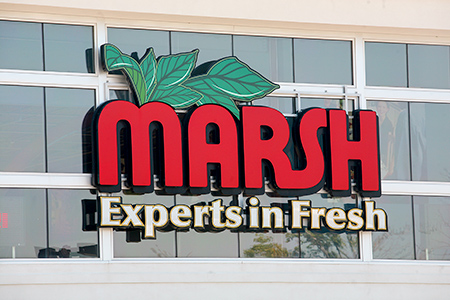 The fate of Marsh Supermarkets' remaining 44 stores likely will be determined at an auction on Monday.
On Wednesday evening, about an hour after the 5 p.m. deadline for offers, the company issued this statement: "Qualifying bids have been received from numerous bidders. The company, its advisors and the creditors committee are evaluating the bids."
Fishers-based Marsh provided no additional information. It wasn't clear how many parties submitted bids or for which stores. Bidding rules approved by Delaware bankruptcy Judge Brendan Shannon late last month gave prospective suitors the latitude to "bid on all or any number of combinations of assets."
Shannon's order said that if Marsh received competing bids, an auction would be held at 10 a.m. Monday, setting the stage for the court to hold a sale hearing two days later. 
An auction wouldn't be needed in the event that the slates of stores bidders want to buy don't overlap.
Marsh, which has been trying to find a buyer for months, filed for Chapter 11 bankruptcy reorganization on May 11. The company, which had nearly 120 groceries a decade ago, has been retrenching for years amid withering competition from Kroger, Meijer and other supermarket chains.
Observers have said that myriad grocery chains likely are interested some of the stores—ranging from Kroger, which already is a powerhouse in the central Indiana market, to Giant Eagle, which has only one grocery here.
Bidding rules stipulate that buyers could not operate a pharmacy in the stores for five years—a prohibition that may have depressed interest.
Rhode Island-based CVS Health negotiated that condition as part of its $38 million purchase of Marsh's pharmacy accounts and inventory. Marsh in April shuttered its 37 pharmacies and sold the accounts to raise cash.
Marsh has closed stores at an accelerating rate in recent months, leaving the company with what it calls its 44 "core stores." News media coverage of the closings has created customer confusion over which stores remain open and which have closed.
Signs posted at the core stores seek to blunt the negative headlines. One in the entryway of the store at 227 W. Michigan St. downtown thanks customers for their patronage and says that "at this time" there are no plans to close the location.
"We're here to stay because of you," the sign reads.
Please enable JavaScript to view this content.