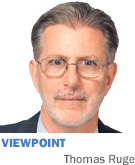 President Trump's enforcement-oriented immigration policies are being implemented through executive orders and by agency decisions and policy shifts. It is not likely the Trump administration will push substantial immigration changes through the Congress this year and the campaign promise of building a wall along the southern border is unlikely to be realized soon.
But several executive orders have been in the headlines because the courts have blocked them: The so-called "Muslim ban" and the bar to federal funding for sanctuary cities are examples. However, the Trump administration is also changing agency practices that address the employment of foreign nationals in ways that will cause problems for businesses in Indiana.
A few statistics demonstrate that Indiana businesses employ a great number of foreign workers. Over 320,000 Indiana residents were born abroad. Each year, approximately 8,500 Indiana residents (4,500 in the Indianapolis area) complete the process of becoming lawful permanent residents. Immigrants hold 11.3 percent of all jobs in science, technology, engineering and math in Indiana. There are an estimated 105,000 foreign nationals without legal status living in Indiana, and the vast majority (over 80 percent of males over 16) are employed.
Each year, Indiana employers obtain 4,500 new H-1B visas for foreign professional workers to fill highly specialized jobs. The H-1B visa and a few other temporary visas are widely used to employ professionals, managers, executives and people with specialized knowledge. Reliable research shows that the hiring of these workers stimulates the economy and creates jobs.
The president is seeking to make it more difficult to obtain H-1B visas. There is a cap in place since before the Trump administration on the number of H-1B visas issued annually to private employers. This results in most petitions being rejected each year (at a rate of 5-to-1 or 3-to-1, depending on the year).
New proposed rules would require applicants for employment visas to disclose more information, including employment, travel and address history for the past 15 years; names and dates of birth for family members and current and former partners; phone numbers and email addresses used the past five years; and all social media handles used the past five years.
In a recent agency decision, an H-1B petition filed by a computer consulting firm was rejected, raising the bar for applicants on several points. Companies that place their employees at the customer job site to perform system analysis and program development or adaptation will be required to show the employee remains under the employer's control and is not supervised by the customer. The wage paid will have to be that of an experienced programmer. Computer consulting firms particularly will be required to use only programmers with bachelor's degrees and set the bachelor's degree as a minimum requirement for the position.
Immigrants who entered the United States before their 16th birthday, have attended or are enrolled in school, do not have serious criminal records, and were under 31 years old in June 2012 are given permission to remain in the United States, attend school and work lawfully, at least on a temporary basis. Many Indiana businesses employ these "Dreamers" lawfully, but the future for these folks is unclear.
Indiana business owners who believe it either is necessary or wise to employ workers from other countries are facing increasingly higher and more difficult barriers. This is one area where increased government intervention and regulation is supported by Trump's sect of the Republican Party and by many labor supporters in the Democratic Party.
This stalemate is largely responsible for the legislative gridlock that prevents passage of comprehensive immigration reform and leads presidential administrations to push the envelope of what actions can be taken by the executive branch of government. Expansion of DACA was blocked in the courts during Obama's term of office, and Trump's travel ban has been stopped the same way.
Trump has ordered further study of this issue, which likely will result in more restrictions by way of action by the executive branch of government.•
__________
Ruge is a director at Lewis Kappes and founding chairman of the Indiana Chapter of the American Immigration Lawyers Association.
Please enable JavaScript to view this content.