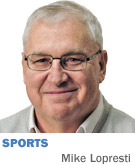 Fifty years ago this June 17, LaPorte won the state baseball championship. Why is that significant? Because 51 years ago this June 17, there was no such thing as the state baseball championship.

Someone had to be first when the IHSAA decided to give baseball a whack. Which takes us to the 83-year-old on the phone, who still remembers coming back from the finals in Indianapolis that night in 1967 to find the LaPorte courthouse square packed by well-wishers.

"They said it was the biggest crowd they could remember seeing there since the end of World War II," Ken Schreiber was saying. "So baseball in LaPorte became a big item then."

He coached that state champion—and six more in the next 25 years. But has never seen a LaPorte game in person since he retired 19 years ago, even though he once lived across the street from the ballpark. The reason why, we'll get to in a minute.

To mark the 50th anniversary, we should know two things about Ken Schreiber.

First, he is the only man to coach seven one-class state baseball titles, and forever will be.

"You bet your life that means something to me," he said. "It's the pride factor, the ego thing I guess you'd call it."

And he's one of the founding fathers of the state tournament. He remembers a landscape in the 1960s where high school baseball was barely a blip in most places.

"Before, they played 12, 13 games and put up their bats and balls until next year. When I first got here [in 1959], I went to my athletic director and I asked if I could schedule 20 games. He looked at me like I belonged in a sanitarium. So baseball wasn't big in LaPorte, but it wasn't big in the state of Indiana. And then, all of a sudden, Indiana found three guys—Ken Schreiber, Jim Reinebold from South Bend Clay, and Spider Fields from Lafayette Jeff. The three of us, not to sound egotistical, started putting baseball on the map a little bit here."

Those three coaches formed an arm-twisting alliance that finally persuaded the IHSAA to get an annual tournament started, reviving an idea that had died out after two early tries in 1912 and 1917. All three men would end up winning state championships, but Schreiber was the biggest collector of trophies.

He won again in 1971 and 1976, 1982 and 1987, 1990 and 1992. And he watched other programs take his cue and start to expand baseball programs. No more 14-game schedules. "That wasn't true," he said, "once the tournament started."

The box score estimates the crowd was 3,500 on the 1967 Saturday that changed baseball in Indiana. LaPorte breezed past Columbia City 8-2 in the afternoon of the Final Four, then rallied from 5-0 down with seven runs in the sixth inning to beat Indianapolis Arlington 7-5 for the championship. They were two programs passing in the night. LaPorte has won 10 more semistates since; Arlington has won none.

One hero of the day for the 28-3-1 Slicers was pitcher Al Malekovic, who started and won the afternoon game and relieved and won at night. He finished the season 15-0. "He was a skinny lefthander who couldn't break the wind, but he had a curveball and was a gritty little sucker. He didn't think anybody could beat him," Schreiber said.

Malekovic stayed in LaPorte and ended up a custodian for an elementary school. And his coach? Schreiber retired a third of the way through the 1998 season, something just telling him it was time. Ask him what he does now, and the answer is, "Enjoying myself, and staying away from parents."

He still listens to LaPorte baseball games on the radio—part of his legacy is that the Slicers are still broadcast, home and away—but it can be said he literally would not walk across the street to watch a game. Because for years, he could have. Maybe he should explain.

"This is Ken Schreiber with a German attitude. I said if I ever got out of Slicers baseball, after 38 or 39 years, that I would never go back and sit in the stands and put pressure on whoever succeeded me. Scott Upp is the coach now. He used to be one of my catchers, and has done a great job. I just didn't think I should have a presence in the stands."

Still, he follows the program, and the sport at large. He is alarmed at what summer travel leagues have done to high school baseball, and hates the new IHSAA pitch-count limits, requiring so many days of rest, depending upon how many pitches a player throws.

"It's the worst rule I have ever seen," Schreiber said. "It helps the poor coach, but it takes away from the good coach. The good coach should know when his pitcher is throwing fluent or he's laboring. Now it doesn't make any difference. It's all the pitch count."

Occasionally, he'll take out his big scrapbook from 1967 and savor the memory. And he's planning to attend a team reunion later this month. But will he ever go back in person—to watch the program he built, play a game he once helped sell to his state?

"I really don't think so. I've not missed it that much. The further we go along here in retirement, I have less urge to go back and see a game. When I retired, we'd draw 2,000 fans pretty doggone regularly. It was something to see. We had a good thing going."

Those are the images he wants to keep unaltered.•

__________

Lopresti is a lifelong resident of Richmond and a graduate of Ball State University. He was a columnist for USA Today and Gannett newspapers for 31 years; he covered 34 Final Fours, 30 Super Bowls, 32 World Series and 16 Olympics. His column appears weekly. He can be reached at mjl5853@aol.com.