Lori Dunlap manages large capital projects, and that means she goes where the projects are. When she was named to Forty Under 40, that was with the Indiana Stadium and Convention Building Authority, where she worked on construction of Lucas Oil Stadium and the Indiana Convention Center and was part of the Super Bowl Host Committee.

She stayed there until 2012, then moved on to the Indianapolis Zoo, where she spent six months working on the Simon Skjodt International Orangutan Center. When that was over, she became associate vice president of facilities planning at Ivy Tech Community College while the school was in the middle of four large capital projects at four different campuses in 2013 and 2014.

She went back to the state for a year as director of capital projects and planning for the Indiana Finance Authority to work on various public-private partnerships, then was between jobs in early 2016—and on a trip along Route 66—when Indiana University Health called.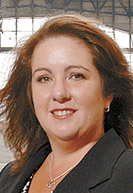 Dunlap

Now, "I could be at IU Health for the rest of my career," she said happily. "We have $1.3 billion worth of projects coming up at three different hospitals. They've asked me to oversee these three projects, which are part of the 10-year capital plan."

The projects are renovating Methodist Hospital to allow University and Methodist to be consolidated, building a new hospital in Bloomington, and significant renovations at Riley Hospital for Children.

"It's great to have landed yet another large Indianapolis project," Dunlap said. "I'm excited to be at IU Health, where I have an opportunity to work on long-term projects that are going to impact Indianapolis for another 30 years."•

—Marc D. Allan