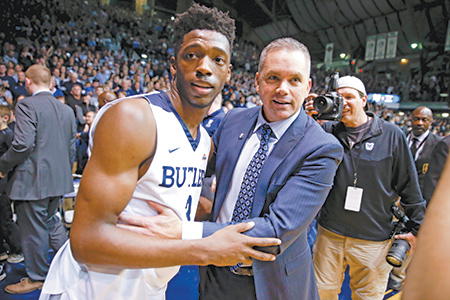 Butler University men's basketball coach Chris Holtmann is leaving to take the same position at Ohio State University, both universities confirmed Friday morning.
Ohio State said Holtmann, the reigning Big East coach of the year, will be paid about $3 million a year under an eight-year deal, but details still have to be hammered out. The school plans a news conference on Monday to formally introduce him.
Holtmann, 45, has been the head coach at Butler for three seasons, leading the Bulldogs to a 70-31 record overall and 34-20 in the Big East Conference. The team has scored victories in the NCAA tournament in all three of his seasons, including a run to the Sweet 16 this year.
Ohio State's Thad Matta, the winningest coach in program history, parted ways with the Buckeyes on Monday after 13 years. Matta, who was suffering severe back problems, coached Butler in 2001-02 in his first college head coaching job. Ohio State has missed a berth in the NCAA tournament the past two seasons.
Butler University President James Danko said in a written statement Friday morning that he had been advised of Holtmann's decision late Thursday.
"Chris has been a tremendous ambassador for Butler over the past several years. Our team has enjoyed great success on the court, in the classroom, and in the community," Danko said. "Please join me in thanking Chris for his leadership and wishing him [and his family] continued success as they begin this new endeavor."
He said the university would begin a search for a new coach "who embodies The Butler Way."
Ohio State Athletic Director Gene Smith said Holtmann is a good fit to be the 14th coach in program history.
"Chris is focused on academics, is a high-integrity person, a relentless recruiter with Midwestern ties and a proven winner," Smith said.
Holtmann was given a three-year contract extension by Butler in April that extended his pact with Butler through the 2024-25 season. Financial terms were not announced, but sources estimated it to be in the $1.5 million range.
Matta, who went 337-123 overall at Ohio State, had three years remaining on his contract and was expected to make nearly $3 million in salary and bonuses in the 2017-18 season. Ohio State is expected to buy out his contract for about $9 million.
Holtmann is 114-85 overall as a head coach. He had a 25-9 mark in 2016-17. Butler's 2016-17 season included a 14-5 regular-season record against 12 teams that made the 2017 NCAA tournament field.
"Chris is a tremendous basketball coach, but more importantly, he is a great man who has led our program well and embodied The Butler Way during his time with us," said Butler vice president and athletic director Barry Collier.
Holtmann was the 2016-17 recipient of the John McLendon Award, presented annually by CollegeInsider.com to college basketball's coach of the year.
Additionally, for the second time in his three seasons at Butler, Holtmann was named a finalist for the Jim Phelan National Coach of the Year Award.
Holtmann was named Butler's 23rd men's basketball head coach in January 2015, after serving for three months as interim head coach. He became interim head coach after Brandon Miller took a medical leave of absence.
He previously was head coach at Gardner-Webb University in Boiling Springs, North Carolina, where he led the NCAA Division II program to a 44-54 mark over three seasons.
Holtmann began his coaching career as a graduate assistant at Taylor University in 1997, where he was a player from 1990-94.
Matta's teams won at least 20 games in 12 consecutive seasons, making him the school's career leader in wins and games. He won five regular-season Big Ten titles and four league tournaments, the most championships of any league coach over the last 13 seasons.
But Ohio State was 17-15 last season and 7-11 in the Big Ten, missing the NCAA tournament in 2016 and 2017.
Please enable JavaScript to view this content.