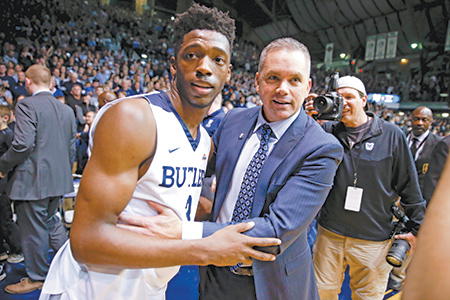 Butler University on Friday announced it has given men's basketball coach Chris Holtmann a three-year contract extension that now runs through the 2024-25 season.
Financial terms were not released.
"Chris is a tremendous ambassador for Butler and the Butler Way, and his leadership has resulted in success both on and off the court for the talented young men in our program," Butler Athletic Director Barry Collier said in a written statement. 
Contract extensions usually mean a bump in the coach's annual salary. The extension is no surprise given that early this offseason, Holtmann was mentioned as a candidate for several major college coaching vacancies.
To try to keep other schools from robbing its coaching cradle, Butler has—over the past 15 years—more than quadrupled the position's annual salary, to the $1.5 million range, according to sources.
It's not clear precisely how much Holtmann, 45, is making. Because Butler is a private university, it's not required by law to make salaries public, and officials there declined to reveal details.
But the school's not-for-profit status means it must list its top-paid employees in tax forms. The last one available—in 2014—showed the school paid more than $800,000 to then-coach Brandon Miller, who worked only part of the year. Holtmann took over that year as an interim and earned $252,000 for three months of work.
A source close to Butler told IBJ that Holtmann's total financial package is worth at least $1.5 million annually.
Holtmann has led the Bulldogs to a 70-31 record in his three seasons as head coach at Butler, including a 25-9 mark this past season. The Bulldogs advanced to the Sweet 16 for the first time since 2011. 
Holtmann was the 2016-17 recipient of the John McLendon Award, presented annually by CollegeInsider.com to college basketball's coach of the year.
Additionally, for the second time in his three seasons at Butler, Holtmann was named a finalist for the Jim Phelan National Coach of the Year Award.
Holtmann was named Butler's 23rd men's basketball head coach in January 2015, after serving for three months as interim head coach. 
Please enable JavaScript to view this content.