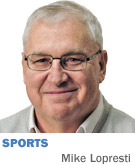 Been a screwy spring, hasn't it? Sometimes weather-wise, often sports-wise. So to mark this week's summer solstice, a compilation. Things we never could have predicted, or headlines we never could have seen coming, locally and nationally.

Tiger Woods in a mug shot …

What was it? Xanex, Oxycontin, Tylenol? No clear answer yet, but one thing is plain enough. Some photos live forever, to be republished again and again and again. This one, for instance.

Chris Holtmann in Columbus, Ohio …

Gee, so much for that new contract stretching to 2025, which was so far in the future, the Interstate 69 extension might even be done by then. One thing about Butler coaching changes, they invariably have lousy timing. Brad Stevens was suddenly gone in July, Brandon Miller in October, Holtmann in June. What's wrong with April, like everybody else?

A man with an 11-24 career record as Butler's new coach …

But here's the thing about LaVall Jordan. He revived his first—and last—Milwaukee team in time to make a spirited run in the Horizon League tournament, and he's an alum and as Butler as the windows in Hinkle. Scored 15 points in a 79-63 win over Wake Forest in 2001. That was the Bulldogs' first NCAA Tournament victory in 39 years.

Indiana's Mr. Basketball wearing No. 15 …

That's 14 numbers too high, right? But it seems like Kris Wilkes' No. 1 was lost in the laundry, just like what happens to a lot of people's socks. He played pretty well with an inflated numeral. While we're on the subject, the annual sight of empty seats and roster woes is a sad reminder that few items on the local sports calendar have lost a step more than the Indiana-Kentucky All-Star series.

The Stanley Cup being played in Tennessee …

Nothing says hockey like Nashville, right? The Grand Ole Opry meets the Zamboni machine.

The Golden State Warriors scoring 68 points in the first half—and trailing Cleveland by 18 points at halftime …

Forty-nine points by one team in one quarter and 86 in one half? Really? But the drama-challenged NBA playoffs needed any surprises they could get. There were five sweeps—the Pacers-Cavs series seems an eternity ago—and only three Game 7s. The Finals had the same duet for the third consecutive year, for the first time in history.

Tyvis Powell …

Some stories you can't make up. Powell—a football product of the Cleveland area and Ohio State and an aspiring safety for the Browns—was honored for his career by the Indians, who invited him to throw the first pitch before a game against the Chicago White Sox. His hometown Browns cut him about five hours before the game. Powell showed up and threw the pitch anyway. Then presumably left and went looking for a job.

The Houston Astros with the best record in baseball …

They have been around more than 50 years and never won a World Series game. Nearly Cubsian.

Speaking of which, Kyle Schwarber hitting .170 at last check …

Indiana University's gift to the Cubs won national renown last October for coming right off the disabled list and turning into Ted Williams in the World Series. A first half like this is the last thing anyone could expect, though he still has shot off occasional fireworks with his power. As of June 12, he had nearly as many homers (11) as singles (14).

The Indianapolis Indians' record …

Worst in the league in April. Best in in the league in May. And nearly .500 in June. Destroyers in World War II movies don't zig-zag like that.

Andrew Luck not having thrown a football in nearly five months …

Larry Bird, Tom Crean, Ryan Grigso, Chris Holtman, Barack Obama—all gone from their jobs since the last time Luck threw a pass. He says don't worry. He says he'll be fine after shoulder surgery. But until you can see he's fine, you'll worry, right?

A driver from Japan winning the Indianapolis 500 …

Takuma Sato, national hero. He's right up there now with Kobayashi, the guy who eats all those hot dogs.

Drew Ellis …

Jeffersonville's own, he drove across the Ohio River to play baseball at Louisville, and helped lead the Cardinals to the College World Series. That sport not on your radar screen? Fine. But if you're an Indiana University fan, meaning you grow nauseous at the very sight of Kentucky Wildcat blue, here's where you should really be impressed. He is Kentucky's worst nightmare. In six career games against the Wildcats, he hit .476, with four home runs and 16 RBIs. "I kind of put it in my back pocket, that we're playing UK," he said, after hitting three homers in five at-bats to dispose of Kentucky in the super regional.

Olympics adding 3-on-3 basketball for 2020 …

Gee, just what the Olympics need, another sport. It might be time to reconstitute the old Gus Macker team. Then again, the last time we played, I had to meet my chiropractor at his office on Sunday morning. Maybe curling instead.•

__________

Lopresti is a lifelong resident of Richmond and a graduate of Ball State University. He was a columnist for USA Today and Gannett newspapers for 31 years. He can be reached at mjl5853@aol.com.