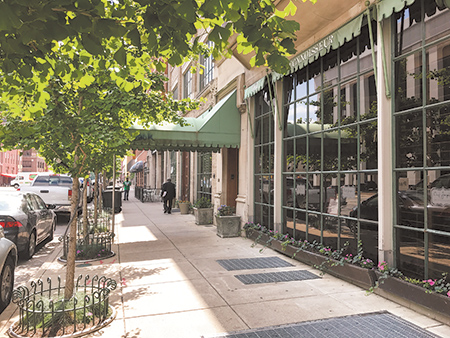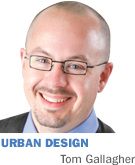 A half block on the south side of Ohio Street between Talbott and Delaware streets is one of my favorite places in downtown Indianapolis. It is not part of a flashy new project. Even in the late 1800s when they were built, the buildings there were minor players. There is no active café outside, and the uses have changed several times since the spot first came to my attention nearly 20 years ago. Nonetheless, there is a magnetism that this place holds for me. "What is it about this place that makes it so alluring," is a question that a passing encounter rarely answers. Recently, I was compelled to go back with a focus on finding out why.
Perhaps there is a bit of nostalgia. I am clearly taken by two of the buildings along this stretch. The collegiate gothic, former fraternal lodge at 115 and 121 East Ohio Street and its Chicago-style neighbor at 131 are some of the last remaining downtown Indianapolis buildings from a late 19th century whose scale and density were more intimate.
But it isn't just mere nostalgia that explains the appeal of this place, with its fine-grained urban fabric. This place has a human scale best experienced at a walking pace. At only three stories, the buildings are no less urban than—nor are they eclipsed by—their more modern counterparts. The commercial level contributes directly to the character and bustle of the sidewalk, facilitated by the transparency of the tall glass façades, and the variety provided by the narrow width of each building. The residential floors above, while more private, never lose contact with the street.
Beyond the provision of human scale is the exceptional manner in which it is provided. The divided-light commercial windows, though unusual and likely not original, add a charm to the street level no matter what is on the other side of the glass. Intricate but understated stone and brick detailing accentuated by deep sills and ledges reveal the buildings to be authentically substantial. Oversized wood doors and custom metal grillage deliver an air of sophistication. Such attention to detail is a difference-maker.
This attention extends to the streetscape as well. The buildings recognize their contribution to the sidewalk—planter boxes are built into the commercial window ledges, and flag poles integrated with the façade provide color, movement and an overhead plane. Small flower-filled planter wells surrounded by iron tree guards contribute a bit of green while displaying a sense of ownership and affection. Significantly, the rhythm of trees in the planters define an edge that completes the outdoor "room."
In the end, more than any one thing, this place is an amalgam, a layering of many understated details that ultimately leave the impression of depth and genuineness across place, use, craft and time.
Walking around urban environments, I often encounter similar places that I find appealing, places that, for whatever reason, draw me to them. Sometimes they are just a small bit of an alley. Other times, they're whole streetscapes. In every case, their attraction is hidden in their subtlety. Maybe you have had similar experiences. I would like to make a habit of understanding these places better. Maybe you have ideas for creating appealing places or have other insights to offer? I'd like to hear them.•
__________
Gallagher is an urban designer with Ratio. Send correspondence to TGallagher@ratiodesign.com.
Please enable JavaScript to view this content.