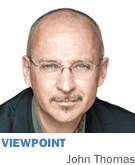 In 2005, the late novelist David Foster Wallace told this story as part of a Kenyon College commencement address:
There are these two young fish swimming along, and they happen to meet an older fish swimming the other way, who nods at them and says, "Morning, boys, how's the water?" And the two young fish swim on for a bit, and then eventually one of them looks over at the other and goes, "What the hell is water?"
I can't help but feel that similar conversations are taking place daily in Washington, D.C., except, instead of water, the conversation is about the humanities.
Why? Because, judging by the budget's proposal to cut funding for the National Endowment for the Humanities, many in Washington apparently can't see something that absolutely envelopes them.
In Washington, the humanities are as pervasive as water is to fish. They fill the halls of museums. They are etched into the walls of memorials. They course through the words in our nation's founding documents. They inform judges, guide elected officials and give shape to laws. They form the infrastructure of our government, our democracy and that great and varied thing we call a nation.
Of course, the humanities also flow well beyond the borders of the District of Columbia. They surge through the shelves of hometown libraries. They raise up debates in town halls and county courthouses. Whether we're farmers, CEOs, shopkeepers, stock brokers, doctors or fry cooks, the humanities illuminate our commonalities and give voice to our differences. They allow our children to form fresh ideas and grasp great truths. They reveal our past. They shape our future. They explain who we are and what we do. 
In short, the humanities are the water through which our civilization swims.
Of course, some might argue that, if the humanities are so pervasive, then why should the federal government support them? Aren't they thriving on their own?
In some contexts, yes, the humanities find their own way. But in other contexts—small towns and disconnected communities, for example, or untested approaches and novel visions—the humanities need the sort of "venture capital" or catalyzing boost that only the government can offer. 
The good news is that the national investment in the humanities is a good one. Research shows that every $1 state-based humanities agencies receive from the NEH leverages an average of $5. Here in Indiana, that has led to remarkable local programming, previously unimagined community conversations and statewide celebrations. It has fed new appreciation for state and local history, for the wide range of faiths and cultures among us and for civic engagement. And it has allowed us to discuss delicate issues of faith and discord, to probe into difficult moments from the past and to expand our understanding of what it means to be a Hoosier.
The cost to our nation of supporting humanities programming (along with the also-threatened National Endowment for the Arts and Corporation for Public Broadcasting) is a tiny fraction of the federal budget—as others have noted, it's equivalent to what the federal government spends on paper clips and copier paper. But the cost of losing that support? Well, I won't be so melodramatic as to suggest it would be like taking away all of the water those fish in Wallace's parable need to survive. But I will say it would be like reducing that water to dangerous levels. And, over time, that might be just as threatening to our collective vitality.•
__________
Thomas is co-owner of JTPR Inc., which counts Indiana Humanities as a client.
Please enable JavaScript to view this content.