Indy Audio Labs, a startup manufacturer of high-end audio gear, is having trouble finding a locally sourced part. Not surprising, given that most of the world's home electronics manufacturers long ago decamped to Asia.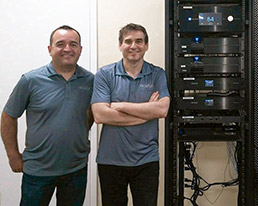 Indy Audio Labs' Rick Santiago, left, and Ted Moore say American-made gear is popular in Asia. (Photo courtesy of Indy Audio Labs)
But it's not a piece of electronic esoterica the firm can't find. Far from it.

Oddly, the toughest thing to locally source is the highly stylized aluminum front panel used to house the firm's equipment. Indy Audio Labs has gone through several suppliers, trying to get just the right look and feel.

"The front panels have been very difficult to make in Indiana," said Rick Santiago, the company's co-founder and CEO. "Finding a supplier who can create those parts on a consistent, quality basis has been a big challenge."

If Indy Audio Labs can't find a Hoosier firm that meets its exacting standards, Santiago and the company's co-founder and chief technology officer, Ted Moore, will have to look further afield—perhaps even overseas. That would be a shame, because in an age when much of the world's consumer electronics production takes place in China, Indy Audio Labs' gear isn't just made in the USA, but almost entirely in Indiana.

"The closer we can keep the supply chain, the faster we can create new designs and the better we can control quality," Santiago said.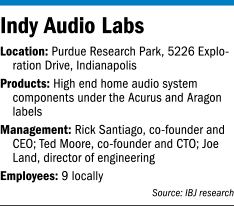 The tiny firm, founded in 2009, employs nine people locally and is headquartered at the Purdue Research Park, just south of Indianapolis International Airport. It serves a very exclusive market niche—high-end audio equipment for home music and theater buffs.

The company's Aragon and Acurus lines of amplifiers, pre-amps and processors (essentially the electronic hearts of home systems) are purchased by audiophiles worldwide—or rather, audiophiles who think nothing of spending as much on their home systems as others would for a car. Indy Audio Lab's gear starts at around $2,800 and reaches, for some components, almost $9,000.

Serving that market is different from a few decades ago, when every home worth its salt had a decent stereo system squatting in the den or living room. These days the market is divided between people who get their tunes via ear buds hooked to a phone and extremely well-off audiophiles and/or home theater owners.

It's that latter market to which Indy Audio Lab appeals. Moore and Santiago were formerly engineers at Indianapolis-based Klipsch Group. Upon their departure, they purchased from the company two respected but neglected audio brands, Aragon and Acurus.

Their goal was to make those products, some weighing close to 100 pounds and as big as hotel mini fridges, relevant to a new, younger generation more familiar with touch screens than woofers and tweeters.

Santiago, Moore, and their director of engineering, Joe Land, did this by pairing their behemoths with in-house-designed computer controls and software, featuring simple equipment interfaces that can be controlled, if desired, by smart phones and other digital devices.

Finding someone who could manufacture such products locally, and for a competitive price, wasn't easy. However, Moore and Santiago wanted someone nearby, as both were intimately familiar with the downsides of farming the work out overseas.

"We had done our tour of duty in China when we worked at Klipsch, and we knew what the capabilities were," Moore said. "We knew the commitment that would be required from us, in terms of travel, and that wasn't something that appealed to us anymore.

"We decided to test the assumption that you have to make it overseas to make a profit. We tested it and found that it's not true. It's certainly the 'easy' button in terms of implementation, but it's not a requirement."

Indy Audio Labs does indeed outsource its manufacturing work, but its contractor is just down the road, not an ocean away. The job is handled by a Jeffersonville firm called Key Electronics Inc. Key builds the sophisticated printed circuit boards that are the heart of the Acurus and Aragon equipment.

Key, in business since 1996, does lots of such work, though usually for clients ranging from aerospace and medical firms to the military. Moore figures his company's audio gear, when compared to the military- and medical-grade work that is the firm's bread and butter, is probably one of Key's easier builds.

Steve Fulton, director of strategic investments at Key Electronics, would beg to differ.

"Their [circuit] boards are very sophisticated," Fulton said. "They've got a lot of stuff on them. And each one of their finished goods has multiple boards. Maybe four or five in each product."

In addition to building the circuitry, Key assembles the finished products, boxes them and ships them directly to customers. One of the company's goals is to do more such work, assembling entire products on a contract basis instead of just providing circuit boards.

Contract manufacturers are everywhere in China, and Fulton said they aren't exactly rare in the U.S., either. The difference is in the jobs they do. Asian contractors are (typically) all about volume. U.S. suppliers are about customization and location.

"There's a lot of opportunity for custom work," Fulton said. "And we're very convenient to work with because our customers' design engineers can come into our facility and help with any obstacles. It's really easy to focus on per-circuit board costs, but when you look at the total cost of procuring the item and factor in time delays, we're very competitive."

The handful of other "made in America" audio components producers usually source their electronics overseas.

"So they're really just assembled in the U.S., if you want to be strict about it," Santiago said. "Ours are built, from the circuit boards to the metal, right here in Indiana."

When it comes to high-end audio, having a "Made in the USA" sticker on the equipment is extremely prestigious.

"In certain parts of the world, it's the best," Moore said. "In India, they almost wouldn't talk to us if we couldn't prove to them that we manufactured in the U.S. They're quite adamant about that."

About 80 percent of Indy Audio Labs' gear is sold overseas. One of its largest customers is China, which displays a distinct bias for high-end American audio.

"The types of electronics products we make are pretty difficult to develop," Moore said. "In fact we only have two or three competitors worldwide in our market."

Though U.S. components are in general renowned for their quality, there's simply not a ton of them out there. According to the website American Made Audio, perhaps 200 companies make equipment here.

"In terms of the high-end audio world, they're very significant," said American Made Audio publisher John Dark. "In terms of actual audio gear that's sold worldwide, it's relatively small."

Fortunately that high-end niche is doing well. Dark described trade shows filled with equipment priced as high as $20,000. Not for an entire home theater setup, but for one piece.

"The low-priced consumer electronics market went offshore 30 years ago, and what is left in the U.S. is absolutely aimed at the high end," he said. "There are people who are willing to spend really good money on stereo gear. A lot of guys end up with stereos that cost as much as cars."

Though Indy Audio Lab certainly wants to hold on to its high-end business, it's also planning to move down the ladder a bit, into mid-range products.

"We're going to continue to broaden our product offerings," Santiago said. "We think there are some more luxury opportunities to take advantage of, but we also think there are broader-market products that would be interesting and affordable to a wider range of consumers.

"We're providing benefits from performance and ease of use, but right now we're only providing those on the luxury tier. We'd love to migrate that down to more of a mass market availability."•