Before Uber and Lyft came to town in 2013, Yared Zeleke made a pretty good living as an independent franchisee driving for Baba Cab.

It was enough that he could drive just a couple of days a week, freeing him up to take classes at Ivy Tech Community College in pursuit of his real career goal: becoming an X-ray technician.

But today, as more people choose to connect to rides through apps such as Uber Technologies Inc., Zeleke's business has dropped off so much that he might make as little as $40 a day. A busy day might earn him as much as $150 to $200, but those days are increasingly rare.

"That's just a miracle. It's not every day," said Zeleke, who can no longer afford the time or the money to be in school. As he spoke at a Washington Street taxi stand, two Uber vehicles slipped into line behind the cabs. "It's just hard."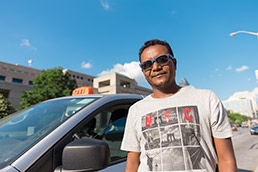 Driver Yared Zeleke says his earnings have fallen to as little as $40 a day. (IBJ photo/Eric Learned)
Zeleke's experience is not unusual and it's led to a drop in the number of taxis and taxi drivers in the city—enough to grab the attention of the City-County Council, which last year launched a commission to explore the issue and determine what, if anything, government should do to address the changing industry.

When the ride-connecting companies came to town, Indianapolis had 917 licensed taxi drivers. That number has fallen every year since then, dropping to 632 in 2016. (Complete 2017 numbers aren't yet available because drivers have until June 30 to renew their licenses.)

The number of licensed taxis has also fallen, from 866 in 2013 to 582 so far this fiscal year.

The commission met three times last month to discuss overhauling the city's taxi regulations—which dictate not only how much cabs can charge but even how drivers dress and how big a company's fleet must be. Commission members are focusing on two areas for reform: deregulation and technology.

"Technology has transformed so much of how we navigate many of our most basic actions. This just puts it in a bold light. Technology is here. How do we adapt to it?" asked City-County Counsilor Vop Osili, who is spearheading the city's efforts. "The big picture is, how much do we regulate and how much do we rely on new technology to fill some of the gaps that traditionally legislation and regulation have filled?"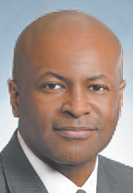 Osili
The group's mission is not only altruistic: Members are worrying about more than the struggling taxi drivers.

As the number of taxis has fallen, so has the revenue the city collects from licensing fees. The city collected $229,453 in fees in 2013, and by 2016 that number had dropped to $167,556.

Meanwhile, the city's costs to run the taxi program—about $250,000 a year—remain steady, said Jason Larrison, director of the city's Department of Business and Neighborhood Services. He told the taxi study commission recently that his 200-person department uses the equivalent of four full-time employees to handle the licensing, inspections and other aspects of the city's taxi program.

The department doesn't regulate Uber, Lyft Inc. or other technology companies that use apps to connect riders directly with drivers. In fact, state law specifically prohibits local governments from regulating those services, which creates a two-tier system that taxi drivers say is unfair.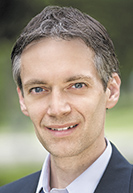 Miller
Instead, state law sets minimal rules regarding insurance, driver qualifications and consumer protections for the app-based companies but otherwise allows the market to dictate their operations.

However, taxi companies operating in Indianapolis must comply with a host of regulations governing everything from the color schemes of vehicles to how much drivers can charge and where they can live.

The disparity in how the two groups are regulated is what the city is hoping to address.

"We have made it hard for them to operate," Councilor Jeff Miller, another member of the study commission, said about taxi drivers and companies. "If anything else, we have a responsibility to lift laws that don't make sense."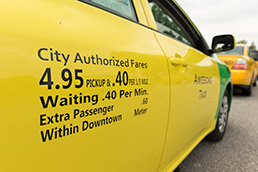 Taxis face significantly more regulations—including price controls—than do smart-phone based ride-sharing programs such as Uber and Lyft. (IBJ photo/Eric Learned)
For example, taxis must be registered in Marion County, and cab drivers are limited by fare caps that have been in place since 1996, no matter how much they are in demand. But drivers for app-based services aren't bound by either geographic or fare restraints.

So when Indianapolis hosts a big convention or NFL game, Zeleke and the other drivers said, they have the potential to make good money. But those events also attract a flood of Uber and Lyft drivers, some of whom arrive from out of state.

"Even if the convention comes, a lot of people take Uber," said Amadou Diallo, a driver for Gold Cab. "Cab drivers need help from the city."

When contacted by IBJ to comment on disparities in regulation, Uber cited a 2016 ruling by the Seventh Circuit Court of Appeals. In that case, the court ruled that Uber is different from traditional taxi companies and does not have to abide by the same set of regulations.

"In just five years ridesharing has created flexible earning opportunities for thousands of drivers in neighborhoods across Indianapolis and helped hundreds of thousands of riders get from A to B," Uber said. "We agree with the 7th Circuit Court's ruling late last year that ridesharing provides a different transportation option than taxis and we are pleased to serve every corner of the city."
Lyft did not respond to IBJ's e-mailed requests for comment.

The taxi reform commission's meetings have included far-ranging discussions—and lots of questions— but no conclusions yet as to what path the city should pursue. The 13-member commission includes representatives from the city, law enforcement, the taxi industry, the hospitality industry and others.

Commission members say the topic is broad and complex and that technology will likely be part of the solution.

"We're going to have to look at how [taxi companies] catch up, and I think technology's going to be a huge part of it, and what role the city is willing to take in that," said committee member Elise Shrock, director of operations at the Indiana Restaurant and Lodging Association. "I think we're really still trying to get into the meat of what that means."

Lynette Taylor, a community organizer with the Indianapolis Worker Justice Center, is a commission member representing the views of the local taxi industry. She said without a centralized app to connect customers to cabs, "taxis are handicapped."



But 18 of the 31 taxi companies registered with the city have five vehicles or fewer. It's unrealistic to think that these small businesses will have the means to develop and maintain an app—or that customers would know how to find them.

In a letter that Taylor delivered to the committee, taxi drivers asked the city to help them "develop an app that benefits everyone involved."

Taylor agrees the city should have some involvement in creating or operating a taxi app, "but what that way is, has yet to be determined."

One idea, Osili said, is to use a pre-developed app that would allow Indianapolis passengers to connect with local taxi companies. Other cities have adopted this idea, he said, and at the next commission meeting an app company will give an informational presentation.

Other commission members are not so sure that an app will solve the industry's problems—or that the city should be involved in the app business at all.

Miller, who has a background in information technology, said an app in itself won't necessarily level the playing field.

For example, Indianapolis Yellow Cab, which is the largest player in the local market with 150 registered vehicles, has an app of its own. If the city requires all taxi companies to use a particular app, Miller said, that could render Yellow Cab's app useless.

Another consideration, Miller said, is how the app's algorithm is built. When a customer requests a ride through the app, how would the app select which taxi company to dispatch? Would an app be fair to all companies, regardless of fleet size?

"What is our role in the little guy vs. the big guy?" Miller asked rhetorically.

Michael Farren, a research fellow at the Mercatus Center at George Mason University, said that if a city develops an app, "essentially it's putting itself into the realm of competing directly with Uber and Lyft."

And if a city mandates use of a particular taxi app, even a third-party app, that could shut customers out of the market.

"It's possible that anyone who doesn't have a mobile phone won't be able to call a taxi," he said.

Farren, who visited Indianapolis last month to speak at a taxi commission meeting, said he operates from the general viewpoint that government regulations can be twisted to benefit special interest groups, which harms the economy and society in general.

The commission has also discussed some non-technology issues, including whether the city needs more downtown taxi stands and whether to scrap the requirement that cab companies maintain a round-the-clock dispatching office. The taxi drivers say they favor both ideas.

Miller said he likes the idea of trimming existing regulations and creating a local taxi board that could make its own policy decisions as further changes are needed.

"I think that's pretty enticing," Miller said.

Whatever the city ends up deciding, it's not alone in its efforts.

Indianapolis-based Scopelitis, Garvin, Light, Hanson & Feary P.C., a law firm that focuses on transportation, said cities around the U.S. are dealing with the same issue.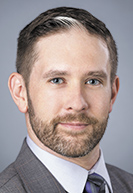 Farren
Washington has not yet enacted a state law regarding app-based ride-hailing companies, though such legislation is currently pending in that state's Legislature, Scopelitis partners Greg Feary and Shannon Cohen told IBJ. More than 40 states have already imposed their own laws governing app-based services.

In the meantime, Seattle has passed local legislation that includes new requirements on driver work hours, vehicle inspections and driver conduct. These rules cover all drivers for hire, including app-based drivers, the Scopelitis attorneys said.

On the other end of the spectrum is Washington, D.C., which largely deregulated its taxi market in response to Uber and Lyft.

Some small U.S. cities have totally eliminated their taxi regulations, Farren said, and on Jan. 1, Des Moines, Iowa, became the first large U.S. city to do so.

It's too early to tell whether other large cities will follow Des Moines' lead, Farren said. "Des Moines might be the tip of the iceberg, or it might be an outlier."•