The executive director of the Carmel Redevelopment Commission is planning to run for Indiana Senate in 2018.
Republican Corrie Meyer is expected to file her candidacy paperwork for the 29th Senate District, which represents Carmel and parts of Zionsville and northwest Indianapolis, on Monday.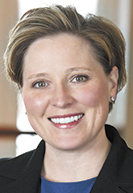 Sen. Mike Delph, R-Carmel, is the incumbent in that district.
Delph has not publicly announced whether he will run for re-election, but he has never faced a primary opponent since taking office in December 2005 when he replaced Sen. J. Murray Clark, who retired with one year remaining on his term.
Meyer, 39, said she's running because she thinks the district needs "an effective and efficient senator," and she believes she has those skills from her experience as an urban planner.
"I think that my background as a planner is really what sets me apart, because as a planner, I'm trained to look at the future," Meyer said. "I'm a forward-thinking individual. I'm positive, and I think I can bring everything I've got to the table to make a difference."
Meyer, who has never run for elected office before, became the executive director of the CRC in 2014. She works for the CRC as a consultant and also runs a separate planning consulting business called Innovative Planning LLC.
Prior to joining the CRC, Meyer spent more than 10 years with Indianapolis-based architectural firm Schmidt Associates as an urban planner.
Meyer also serves as the director for Indianapolis-based community group Reconnecting to Our Waterways.
She said she would not resign from her position with the CRC if elected.
"As a small business owner, you have to balance your time with all of your clients," Meyer said. "I am picturing this as another client endeavor."
She said her campaign is going to focus on the economy and the safety and well-being of the communities in her district. Specifically, she said she wants to be involved in finding solutions to the ongoing opioid epidemic, helping baby boomers age in place, workforce development, training opportunities for employees, and ensuring the state has a sufficient supply of clean water.
She also wants to study how the autonomous vehicles should be regulated.
"This is an opportunity for us to get ahead of the issue before it's even at our state's platform," Meyer said. "So we're not being reactive, we're being proactive."
Meyer said she started thinking about running for office as far back as three years ago, but made the decision about 18 months ago.
"I knew that I had to build relationships. I knew that I had to make certain connections," Meyer said. "It is a process and I feel like I've made enough progress for me to be able to file and continue building those relationships in a public manner."
In 2014, Democrat J.D. Ford opposed Delph in the general election and received 46 percent of the vote. Ford has already announced plans to run again in 2018.
"I think that the constituency in this district is looking for a change," Meyer said. "It was a very close race."
Meyer has the support of at least one Republican in office. Carmel City Councilor and CRC member Jeff Worrell said he thinks Meyer has a strong work ethic and understanding of how government should work.
"Now state level is going to be a challenge for her, I believe, and I mean that in a good way," Worrell said. "I think she will be just as challenging to state government as it will be to her."
Worrell acknowledged that her lack of political experience and possibility of facing an incumbent could be difficult for Meyer to overcome, but he thinks she can be successful.
"I think Corrie has to go into this eyes wide open, understanding that it is going to be challenging," Worrell said. "Nothing is guaranteed, but if you don't try, it's always 'what if?' or 'what could have been?'"
Please enable JavaScript to view this content.