A coalition of government, business and community groups is posing a big question: How can Indianapolis and surrounding counties best capitalize on the White River?

To find an answer, public officials and community leaders have been quietly traveling to river cities—including Cincinnati; San Antonio and Austin, Texas; and Wilmington, North Carolina—to see how they've turned their waterways into community assets.

And this summer, the city of Indianapolis plans to solicit expert help in creating a vision for the White River's development and use.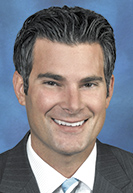 Gahl
"There's so much untapped potential that we're looking to build consensus around," said Chris Gahl, senior vice president of marketing and communications at Visit Indy. "We're really just amidst the research phase in, 'What should our White River look like and offer in the future?'"

The effort is so early, in fact, the project doesn't yet have an official name and the list of parties involved is still evolving.

But the general theme is clear: The White River is a largely underused asset, and the Indianapolis area should come up with a plan to change that—a plan that includes development along the riverfront as well as recreational use of the river itself.

"This is the first time, probably, since Indianapolis was founded that we are looking at the river as an opportunity, as an asset," said Jeff Bennett, the city's deputy mayor of community development.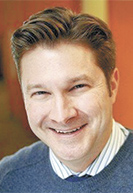 Bennett
The main, west fork of the White River originates in eastern Indiana, flowing through Muncie, Indianapolis and Spencer. It then heads to the Indiana/Illinois state line where it meets up with an east fork and then flows into the Wabash River at Mount Carmel, Illinois.

There is only scattered development along the route—although White River State Park in downtown Indianapolis has a collection of walkways and greenspace on the river's eastern banks that connects NCAA headquarters, IUPUI, the Indiana State Museum and an outdoor concert venue with—via a pedestrian bridge—the Indianapolis Zoo.

Noblesville is developing a river walk. And Broad Ripple has capitalized on the river some as well, Bennett said.

But overall, the riverfront lacks restaurants, retail or other amenities to keep it lively. And save for some canoeing, there's very little recreation on the river itself—especially downtown where it's perceived as polluted.



"We think a planning process like we're contemplating brings out those nodes around the river where we can really develop activities and programs and branding around the river," Bennett said.

The Indianapolis Department of Metropolitan Development plans to issue a request for qualifications in the next month or so to solicit teams of developers, environmental experts, engineers and others interested in advising the city.

Organizers also say they will solicit community input.

But city administrators are not alone in the effort. Partners include the Indianapolis City-County Council, tourism groups Visit Indy and Hamilton County Tourism Inc., and others.

As part of their research, representatives of those groups have taken fact-finding trips to learn about downtown waterfront use in other cities. Among their discoveries:

Along the Cape Fear River in downtown Wilmington is a popular wooden boardwalk. San Antonio has an entertainment district built around its downtown River Walk, which features a waterway that's more like the Indianapolis Central Canal than the White River.

Sports venues, housing, a new park, office space and restaurants border the Ohio River in Cincinnati, where an 18-acre, mixed-use development called The Banks is in its final stages.

And the visits aren't done. City-County Councilor Vop Osili said officials still hope to visit Columbus, Ohio, and Des Moines, Iowa.

So why is the Indianapolis effort gaining momentum now? For several reasons.

Earlier this month, Indianapolis-based Ambrose Property Group was selected to redevelop the former General Motors stamping plant property on the western edge of downtown. Ambrose proposes a $550 million mixed-use project on the 103-acre parcel, which sits on the western bank of the river just south of Washington Street.

Planners say the Ambrose project should spur more riverfront development.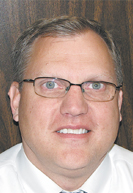 Brown
"We're going to have developers coming to us," said Bart Brown, chief financial officer for the City-County Council. Brown was part of the group that traveled to Wilmington in March.

Another area poised for development near the river is 16 Tech, an innovation district near the IUPUI campus between 10th and 16th streets.

Interim 16 Tech CEO John Kish said the development has a budget, a master plan, a board of directors and a "prospective developer." In 2015, the city approved $75 million in infrastructure bonds for the project.

Once an ongoing groundwater-quality problem is resolved, Kish said, work at the site can begin.

The White River planning effort also coincides with Visit Indy's efforts, begun in 2015, to develop a regional tourism master plan.
Gahl said Visit Indy has received input from more than 3,000 community stakeholders.

"One of a handful of repeated topics that came up, and ideas that surfaced, was activating the White River, specifically in the downtown region," he said.

The river could be a powerful tourism draw and improve residential quality of life, he said.

"Imagine if you could take a dinner cruise from Noblesville to downtown Indianapolis in time for a Colts game," Gahl said.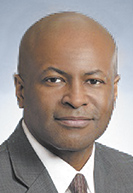 Osili
Another factor spurring the current efforts: an ongoing sewer-improvement project that should help reduce river pollution. Citizens Energy Group's $1.6 billion upgrade to the city's sewer system, which has historically released sewage into the river during rain storms, is expected to wrap up by 2025.

"It will be the right time for us to be engaged in our river, to have activities and recreation on the river. It makes sense to be in the planning stages and ready to implement riverfront development," said Osili, who was also part of the Wilmington travel group.

Initially, efforts will focus on downtown Indianapolis—but the goal is to move beyond that area.

Spurred by Visit Indy's regional tourism plan, Hamilton County has already done its own inventory of White River assets, said Brenda Myers, president and CEO of Hamilton County Tourism Inc.

"Downtown Noblesville's river walk is almost completed after a decade of visioning by the county and city, Conner Prairie is looking at its White River shoreline, and we have a lot of our county's river access in public spaces," Myers said in an e-mail to IBJ. "How can we lift those assets up in a collaborative long-term vision?"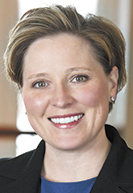 Meyer
Another partner in the effort is Indianapolis-based community group Reconnecting to Our Waterways. The group, which uses the acronym ROW, positions itself as a community convener, helping to connect partners working to protect and promote local waterways.

ROW Director Corrie Meyer said she's already heard several ideas for White River use: creating a downtown riverfront "beach"; building an athlete's village for runners along the river; and adding riverfront meeting spaces, art and programming.

"There's some great momentum behind the ideas that are floating around," Meyer said. "And we'll work with all of the organizations to try and help it get done."•