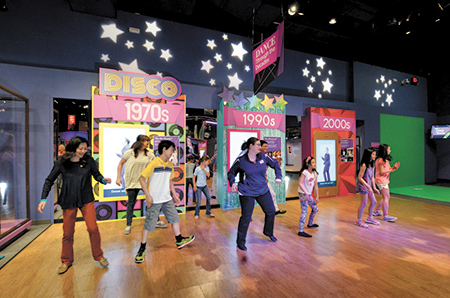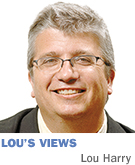 Dance is both incredibly instinctual and incredibly disciplined. It encompasses highly trained professionals dedicating their lives to getting a movement just right, and it includes spontaneous spinning to sounds that only kids seem to be able to hear.
And it turns out to be a smart choice for the Children's Museum of Indianapolis' exhibit designers, who have created a new exhibition simply titled "Dance!" (through April 2018).
Never having had a dance lesson—those who have seen me in action will not doubt this—I experienced no pangs of nostalgia for my own youth when walking into the show's mini ballet studio. Yet, even without such formal, formative experiences, I can look back on a lifetime of dance moments, whether first-hand in a high school gym or at a daughter's wedding or as a spectator in a theater, on TV or in the movies. Whatever your dance memories, they are likely to be incorporated into your experience here.
In the mood to move? The exhibit provides plenty of room. In addition to the ballet studio—where the free-range dancing is periodically interrupted by instruction from staffers—there are also two video-screen-prompted areas to learn moves from decades' past (The swing moves are treated with much more respect than the disco ones.)
An additional stage area sets kids loose in costumes while their parents sit in the audience area with access to a series of buttons that blast sounds of applause and surprise as well as bravos and cries for encores. These are fun while in that territory but can be annoyingly repetitive when you're trying to experience another part of the exhibit. There's also a neat way to record yourself and email the evidence home.
While not overloading visitors with facts, figures and history, "Dance!" does a nice job of introducing styles from around the world. There's a wall of masks worn by various cultures in their native dances and a touchscreen opportunity to try to identify the narrative in dances from Hawaii, India and Japan. And the show is nicely localized not only with costumes and set pieces from past Dance Kaleidoscope shows but also with video of the DK dancers in action in "The Girl and the Piano: Recording Sound." It also provides a sobering reality check via a pair of shoes that reveal the wear caused by 3,300 hours of dancing.
Of course, what's on display is only part of the pleasure. By design, the galleries will be populated by kids of varying talents demonstrating their moves for family and friends. It's that joy, prompted by rather than created by the show, that is the real cause for celebration here.
While likely to be just as popular with visitors, a new permanent exhibit, "American Pop," feels like a bit of an afterthought, colorfully cobbling together elements from other show concepts.
There's a wall devoted to comic books with a fun interactive to put yourself on a comic book cover, a rotating closet of boots, a wall that doesn't quite connect a Norman Rockwell painting to children's readers from the 1950s, lunch boxes, collectables (including Beanie Babies and Star Wars figures), a place to add temporary flair to jeans and jackets, random memorabilia including a Garth Brooks-signed guitar and a Debbie Reynolds Vegas gown, and a guess-what-happens-next movie clip game that includes Stanley Kubrick's "Paths of Glory"—something I never thought I'd see at the Children's Museum—in the mix).
Like much of American popular culture, "American Pop" throws a lot at you, without giving much context or room to breathe.
I'd rather be dancing.•
Please enable JavaScript to view this content.