My son insists that End of the Line Public House in the historic Fountain Square building had the best mac and cheese in the city. But apparently not enough people felt that way, and End of the Line reached the end of its line not long ago.

Its replacement: Sidekick's Pizza (1105 Shelby St., 317-602-3037), created by the trio behind Red Lion Grog House.

The new eatery retains the structure of the old, switching the décor to whimsical artwork celebrating the characters behind the characters, including Chewbacca, Tattoo (from "Fantasy Island"), and Farris Bueller's pal Cameron. The management should brace for some pushback about labeling Dana Scully from "The X-Files" as a sidekick rather than a co-lead, but that's someone else's battle to fight.

A working Pin Bot pinball machine helps tie it into the retro vibe of the neighborhood. As do casual but friendly service and stools at the bar, helpful for solo visits.

While nothing we tasted defined Sidekick's as a destination pizza shop, we did find offerings that make it a welcome addition to the Fountain Square lineup. The hot breadsticks were chewy, a bit undercooked, and improved by the lemon garlic hummus we chose as a dipping sauce. The Meatball Sub ($11.99 whole, $7.99 half) was hearty and satisfying, with a toasted bun, juicy beef meatballs, just enough tasty tomato sauce and, as it should be, more than enough cheese. A half order is more than enough for one diner. An everyday offering is a serviceable Italian Wedding Soup ($3.99), and there's usually another soup created at the whim of the kitchen.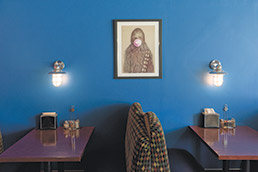 Pop culture sidekicks—including Chewbacca—are celebrated on the eatery's walls.
(IBJ photo/Eric Learned)
Offering pizza by the slice ($3.49 for cheese, pepperoni, sausage or a combo) gives it even more of a raison d'etre while on a weekend evening club break. A slice and sticks deal for lunch ($4.99) encourages midday stops for those on a budget.

Beyond the ample slices, there's a list of specialty pizzas. Our choice, the Southern Fiesta ($10.99 for 9-inch, $11.99 for a 12-inch gluten-free crust, and $13.99 for a 14-inch), started with a layer of vinegar-based Carolina BBQ Sauce and chorizo on top of a thin-but-not-crackery crust. Mozzarella is the cheese of choice, with fire-roasted corn, black beans, peppers and onions as the southern inclusions. The only drawback here was that the crust of our 9-inch pie proved too dominant. I don't expect edge-to-edge toppings, but the ratio here could have been better.

There was an upside, though: More dough to dredge through the leftover breadstick dip.

Other pizza options, at the same prize, include Steak & Eggs, Duck Pin Sausage, and a maybe-next-time Apple Pie Pizza with caramelized onions, cheddar cheese and sliced apples.

Hey, however you get your kicks, right?•