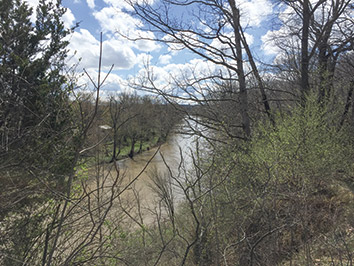 The Central Indiana Land Trust says it has raised $2.2 million of the $2.7 million it needs to establish White River Bluffs and preserve 12.2 wooded acres along the White River in Indianapolis.
The trust is buying the scenic land from Highland Golf and Country Club to prevent it from being developed.
Located east of Michigan Road between 56th and 52nd streets, the land offers striking views of the White River, the downtown skyline and Hinkle Fieldhouse on the Butler University campus. Some of the oldest trees in the city grow on bluffs that rise 85 feet above the river. Bald eagles and other wildlife frequent the area.
More than 85 donors contributed gifts totaling $2.2 million to close the sale on the first 9.1 acres of the planned acquisition. The land trust expects to purchase the other 3.1 acres in or before 2019 after another $700,000 is raised.
Highland is using money from the sale to renovate its clubhouse and build a pool house and tennis courts. The country club was established in 1919 and moved to its present location in 1925. It has 300 members.
The trust has begun marking the property boundaries and started work to control invasive species that threaten native plants.
Local developer Litz Real Estate had wanted to purchase the same land, but up to 20 acres, to build 48 high-end homes.
A neighborhood group led by Myrta Pulliam and Charley Grahn contacted the Indiana Department of Natural Resources, which was interested in protecting the unique area. The state helped the land trust with a $50,000 grant toward the purchase through its Bicentennial Nature Trust.  
"This is really a remarkable area and such a special place along the White River," said Cliff Chapman, executive director of the Central Indiana Land Trust, in written comments. "Our donors saw the importance of keeping the land from development, and their generosity allowed us to make the purchase and ensure it will always stay intact and available for all to enjoy when it opens to the public in 2020."   
Please enable JavaScript to view this content.