As the opioid epidemic rages out of control, with more than 1 million Americans a year swamping hospitals for overdose treatments, Eli Lilly and Co. is working on a new pain medication that could be a game-changer.

The Indianapolis drugmaker is pushing forward with a longtime rival, Pfizer Inc., to develop a non-opioid treatment for pain. If approved, the drug, called tanezumab, would be the first in a new class of non-opioid chronic pain medications.
The companies say the drug, now in late-stage clinical trials, could be more effective for pain treatment than opioids—a dangerous category of pain killers that includes hydrocodone, morphine and fentanyl—without the abuse potential of such medications.
Patients who use opioids to treat chronic pain often get addicted and increase their use to unsafe levels. More than 40 Americans die every day from overdoses involving prescription opioids, according to the Centers for Disease Control and Prevention.
In the U.S., sales of prescription opioids nearly quadrupled from 1999 to 2014, according to CDC figures. In recent years, as the epidemic has grown, doctors, patients, addiction counselors and analysts have pushed for the development of a non-opioid pain medication with lower risk of allowing it to addiction.
Lilly and Pfizer are now testing their pain drug in 7,000 patients. It is given by injection every eight weeks. The companies say they expect to get data next year on the trials.
They got a big boost on June 13 when their drug won "fast-track" designation from the Food and Drug Administration for treating osteoarthritis and chronic back pain.
Drugs that get the designation are eligible for priority review, which can shave months off the process. In addition, winning the designation will allow Lilly and Pfizer to have more frequent meetings with the FDA to discuss clinical trials, drug development and data collection.
"We hope it gives us an opportunity to have direct dialogue, continuous dialogue with the FDA as we continue to develop our robust development program," said Diane Bakaysa, global brand development leader for tanezumab.
Tanezumab works by inhibiting a protein called nerve growth factor, or NGF, and thus preventing pain signals from hitting the brain.
Analysts have said that a successful NGF inhibitor could become a blockbuster, meaning it could ring up $1 billion a year in sales.
But the field is littered with setbacks. AstraZeneca and AbbVie both discontinued development of NGF inhibitors within the past decade after results didn't measure up to expectations.
Another company, Regeneron Pharmaceuticals Inc., said regulators had placed the company's experimental pain drug for osteoarthritis on clinical hold after a patient in another company's trial developed a serious bone disorder, Reuters reported.
The expectations, now, are high for tanezumab, but the drug has followed a winding path through development.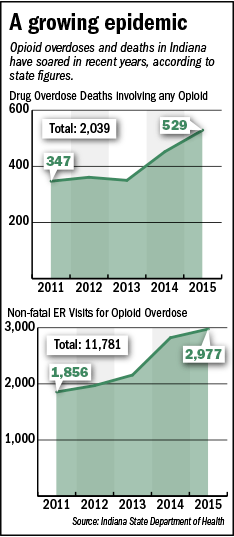 It was discovered by researchers at Rinat Neuroscience Corp., a San Francisco biotech startup. In 2006, Pfizer bought Rinat for an undisclosed amount, giving it ownership of the drug.
But efforts to develop the drug were uneven. In trials in 2010, some arthritis patients taking the drug reported higher rates of damage in their joints—apparently because the drug was so effective at reducing pain that the patients over-exerted themselves. That led the U.S. Food and Drug Administration to place a hold on tanezumab.
Pfizer worked through that issue. But then in 2012, the FDA placed another hold on the development of tanezumab and all similar drugs due to concerns about nervous system effects seen in animal studies.
In 2013, Lilly entered the picture. The Indianapolis drugmaker—better known for its antidepressants, cancer drugs and portfolio of insulins—signed a deal with Pfizer to jointly develop and commercialize tanezumab.
Under the deal, Lilly pledged up to $1.8 billion, depending on whether the drug hit clinical and regulatory milestones.
In 2015, the FDA announced it had lifted the hold on tanezumab after reviewing data. Pfizer and Lilly said they would resume a Phase III study on the drug.
Lilly said it is too early to provide dollar estimates of the demand for a new drug, should it pass FDA approval. But the company pointed out that of the more than 27 million Americans who suffer from osteoarthritis and 23 million who live with chronic back pain, many have not achieved adequate pain relief.
"We're hopeful our program will deliver the data necessary to provide a potential alternative for millions of patients who are still seeking valid treatments that will work for them," Lilly's Bakaysa said.
Some doctors say they would welcome another treatment option. Currently, they have three main options: opioid medications, such as Percocet and Vicodin; non-steroidal anti-inflammatory drugs (known as NSAIDs), such as Motrin and Celebrex; and antidepressants approved for pain treatment, such as Cymbalta and Zoloft.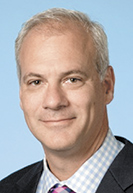 Rusyniak
Meanwhile, the concern about prescription opioid abuse is soaring. Opioids are a class of drug that includes heroin and are considered highly addictive. One in five patients who receive opioids after surgery become chronic users, according to the CDC.
Still, opioids are prescribed for a wide variety of pain situations, from transplant surgeries to minor emergencies.
Typically, about two-thirds of all visits to emergency rooms nationally are related to a complaint of pain, said Dr. Daniel Rusyniak, an emergency medical physician at Indiana University Health and medical director of the Indiana Poison Center.
"There's no question that physicians would like a non-opioid treatment for pain," he said. "Everybody understands the inherent risk of giving somebody a drug that's similar to heroin four times a day."
Opioids are especially troublesome for patients suffering from chronic pain, who need to take pain medications for years and risk becoming addicted.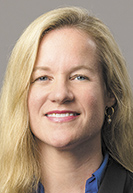 Fiddian-Green
Scott Watson, an addictions counselor and founder of Heartland Intervention, an Indianapolis company that provides counseling and intervention services for substance abusers, said he is hopeful that pharmaceutical companies can develop non-addictive pain medications quickly, in the face of the epidemic.
"Chronic pain patients are struggling," he said. "One reason is a lot of medications available now by their nature are addictive. It takes more to get the same result and provide pain relief. So you risk becoming addicted."
Some not-for-profits and foundations also are hoping that drugmakers can give doctors new options for treating pain. The Richard M. Fairbanks Foundation, which awards grants in the areas of health, education and the "vitality of Indianapolis," earlier this year awarded a $376,000 grant to train up to 50 new addiction specialists a year who can help put Hoosiers on a path to recovery.
"There are many reasons for addiction, but it certainly doesn't help that there's been very easy access to large supplies of pain medication," said Claire Fiddian-Green, the foundation's president and CEO. "So I think it's encouraging that Lilly and Pfizer are working together to develop this alternative."•
Please enable JavaScript to view this content.