Fifteen employees, including seven attorneys, are leaving the city's fifth largest law firm—Hall Render Killian Heath & Lyman—to join a much smaller firm bent on growing its health care and litigation business.

Katz & Korin will grow from 13 to 20 attorneys when the deal closes June 30.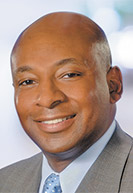 Cunningham
Norris Cunningham, who has been Hall Render's health care litigation practice group leader, will become a shareholder and name partner at the Katz firm, which will be renamed Katz Korin Cunningham.

The move will nearly double Katz & Korin's revenue, said Michael Gabovitch, the firm's managing partner.

"We fully expect 100 percent of Norris Cunningham's [client work] will be coming to KKC as a result" of the move, Gabovitch said.

That will broaden the firm's reach. While most of Katz & Korin's existing clients are based in Indiana, Cunningham said he and other attorneys making the move "have clients that are national in scope. We definitely plan to grow the footprint of this firm."

Katz & Korin, which was founded in 1994, will grow overall from 23 to 38 full-time employees as a result of the move. The deal will move Katz Korin Cunningham into the top 25 biggest law firms in the city, according to the IBJ Book of Lists.

Cunningham thinks that's just the beginning of the firm's growth.

"Will we be at 21 or 22 attorneys a year from now? Absolutely not," he said. "We're not looking to expand for expansion's sake, but we know there are opportunities out there that fit our skill set."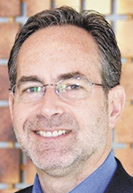 Gabovitch
Not only do Cunningham and Gabovitch project adding another 20 or so attorneys by 2020—to a total of 40 or more—but also another 10 to 12 support staff. If the firm is able to accomplish that lofty goal, it would put it near the 10 biggest law firms in the city.

"We expect to be attractive not just to clients, but also to attorneys in the prime of their careers," said Gabovitch, who added that the firm has room to grow at its office at 334 N. Senate Ave.

Katz Korin Cunningham will be less bureaucratic and "more flexible with billing options" and have a culture that emphasizes an entrepreneurial spirit and growth opportunities for the company and its employees, Gabovitch said.

"We have a group of attorneys in the early to middle portion of their careers," Cunningham said. "The majority of our attorneys have 30 to 35 years left in their careers. We think we'll be attractive to attorneys in that same position because we're ready to really grow and expand in a way maybe you couldn't with another firm.

Cunningham, 51, and Gabovitch, 56, each expect to work another 15 to 20 years.

While Cunningham will be part of a five-member executive committee at Katz Korin Cunningham, he said he's "looking forward to spending a lot of time practicing law and less time on administrative work than I did before."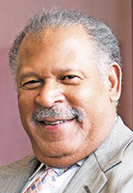 Thompson
Milton Thompson, a local attorney for 38 years and former president of the alumni association at the Indiana University Maurer School of Law in Bloomington, isn't surprised by the move.

"Hall Render has a great reputation and their attorneys have a great book of business. That makes them attractive to other firms, so they would be susceptible to raiding," Thompson said. "These deals are about a good fit, but that book of business is key."

Often lawyers in large firms leave to seek more control and a faster track to the top of a firm's food chain, he said.

"There are times when attorneys leave with the idea of making their mark at a smaller firm, and in turn, turning that firm into a much larger one," he explained. "That sort of move, of course, comes with some risk because you don't always get the type of support at a smaller firm you would at a large firm. But it can work out."

Cunningham doesn't think the departure—which he called "very amicable"—will harm Hall Render, which has 99 attorneys in Indianaopolis and 205 nationwide.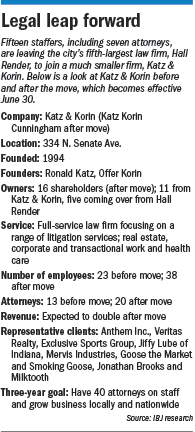 "They're a large, well-known firm that is very good at what they do," Cunningham said. "The litigation and health care dispute resolution aspect [that my group does] is less of a strategic fit for Hall Render than for Katz & Korin."

Hall Render President and Managing Paratner John Ryan called the change a "win-win" for both firms and its clients.

"They're aligning with a firm better positioned for insurance defense litigation," he said. "From our vantage point, it gives us a chance to prioritize our resources toward our strategic vision of top-notch regulatory, transactional, high-stakes compliance and commercial litigation."

Prior to this year, Cunningham and Gabovitch did not know each other.

The proposition of a merger was brought to them early this spring by Hall Render's Jarrod Malone and Katz & Korin's Hannah Kaufman Joseph, who attended the Indiana University McKinney School of Law together.

"They had always talked about practicing law together and thought the two groups were a good fit," Cunningham explained.

Cunningham and Gabovitch agreed to meet for dinner two months ago and immediately made a connection.

"What's great about this is it evolved from some personal and professional relationships," Gabovitch said. "We discovered that not only are these great lawyers, but they're great people."

"We believe strongly this is a strategic fit," Cunningham added. "We believe this enhances what Katz & Korin has, and we bring our own unique skill set."

Gabovitch said the migration won't fundamentally change the firm's focus.•