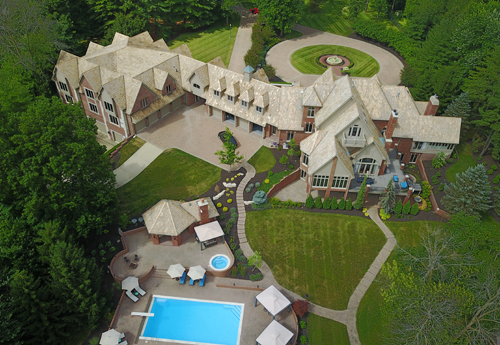 The party pad on Geist Reservoir formerly owned by convicted fraudster Tim Durham is back on the market with an asking price of nearly $3.5 million—more than double what the current owners paid—after an extensive renovation the listing agent said has completely transformed the property.
Already, the property has attracted strong interest from at least one prospective buyer, said Allen Williams, a Fishers-based agent.
Husband-and-wife team John and Kara Gurchiek in January 2015 purchased the five-acre property for about $1.7 million from JPMorgan Chase Bank, according to Hamilton County assessor records. John is a lawyer who leads his own practice, and Kara is a pediatrician affiliated with Community Hospital North.
Chase Bank filed to foreclose on the mansion in August 2010, saying Durham had stopped making payments on the $3.5 million mortgage he took out in 2007. Durham, an Indianapolis financier, was convicted in June 2012 of masterminding a $200 million Ponzi scheme and handed a 50-year prison sentence.
Now, the Gurchieks are attempting to sell what once stood as a symbol of Durham's conspicuous consumption.
Built in 1990, the 14,480-square-foot residence boasts a 34-car garage that, at nearly 11,600 square feet, is almost as large as the home itself. The five-acre property with a waterfront view also features seven bedrooms, eight full bathrooms, five half bathrooms, five fireplaces, a theater room and boat and pool houses.
Williams acknowledged the once-notorious "bachelor pad" has been painted by the local media "in a little bit of a negative light" but he said the couple "transformed it into something very special." Updates to the property include improvements throughout the interior and exterior and to mechanicals including the heating and cooling system, flooring as well as theater equipment and landscaping, he said. There's not a room in the house that has not been updated—including the repair or replacement of more than 80 windows and the refinishing of the entire cedar roof, he said.
"When the current owners first viewed the home, they could see the opportunity to take a five-acre waterfront home that was run down and neglected and turn it into a residence that their family could enjoy during the restoration," Williams said in an email.
The Gurchieks are living in the home and are following through with their initial plan to sell it once they finished the renovations, Williams said.
But the lavish digs could be a tough sell, said Greg Cooper of Prudential Indiana Realty Group, who is experienced with the high-end market.
"There's just nothing selling for that anymore in Indiana," he said. "It's just the reality that resale doesn't occur at that price point, as we painfully learned during the past 10 to 12 years."
But Williams said "it's a fantastic house for that amount of money."
"If you tried to build anything close to that house on that piece of property, you would spend substantially more than the current list price," he said. "With this home, you're getting five acres on Geist, a home that's been completely updated and a very large amount of square footage for a fraction of what you would pay if you were to build it."
The popular CNBC show "American Greed" in early 2015 prominently featured the mansion during an hour-long episode chronicling the rise and fall of Durham, who once staged a party at the home for which he flew in 25 Los Angeles models.
"I think many [interested buyers] are surprised when they see the property in its current state versus what they may have heard about it in the past or seen on the news years ago," Williams said.
A certain amount of curiosity still exists about the former owner. Others wonder if it was the residence of former Indiana Pacers star Reggie Miller, who once lived in Geist.
"The out-of-state clients that tour the home don't typically ask, but the local buyers seem to know," Williams said.
The home can be viewed at www.ResidenceOnGeist.com.
Please enable JavaScript to view this content.