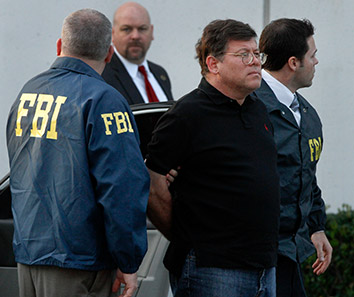 The popular CNBC show "American Greed" will chronicle the rise and fall of Indianapolis businessman Tim Durham in an hour-long episode airing at 10 p.m. Thursday.
The show follows Durham's path from his modest roots in Seymour, Indiana, through his quest to become the world's richest businessman to his arrest and conviction for running a $200 million Ponzi scheme.
The segment features an extensive interview with IBJ's Greg Andrews, who in 2009 wrote the first story casting doubt on whether Durham had the financial wherewithal to repay thousands of mom-and-pop investors who funded his business empire.  
Durham ended up funneling much of that money into supporting his lavish lifestyle, including dozens of sports cars, a multi-million-dollar yacht and a 30,000-square-foot mansion in Geist.
The CNBC show (watch a nine-minute preview here) focuses on Durham's opulence, including a party staged at his home here for which he flew in 25 Los Angeles models.
The show says Durham was so keen to create a veneer of wealth that he hired a tailor to make custom-made suits for everyone in his office.
The money from investors was supposed to help fund the core business of Durham's finance business, Akron, Ohio-based Fair Finance Co. The company specialized in buying consumer-finance contracts from health clubs, time-share developers and other firms that offered customers extended-payment plans.
But IBJ's 2009 story found that much of it instead went toward covering Durham's personal expenses, as well as to friends and hangers-on, and to other businesses he owned that were failing.
A month after IBJ's story appeared, the FBI raided his headquarters atop Chase Tower downtown as well as Fair's Akron offices.  
In 2011, a grand jury indicted Durham, Fair co-owner Jim Cochran and Fair Chief Financial Officer Rick Snow on 12 felony counts each. A jury the next year found Durham guilty on all counts, Cochran guilty on eight counts and Snow on five. A federal judge later handed down prison sentences of 50 years for Durham, 25 years for Cochran and 10 years for Snow.
An appeals court in September overturned two of Durham's convictions, citing an "oversight" by prosecutors that caused certain evidence not to be submitted into the record. Durham is scheduled to be resentenced in March.
None of the investors—Ohio residents who purchased high-interest investment certificates from Fair—has recouped any of their losses. Fair's bankruptcy trustee, who has filed dozens of lawsuits, is continuing efforts to win judgments on their behalf.
"American Greed" is produced by Kurtis Productions, a production company founded by legendary Chicago newsman Bill Kurtis. The series is narrated by the actor Stacy Keach.
 
Please enable JavaScript to view this content.