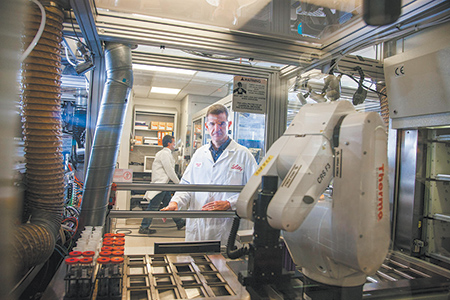 A growing number of Indiana corporations are formalizing in-house innovation, an effort aimed at remaining technologically relevant in a fast-changing business landscape.
Some firms, such as health insurer Anthem Inc., have created innovation teams dedicated to rapidly experimenting and developing tech-related ideas, while others, including the NCAA, have set requirements that tech employees allocate time to exploring new ideas.
Over the past several months, engine-maker Cummins Inc. has been spinning up what it's calling a "Digital Accelerator," a roughly 200-person outfit focused on finding areas where digital technology can yield new offerings and lower costs. One of its first creations: a startup called Zed Connect that sells trucking-fleet-management software.
Most large firms have research-and-development arms charged with enhancing core products or services. But these innovation teams tend to have a broader purview—innovation of internal systems or processes—and are designed to move more quickly with less bureaucratic burden.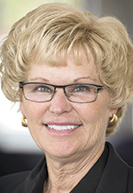 Aaholm
"Digital moves way faster than building physical products," said Cummins Chief Information Officer Sherry Aaholm. "And speed is really important because you need the ability, in a swift-moving team, to make decisions about partnerships with outside companies and integration into IT."
Corporate innovation teams (and even innovation spaces) are not new, as firms like HP and Xerox tout research labs that date back decades. Amazon's Lab 126—which developed the Kindle, Fire and Echo—was established in 2004.
What's new, observers said, is that non-tech companies are increasingly seeing the importance of innovation and are trying to systematize it. Among other goals, they're trying to reduce the likelihood that an existing competitor—or a new firm entering the field—will find the latest technological innovation first.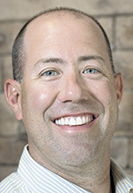 Reynolds
"In general, this is an overall reaction to digital disruption and realizing that every company has a tech play," said Mike Reynolds, CEO of product management consulting firm Innovate Map.
"So what's happening is, non-tech companies are having to think about tech."
Delta Faucet Co., which will introduce an internet-connected leak detector this fall, has an innovation lab called I3 Studio. Eli Lilly and Co. just opened its San Diego-based Lilly Life Science Studio.
Automating molecule synthesis is a key feature of the software that powers Lilly's new studio. A team of Lilly technologists started building its precursor with outside vendors about a decade ago.
Some of the companies with innovation teams are looking for big wins; others are OK with incremental innovation. Some have additional motives, like cultivating workplace cultures that encourage risk.
Ideas in action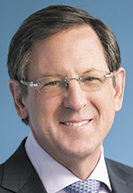 Miller
"Shortly after I joined the company in 2014, I realized that there is so much activity going on in the health care technology space," Anthem CIO Tom Miller said. "And I said, 'My gosh, we have got to be in the game somehow, in an ongoing way.'"
Anthem launched its "Innovation Studio" in 2015. It's based in a co-working hub in Atlanta and generates a few dozen ideas a month. Miller said the innovation team reports to him but is separate from Anthem's IT team "because we do think innovation is broader than just technology."
The Innovation Studio gathers ideas from various sources and turns the most valuable ones into pilot projects. If successful, they are scaled across the company.
A few of the products born out of Anthem's studio include a platform that creates personalized welcome videos, a digital "care alert" system for consumers, and a natural-language-processing tool that drastically reduces the time customer-care agents use to look up policy information.
Miller said he wanted the studio to start with smaller, safer projects as opposed to larger ones that might take years to mature. "We felt it would be wise to score some points in the first year or so by working on some things that didn't involve betting the farm."
Cummins said its Digital Accelerator was born partly out of the telematics—or remote diagnostics—work the company has been engaged in over the past few years. CIO Aaholm said the company decided to put those efforts under a nimble team focused on digital technology because traditional research-and-development processes could not move fast enough.
Zed Connect, the startup that came out of the accelerator, was developed over roughly the past nine months, Aaholm said. Its software allows trucking companies to manage data from electronic logging devices, and its debut comes ahead of a U.S. Department of Transportation rule mandating the use of those devices (instead of paper logbooks) by December.
Cummins is not Zed Connect's parent company but rather an investor in the startup, which is composed partly of former Cummins employees. Aaholm said ideas that make it to the development stage at the accelerator don't stay in the accelerator.
"We don't keep the product under that innovation and commercialization team," Aaholm said. "After we build something, we either move it back to a business unit to run or, as we did with Zed Connect, spin it out."
The NCAA has more measured innovation goals. It mandates that the roughly 30 IT employees there use at least 10 percent of their time testing new technologies. Also, it has one employee solely dedicated to exploring emerging technologies and conceiving ways the NCAA could use it.
That employee's name is Colin Chappell, and he's already surveyed technologies such as blockchain and machine learning. The former software developer said he's at the early stages, but one of the concepts he's exploring is a software tool that automates the process of checking the academic records of student athletes.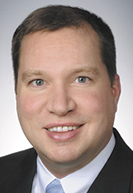 Judd Williams
Judd Williams, chief information officer of the NCAA, said when he came on board five years ago, the tech organization was behind the times and reactive. The changes he's made to formalize innovation are meant to keep it modern.
"Obviously, I want to get proofs of concept and bring in new technologies," Williams said, "but I'm also interested in technologies that we don't pursue. I don't want there to be something later that we completely missed the boat on."
Wider impact
Historically, established corporations have not been ideal environments for innovation, observers said, as time and resources are focused on core operations and incentives for risk-taking are scant.
Even when companies isolate teams and encourage them to experiment, their success depends largely on the buy-in and patience from senior leaders, said Jason Williams, president of innovation think tank Centric Inc.
"There's a hesitancy to claim something a success if there's not that instant" return on investment, Williams said, but that return might take time.
The push to innovate has also been a boon for local third-party agencies focused on helping companies bring fledgling ideas to life. Some of these firms, such as Innovate Map and Doris Research, were born in the past few years. Others, including Collidea and Outside Source, are consultants that have reinvented themselves in recent years to help carry out enterprises' innovation agendas.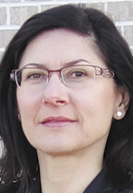 Hendryx-Parker
Gabrielle Hendryx-Parker, CEO of software development firm Six Feet Up, said companies of all shapes and sizes that are innovating internally contract with her firm to build or enhance a project once they get it off the ground.
"We're being approached by companies that have started something, have prototyped something," she said. "And they like where they're going, but they need help taking it to the next level."
Reynolds, of Innovate Map, said outside consultants bring fresh eyes and wide-ranging experiences to companies looking to innovate. But their work can go only so far without an internal team focused on innovation.
"I believe the right way is a combo of both," he said. "If we didn't have internal stakeholders and champions, it would never get done."•
Please enable JavaScript to view this content.