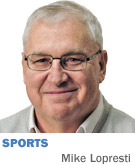 Omaha! Omaha! Omaha!

No, no. That's not Peyton Manning, changing a play at the line of scrimmage, like the good old days at Lucas Oil Stadium. Those are the annual cheers of adulation for the host city of the College World Series. On a recent first-time visit, two things came to mind.

One. Omaha has a lot of Indianapolis to it. Sports venues downtown, close to everything. Considerable civic pride in the proven ability to not only win raves for hosting a major event, but do it over and over and over again.

And two. We've had the Super Bowl, the Final Four, the NBA Finals and All-Star Game. We've had major golf tournaments, Davis Cup tennis, Olympic trials of various denominations, Big Ten football championship games. We've had the Pan-Am Games, the World Basketball Championships, big boxing matches. Oh, and a few car races.

We ain't ever getting our hands on this one.

The thing is, there were reports late last decade that Indianapolis might be wooing the College World Series. The stadium in Omaha had lost a step, and here was sparkling Victory Field, just down the street from the NCAA offices. OK, Victory Field would need to be enlarged, and the Indians would have to be willing to vacate nearly two weeks of prime summer schedule, both of which might have been problematic. But that didn't stop the Indy speculation. Play ball!

Well, no. Up went TD Ameritrade Park in downtown Omaha, and now the city and the CWS are linked through at least 2036. That's what you call a pretty secure marriage.

John Diesing Jr.'s dad was one of the founding fathers of Omaha's hosting the event, and now the son is the president of College World Series of Omaha Inc. Think Indiana Sports Corp. with one ball.

It was interesting to see the instant recognition in Diesing's eyes when the words "Indianapolis" and "threat" were mentioned in the same question.

"We weren't going to take for granted this event might stay here forever. So we wanted to be operating on the edge of the chair, so to speak," he said. "I don't know if we were worried about it leaving, but we knew a lot of things were changing. We needed to start moving into the future. I would say we were thinking outside the box and making sure we didn't have to worry about somebody else looking at this event."

Was Indianapolis a direct threat?

"Directly threatened? Certainly they were one of the cities we knew has a great sports commitment, and has for years. Actually, we traveled there when we were looking to build the convention center and tried to work real hard to learn from what Indianapolis did [connecting to the Hoosier Dome] 35, 37 years ago. I don't know if we were worried about them."

Maybe not, but the new stadium went up. Omaha and the College World Series are now connected into the next generation.

"We've got a really good thing going here," Diesing said. "We want to be our own mecca of college baseball." Just as Indianapolis likes to be considered the amateur sports capital of the world, and it is in many ways. Just not this one.

Besides, this event never has exactly been as Hoosier as sugar cream pie. In 71 years, Purdue has never been. Nor Butler. Indiana and Indiana State once. Notre Dame twice. The entire state has won four CWS games in seven decades, which are fewer than Florida won by itself this June.

Of the eight teams in this particular World Series, seven did not have one Indiana player. The exception was Louisville, with a healthy sprinkling of Hoosiers, including two key starters—Jeffersonville's Drew Ellis and Columbus North's Devin Mann.

So what kind of a high school baseball state is Indiana? Louisville coach Dan McDonnell has a few thoughts, when he looks north across the Ohio River.

"A ton of great players," he said. "It's amazing for a state known for basketball, but I think that helps the baseball. It's almost a perfect state, where it's warm enough so many months of the year to play baseball, but it's not warm enough where they play 12 months a year, and that might help them. Playing basketball, playing football, playing other sports, it's a nice balance of athletic kids, tough Midwest kids, and when they get into an environment where they can play 12 months a year, for the most part they're healthy and they really take a rise and they thrive."

One need only look at all the Brownsburg major-leaguers. At a Major League game earlier this season when Lance Lynn pitched for St. Louis, Tucker Barnhart caught for Cincinnati, and Drew Storen was in the Reds bullpen, 6 percent of the players in uniform were former Bulldogs.

Yep, we play baseball in the state. We like baseball in this state. Look at the Indians' attendance. And Indy being Indy, the College World Series would have been a big, well-organized hit.

Never mind.•

__________

Lopresti is a lifelong resident of Richmond and a graduate of Ball State University. He was a columnist for USA Today and Gannett newspapers for 31 years; he covered 34 Final Fours, 30 Super Bowls, 32 World Series and 16 Olympics. His column appears weekly. He can be reached at mjl5853@aol.com.