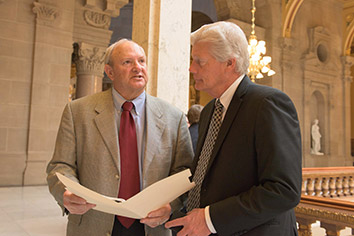 State Sen. Luke Kenley, R-Noblesville, on Wednesday announced that he will retire on Sept. 30 after serving Senate District 20 since 1992.
As chairman of the Senate Appropriations Committee since 2009, Kenley, 72, has been one of the state's most powerful legislators and key budget writers.
He won his seventh term as senator last year in a landslide in both the primary and general election. His term doesn't expire until Nov. 3, 2020.
"It's been my privilege to serve the people of Senate District 20 at the Statehouse for the last 25 years," Kenley said Wednesday in a written statement. "I've been honored to join with so many outstanding legislators as we have worked to move Indiana forward. During my final session, we achieved two major goals—passing another strong balanced budget and developing a long-term road funding plan for Indiana. It's now time for others to have the opportunity to serve Hamilton County and our great state."
A caucus of Republican precinct committeemen in Kenley's district will have to caucus to appoint a Senate replacement. Senate Pro Tempore David Long will need to appoint a replacement on the appropriations committee before the next General Assembly.
"Luke's experience, integrity, intellect, Hoosier common sense, and genuine love for our state and its people have helped him be one of the most effective and influential public servants of our generation," Long said in written comments. "In particular, his steadfast efforts to maintain Indiana's fiscal responsibility have directly benefited every Hoosier taxpayer and led to Indiana building a national reputation as an economic leader. Luke will be greatly missed in the Senate."
Kenley authored numerous pieces of legislation over the years and led efforts in 2008 and 2010 to pass the constitutional amendment that capped the state's property taxes. In 2005, he sponsored legislation that led to the construction of Lucas Oil Stadium.
He sponsored legislation in 2013 to do away with the state's inheritance tax. In 2006, he led legislation to create a tax credit of up to $1,000 for contributions to Indiana's college savings plan.
"Few understand the intricacies of Indiana's finances like Luke Kenley," Indiana Gov. Eric Holcomb said in written remarks. "He has been an essential state-budget architect for years and years, and he is widely respected for both his expertise and his no-nonsense approach to lawmaking.
"Even though he is moving on to the next chapter in his life, many will continue to seek his counsel—including me. So, even though he won't be in the Senate Chamber come January, and he'll have a little more time to spend at his ranch in Texas, he will continue to contribute to our state's success in countless ways."
Kenley, who served as a first lieutenant in the U.S. Army from 1969 to 1971, was a city court judge in Noblesville from 1974 to 1989.
The 1963 Noblesville High School graduate ran Kenley Supermarkets from 1974 until 1998, when it was acquired by Marsh Supermarkets Inc. Under his management, the third-generation family grocery expanded from 20 employees and $2 million in annual sales to two stores, 175 employees and $16 million in annual sales.
He studied economics at Miami University in Oxford, Ohio, and got his law degree from Harvard Law School.
Kenley made an unsuccessful bid to become the Republican nominee for governor in 2003, losing to Mitch Daniels.
Please enable JavaScript to view this content.