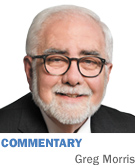 My wife and I checked off a bucket-list item last month when we attended a U2 concert at Soldier Field in Chicago. I booked this trip in January, before finding out the Irish rock band is performing here in September.
Because we've long wanted to see U2, money considerations were secondary. This was going to be a grand affair with great concert seats, food and drink, and shopping—and it was. The experience was everything we'd hoped it would be, and more.
I was particularly "in the moment" during our stay in Chicago and tried to take in a lot of local news. The fiscal problems of Chicago and the state of Illinois are well documented and, as expected, the news was full of related stories. A big topic was taxes—something Chicago has in abundance.
Chicago's official website lists 32 city taxes. Here are most of them: amusement tax, boat mooring tax, bottled-water tax, checkout-bag tax, cigarette tax, electricity infrastructure maintenance fee, electricity use tax, emergency telephone system surcharge (landline and wireless listed separately), employer's expense tax, foreign fire insurance tax, fountain soft drink tax, gas use tax, ground transportation tax, hotel accommodations tax, liquid nicotine product tax, liquor tax, motor vehicle lessor tax, non-retail transfer of motor vehicle tax, parking tax, personal property lease transaction tax, real property transfer tax, restaurant tax, telecommunications tax, vehicle fuel tax.
Did you see the checkout-bag tax on the list? When we made our first retail purchase, at Crate & Barrel on Michigan Avenue, the clerk asked if we needed a bag. It caught us off guard. Well, yes, we would like a bag. We were then told the store would need to charge us 7 cents for the bag because of the new bag tax.
It seems Chicago banned single-use plastic bags in 2014 to try to keep them out of landfills and improve the environment. That policy apparently was a failure. So, the city instituted a bag tax, which includes not just the single-use plastic bags, but paper bags also. The city wants to train everyone to reusable bags. The city gets a nickel per bag and the retailer 2 cents. The tax is expected to add almost $10 million annually to city revenue.
In the news during our visit was my favorite example of government overreach: the Cook County 1-cent-per-ounce sweetened-beverage tax (soda and fruit juices), which was to take effect July 1. But a judge issued a temporary restraining order on implementation shortly after a lawsuit was filed by the Illinois Retail Merchants Association and several grocers, who argued the tax is unconstitutional and vague. Cook County will vigorously defend this new tax, as the projected 2018 revenue is expected to be more than $200 million.
Of course, money isn't the main reason for the tax. Cook County residents are consuming too much sugar and that's bad for their health. They obviously need the government to regulate consumption. You might remember when then-Mayor Michael Bloomberg tried this same stunt in New York City several years ago.
One more item I remember in the news during my Chicago visit is that homeowners are expecting a 10 percent increase in their property taxes, and commercial property owners are facing a 9 percent hike. Why? Chicago schools imposed multiyear tax increases, not to hire more teachers or improve facilities, but to pay for shortfalls in worker pension systems.
And speaking of unfunded government pension systems, did I mention the state of Illinois hasn't had a budget approved by its legislature in two years, and its bond ratings have fallen to near junk status? Could Illinois be the first state to file for bankruptcy?
In short, my wife and I had a fun Chicago visit. But, as the saying goes, I sure wouldn't want to live there. The city and state are in a fiscal crater.
It really makes me appreciate living right here in the greater Indianapolis area and fiscally sound Indiana. By the way, we've got the welcome mat rolled out for all Illinois businesses and residents who've had enough of the madness. Come on over.•
__________
Morris is publisher of IBJ. His column appears every other week. To comment on this column, send email to gmorris@ibj.com.
Please enable JavaScript to view this content.