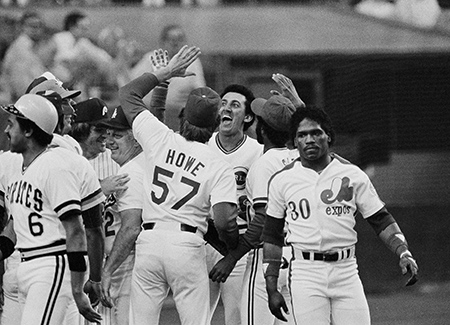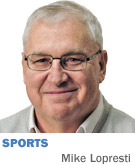 They were all Major League All-Stars. But before that, they were all Indianapolis Indians.
With the 2017 All-Star Game imminent, here's to Johnny Callison and George Foster. Randy Johnson and Dave Concepcion and Ken Griffey Sr. Harmon Killebrew and Rocky Colavito and Paul Konerko and Gary Peters. All had memorable moments on the All-Star stage. And the best of all belonged to … well, in a second.
First, the Indians happen to have a man in uniform now who understands something about this subject. Forty-one years ago this month, hitting coach Butch Wynegar played in the All-Star game as a 20-year-old catcher from the Minnesota Twins.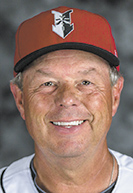 Wynegar
"I don't think I comprehended it at first," he said the other night at Victory Field. "[Twins teammate] Rod Carew just told me, 'Wherever I go, you just follow me.' So every time you saw Rod during the All-Star break, you saw me right behind him. I just remember sitting in the clubhouse looking around thinking, 'I'm sitting with guys I grew up watching. Am I in the right place?'"
Eventually, he pinch-hit that night against John Montefusco.
"All I can remember is seeing that camera and that red light in center field and I'm thinking, 'Everybody back in [hometown] York, Pennsylvania, is watching.' I took a pitch or two, and I finally swung at one and fouled it back. I think every muscle in my body knotted up. But somehow I managed to walk. I got rid of the bat and took off for first base like an American League Pete Rose."
He was back in the game in 1977, and singled off Tom Seaver. Also caught for four innings. "I grew up watching All-Star games, I grew up keeping score for All-Star games, and here I was playing in All-Star games."
So he knows what July 11 means to those in uniform, including Pittsburgh's Josh Harrison, whose road to the All-Star Game went through Indianapolis. Harrison's not the first, of course. Without further ado, the top 10 All-Star moments for former Indians.
10. Paul Konerko's double in 2002 …
His two RBI hits gave the American League a 6-5 lead in the seventh inning. So he gets some of the blame for the infamous 7-7 tie, when the pitching ran out in the 11th inning. If Konerko had popped up, no problem.
9. Marquis Grissom's homer in 1994 …
Two things make it memorable. It was a part of the National League's 8-7 victory in 10 innings over the American League in the last days of baseball peace in 1994. A players' strike later in the season wiped out the World Series. Also, it was the only run ex-Indian Randy Johnson allowed in 12 All-Star innings. We'll get back to Johnson later.
8. Rocky Colavito's homer in 1962 …
He had a thunderous stay in Indianapolis, with 38 home runs and 116 RBIs in 1954 and 30-104 in 1955. His major-league career was also big on power, and he hit three All-Star home runs. The biggest was a three-run shot that gave him four RBIs and led the American League's 9-4 win in the second All-Star Game that year, the last time anyone saw the need to play two the same summer.
7. Gary Peters' relief stint in 1967 …
When the Chicago White Sox pitcher—who won 21 games in two Indy seasons—took the mound in Anaheim, California, in the sixth inning, the score was 1-1 and a National League murderer's row awaited him.
No problem. He pitched three perfect innings, striking out Willie Mays, Roberto Clemente, Orlando Cepeda and Dick Allen, and getting Hank Aaron on a ground-out. The score would stay 1-1 until Tony Perez homered for the NL in the 15th inning.
6. Harmon Killebrew's stretch in 1968 …
The Minnesota first baseman—who hit .215 in 38 games for Indianapolis in 1958—was shocked to even be named to the All-Star team, with a .204 average. It would have been better had he stayed home. Stretching to take a throw in the third inning, he did the splits and tore a hamstring. It was the very picture of a guy going full out, but it ruined the rest of his season and was a warning to future all-stars. Play hard, but not too hard.
5. Ken Griffey Sr. in 1980 …
Two hits and a home run earned him the Most Valuable Player in the NL's 4-2 win in Dodger Stadium. Making that trip with his father was a little kid named Ken Griffey Jr.
4. George Foster in 1976 …
His homer and three RBIs keyed a 7-1 National League victory, overcoming Butch Wynegar's walk, and winning him game MVP.
3. Dave Concepcion in 1982 …
Make that three Reds, three ex-Indians, and three MVPs in seven years. Concepcion's two-run homer was a big blow in a 4-1 NL victory in Montreal.
2. Randy Johnson vs. John Kruk in 1993 …
The at-bat in Camden Yards turned into priceless comedy, and replay immortality. Kruk was a left-handed hitter facing Johnson's flame-thrower of a left arm. Nobody wanted to be in that situation. The first pitch sailed over Kruk's head, the next three were strikes, Kruk bailing out as if ducking a swarm of killer bees.
Watching from afar, Wynegar understood. "Kruky played that up to perfection. I couldn't imagine facing Randy Johnson left-handed. I thanked the Good Lord every night for making me a switch-hitter."
Indy fans saw that sort of thing coming in 1988 and 1989 when Johnson struck out 128 in 131.1 innings.
1. Johnny Callison's home run in 1964 …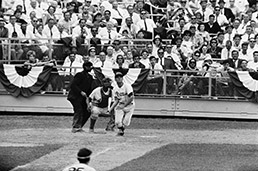 Johnny Callison watches the ball head for the right-field wall in his three-run home run that gave the National League a 7-4 victory in the 1964 All-Star Game. (AP photo)
Callison hit 29 homers for Indianapolis in 1958 to lead the American Association. This one meant a little more—when he borrowed Billy Williams' bat and drilled a Dick Radatz fastball over the right-field wall for a three-run, two-out shot that made the National League a 7-4 winner in just-opened Shea Stadium
Wynegar was 8 years old, but can remember watching on TV.
"I was a big Johnny Callison fan. I didn't know him. I just liked the name."
It remains the last walk-off homer in All-Star history, by a swing partially developed at Bush Stadium on West 16th Street in Indianapolis.•
__________
Lopresti is a lifelong resident of Richmond and a graduate of Ball State University. He was a columnist for USA Today and Gannett newspapers for 31 years; he covered 34 Final Fours, 30 Super Bowls, 32 World Series and 16 Olympics. His column appears weekly. He can be reached at mjl5853@aol.com.
Please enable JavaScript to view this content.