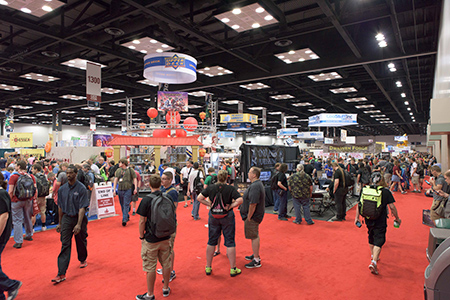 Gen Con organizers expect record attendance and economic impact when the massive gaming confab—the city's biggest convention—unfolds here next month for its 50th anniversary event.
Officials announced early this month that four-day badges are sold out for the first time in the event's history—which dates back to 1968.
And one-day badges are moving so fast, organizers warned those could also sell out well ahead of the Aug. 17-20 event at the Indiana Convention Center and Lucas Oil Stadium. Gen Con has never sold out of either badge.
Visit Indy Vice President Chris Gahl said the clamor among gamers over Gen Con's 50th edition is so great that thousands of tabletop gaming enthusiasts might come here even if they can't get a ticket—to take part in the festivities on Georgia Street and the ad hoc games that take place in almost every downtown hotel lobby during the event.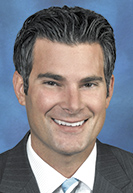 Gahl
"We are anticipating this to be the largest Gen Con ever hosted," Gahl said. "We're bracing—in a good way—for a truly enormous event."
Last year, Visit Indy projected the event's economic impact at just more than $71 million. Hospitality officials predict it could exceed $75 million this year, with some projecting almost $80 million.
If Gen Con's economic impact hits that higher mark, it would be nearly double every other convention the city hosts but one—Performance Racing Industry. It would have an economic impact more than four times that of the Big Ten Football Championship at Lucas Oil Stadium and double that of the massive National FFA Convention & Expo.
Gen Con officials declined to attach numbers to badge sales, but last year, nearly 61,000 people attended the four-day event with turnstile attendance of 201,852.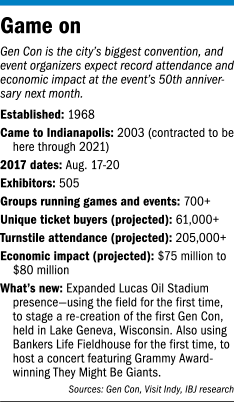 "To continue providing the best attendee experience, we have decided to carefully control badge sales," Gen Con CEO Adrian Swartout said.
To accommodate the influx of visitors—which are expected from all 50 states, all Canadian provinces and more than 60 countries—Gen Con is expanding its ticket pickup space in the convention center by 25 percent. Due to the anticipated sellout, there will be no on-site ticket sales.
The projected increased attendance is good news for area hotel and restaurant operators, said Phil Ray, general manager of the 1,005-room JW Marriott on the west edge of downtown.
"We'll take all the Gen Con visitors we can get," Ray said. "This group stays up all night and goes non-stop. They love to eat and drink, they're generous tippers, and you don't have any of the issues you normally have with such a large group. There are no noise complaints, they don't tear things up, and they cause no trouble. They're just a very friendly and courteous group."
Not only does Gen Con trigger the biggest influx of cash of any city event, it also has the highest profit margin due to Gen Coners' heavy spending—on items like food and drink—and their light footprint, local hoteliers said.
"Some conventions' [attendees] use your hotels' restaurants, and some don't," said Glenn Brooks, executive vice president of sales and marketing for General Hotels Corp., which owns four Indianapolis hotels, including the downtown and airport Crowne Plazas.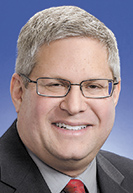 Brooks
"Gen Con's people definitely use our restaurants," he said. "That's one of the things that makes this event so good for our hotels and others in this city."
Sharing the love
The eating and drinking isn't confined to hotel restaurants. The Hot Box location on Georgia Street downtown last year reported record sales—topping the cash that came in during the run-up to the 2012 Super Bowl.
"We sold a boatload of pizza," said Gabe Connell, founder of Hot Box Pizza LLC. "Friday and Saturday of last year were just insane. We were shocked and surprised. And we're definitely expecting big things this year."
Seventy percent of Hot Box's sales during Gen Con were for delivery. "We deliver to all the downtown hotels and our delivery guys were going every which way at all hours," said Connell, whose downtown location is open until 4 a.m. on weekends.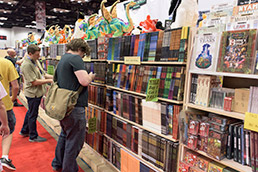 Gen Con triggers the biggest influx of cash of any city event and it also has the highest profit margin due to gamers' heavy spending. (IBJ file photo)
To join the Gen Con game, Scotty's Brewhouse, Buca Di Beppo, Ruth's Chris Steakhouse, Harry & Izzy's and Primanti Brothers are conducting special promotions; some are offering movie screenings and game rooms for Gen Con visitors. Ruth's Chris, for instance, gives Gen Con diners a discount if they come in costume.
"Businesses that proactively embrace Gen Con do very well," said Gen Con spokesman Jake Theis.
Sun King Brewery is one of the businesses that has done just that. In 2012, it began brewing a Gen Con-themed beer, which is sold on tap and in cans.
Due to the beer's popularity and the expectation of larger crowds, Sun King has increased its production of its Gen Con beer—this year called Dragon's Delight—from 100 barrels to 155.
Sun King will host a tapping party on Georgia Street, and many restaurants will carry the beer during Gen Con.
"We've found the [Gen Con attendees] love collecting the artwork [on the cans]," said Sun King spokeswoman Beth Belange. "This year, the artwork is stunning."
Belange said Sun King looks for any way it can connect with Gen Coners, including hosting a game night.
"They're polite, kind; they like to drink beer, eat food and tip," she said. "So it's a great crowd."
Game change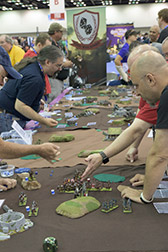 If Gen Con reaches a projected $80 million economic impact, it would be nearly double every other convention the city hosts but one—Performance Racing Industry. (IBJ file photo)
Ray said Gen Con attendees' buying habits have changed dramatically since the event first landed in Indianapolis in 2003.
"They've grown up from just eating chips and drinking Mountain Dew to going for the full-meal deals," Ray said. "Places like St. Elmo and other upscale restaurants have really seen a big increase over the years as the Gen Con crowd has matured."
Ruth's Chris downtown store has seen sales of its Gen Con Steak Break steak slider special triple in recent years, said Ramona Adams, the high-end restaurant's local sales director.
"We think our promotions and specials let Gen Con attendees know we welcome them," Adams said. "Once we started doing that, they started showing us love back."
Despite Gen Coners' sometimes quirky appearance, dressed as a Star Wars Storm Trooper for instance, "their money spends just like anyone else's," Adams said.
"These are folks with discretionary income," she added. "You have to remember, there are no formal food functions with Gen Con. As a restaurant operator, that's when your eyes open wide. You just know it's going to be a flood."
Gahl expects all 33,000 hotel rooms in the Indianapolis metropolitan area to sell out for multiple nights, with some attendees staying as far away as Bloomington and Lafayette. General Hotels is expecting a sellout at its Holiday Inn Express about seven miles south of downtown and its Homewood Suites at Keystone at the Crossing, as well at its downtown and airport hotels.
Several sources close to the gaming community said pre-convention Internet chatter—with lots of people seeking information on hotels and new restaurants—is more than double that of previous years.
More venues
Gen Con 2017 is expanding its presence in Lucas Oil Stadium, using the field for the first time in addition to the stadium's exhibit halls and meeting rooms it used last year. Lucas Oil is connected underground to the south end of the Indiana Convention Center.
The field will be used to stage a re-creation of the first Gen Con show in Lake Geneva, Wisconsin. The name Gen Con is shortened from Geneva Convention.
"We think the displays we have on the field will be a really big draw," Theis said. "We're going to be celebrating gaming in the '70s, '80s and '90s, and we're building a tribute to this event's origins in Wisconsin."
At Lucas Oil, attendees will see gaming artifacts and tributes to the early Gen Con events, including a model of Lake Geneva's Horticultural Hall where the first convention took place.
Gen Con last year first tested using parts of Lucas Oil Stadium—specifically, 60,000 square feet of its meeting space. There was concern attendees wouldn't want to walk the block from the Convention Center to the stadium, so convention officials filled the street-level corridor leading to the underground tunnel with attractions. The test was a success, they said. Gen Con this year will use 152,000 square feet of stadium space, including two exhibit halls and the field.
In total, the event will use more than 750,000 square feet in the Convention Center, the connector corridor and the stadium combined. It's the most space ever booked for an Indianapolis convention.
"Lucas Oil Stadium was connected to the Indiana Convention Center and deliberately designed to serve as a multipurpose venue to provide exactly this kind of flexibility in growing events here," Visit Indy CEO Leonard Hoops told IBJ.
In addition to staging events on Georgia Street, Gen Con for the first time will use Bankers Life Fieldhouse—to host a concert featuring Grammy Award-winning They Might Be Giants. Theis predicted the concert "will be the largest [single] event in Gen Con history."
Gahl said that is the kind of ancillary event that could draw a throng of people who might not be able to score a ticket.
"The footprint of this event just keeps growing," Gahl said. "And as that grows, so does the economic impact."•
Please enable JavaScript to view this content.