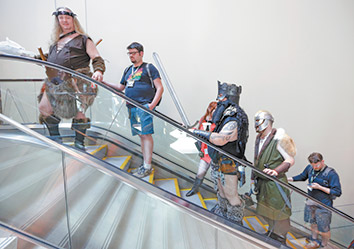 Indianapolis' convention infrastructure will get a supreme test in early August as the annual Gen Con convention invades the city.
With the number of Gen Con exhibitors growing 26 percent this year—to a record 518—the massive gaming confab will for the first time overflow into Lucas Oil Stadium, which sits a half block and across South Street from the Indiana Convention Center.
It's the biggest and arguably highest-profile convention to use the stadium and convention center since the latter's 2011 expansion—and others are watching to see how it works.

Locklear
"When a convention of that size does something, people in the event business take notice," said Debbie Locklear, president of Meeting Services Unlimited Inc., an Indianapolis-based meeting and convention planning firm. 
Gen Con is the first city-wide convention to use the stadium primarily for its exhibit and meeting space, not for its high ceilings and large seating capacity. That's an important distinction for event organizers looking to merely grow their exhibit and meeting footprint.
Until now, several meeting planners told IBJ, it's not been proven that the stadium can function in that capacity, primarily because visitors need to cross the street or use an underground corridor to reach it.
Gen Con officials said they'll use about 60,000 square feet of the stadium, which represents a more than 10 percent expansion for the fast-growing event, held Aug. 4-7 this year.
If the Gen Con expansion is a success, Visit Indy officials think that could help them bring in more conventions currently limited by the size of the 566,600-square-foot convention center, which is in the top 25 nationally but considerably smaller than those in Orlando, Las Vegas and Chicago.

Gahl
"The addition of Lucas Oil Stadium no doubt gives us an edge," said Visit Indy Vice President Chris Gahl. "We think Gen Con's activation of the stadium gives us another example to spark interest among convention and meeting planners."
Gen Con will hold its popular True Dungeon large-scale role-playing game in the stadium's exhibit halls.
"Gen Con 2016 also will feature our Anime and Animation program at Lucas Oil Stadium," said Jake Theis, Gen Con LLC senior marketing manager. "This includes screenings of movies, panels, seminars and cosplay events."

 Theis
What Gen Con does in the connector to the stadium is just as important as what it does in the stadium itself, meeting planners said.
"You need to activate that corridor space, have something in there that draws people in," said Blue Janis, a Cleveland-based meeting planner. "Otherwise, exhibitors, especially smaller ones, will be hesitant to locate there."
Visit Indy and Gen Con have talked about a stadium expansion for more than two years, and Gen Con officials are still finalizing plans for the connector.
But those plans will include 25-cent, classic arcade games lining the pedestrian walkway, Theis said. 
The Indiana Convention Center is one of only three nationwide attached to a stadium. The other two are in Atlanta and St. Louis.
Lucas Oil Stadium is considerably farther from the convention center exhibit space than was its predecessor, the RCA Dome. But the dome was demolished to make way for the convention center's latest expansion directly south.
Gahl pointed out that it's no farther from the JW Marriott to the convention center's exhibit halls than it is from those same exhibit halls to the stadium, and the additional 182,510 square feet in the stadium could help Indy better battle for more and bigger conventions and trade shows.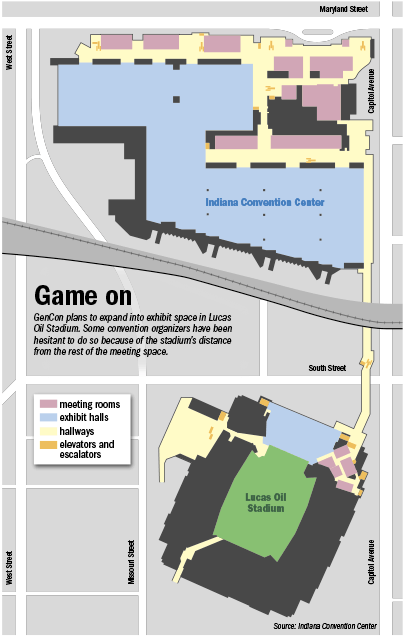 Using the stadium
A small handful of other conventions have used both the convention center and stadium, including one of Locklear's clients, Custom Electronic Design & Installation Association, and the Fire Department Instructors Conference and National Rifle Association show.
But Gen Con is using the stadium only for its exhibit halls and meeting space. In contrast, the FDIC show used the stadium floor for large equipment and ladder truck extensions and the NRA used it for large gatherings and concerts.
"When you're talking about using a stadium as an adjunct to your convention center, it's not ideal," said Heywood Sanders, a University of Texas at San Antonio professor whose book "Convention Center Follies" takes a critical look at the boom in convention center construction. "It can be seen as remote and difficult to find for attendees. Exhibitors don't like to be in that space for that reason."
And while it's good that the convention center is as close to the stadium as the JW Marriott, Sanders said, the problem is "combining the distances."
"That makes it a long trek for someone going from [the JW] to the stadium [who] may also want to visit the convention center exhibit halls," Sanders said.
A national meeting planner who has organized a large convention in Indianapolis in the last five years said his group and others have been reluctant to move into the stadium.
"We didn't think it would work. It was just too remote," he said. "But if it works for Gen Con, event planners may be willing to take another look. This is a big showcase."
Locklear's firm combatted the stadium's more remote challenges with an army of workers directing CEDIA attendees to and from the stadium.
"Signage is really important, too," Locklear said. "We had a lot of people directing traffic and very explicit signs, and we didn't have any complaints."
Well, except one. The lengthy indoor walkway would benefit from a moving walkway like those in big airports, Locklear said.
"Anyone who has gone to a big convention knows, you're walking a lot of miles as it is," she said. "Just to have a little break—a people mover, anything like that—would be greatly beneficial."
The idea of a people-moving walkway was discussed in early planning phases of the convention center expansion and new stadium but was scrapped due to cost concerns.
Gen Con organizers will use an array of social media and electronic newsletters to direct fanatical followers to activities in the stadium, Theis said.
In addition, he added, "True Dungeon has sold thousands of event tickets, so we have a strong built-in base."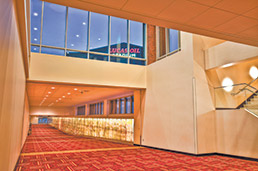 This corridor in the Indiana Convention Center leads underground to Lucas Oil Stadium across South Street. 
(Photo courtesy of Indiana Convention Center)
Everyone is watching
One thing is certain: The spotlight Indy's convention space is stepping into is a bright one.
Gen Con—which has a contract to remain in Indianapolis through 2020—has more than doubled in size since 2010, beating most projections. It's expected to draw a global audience near 65,000.
Last year, Gen Con had attendees from all 50 states, every Canadian province and more than 54 countries.
This year, Visit Indy is anticipating a $72 million economic impact. That will make Gen Con the city's biggest convention—and certainly one Visit Indy is focused on retaining.
Keeping it long term could be a formidable challenge. Last year, organizers began asking attendees what other cities they would like to see a Gen Con event in.
But Theis isn't thinking about that right now.
"With Gen Con 2016 less than 45 days away, our primary focus is the upcoming show," he said. "It's a formidable amount of work to produce the best four days in gaming. The entire Gen Con team is working to produce the best Gen Con yet."•
Please enable JavaScript to view this content.