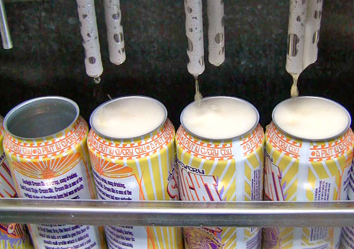 Sun King Brewery fans will soon be able to purchase Cream Ale, Wee Mac, Osiris and seasonal brews from establishments in Chicago and Louisville—the first time the brewery is distributing its beers outside of Indiana.
The Indianapolis-based brewery announced Tuesday that Lakeshore Beverage in Chicago and River City Distributing in Louisville will start distribution in August to "hundreds of liquor and grocery stores, bars and restaurants throughout Chicago and Louisville."
Dave Colt, Sun King's co-owner and head brewer, told IBJ on Tuesday that the two markets were ripe for the brewery's entrance.
"You have lots of people from Indiana who dine in Louisville, and they come back and say, 'We can't get your beer there.' It just sort of feels like an extension [of Indiana]. And man, it just seems like [Chicago] is an awesome place to be. There's so many transplanted Hoosiers in Chicago, so we feel there is some pent-up demand."
The brewery, which has about 70 full-time employees and 30 to 40 part-time workers, currently produces 36,000 barrels per year. A barrel is 31 gallons.
Colt said Sun King expects to produce another 2,000 barrels to distribute in Louisville the first year. For Chicago, the brewery estimates producing an additional 2,000 to 3,000 barrels the first year, but Colt said "Chicago is the great mystery to us," and that could change.
A couple of factors held Sun King back from expanding distribution to out-of-state markets until now, explained Sun King co-owner Clay Robinson in a press release.
"We haven't sold our beer outside of the state due to constraints caused by our own capacity and restrictions that were in place because of antiquated state laws," Robinson said.
On the capacity side, Sun King's recent $2 million expansion of its downtown brewing facility has helped. And on the regulatory side, Sun King worked with 3 Floyd's brewery in Munster over the past few years to loosen barrel sales limit rules. Sun King was running into the state's cap, and had to stop distributing outside the Indianapolis area in 2014 due to the rules.
In 2015, the Indiana General Assembly voted to allow Indiana microbreweries to manufacture 90,000 barrels of beer for sale or distribution in-state each year, up from the previous limit of 30,000 barrels. Before 2011, craft brewers were limited to 20,000 barrels per year.
The higher barrel limits and boosts to its brewing capacity have put Sun King in a good position to enter out-of-state markets, Robinson said.
Colt said he is looking forward to making it more convenient for Sun King fans around the country "to purchase and enjoy our brews, but to also increase awareness of our tasty beers and continue to achieve smart, sustainable growth in the independent craft beer industry."
Please enable JavaScript to view this content.