USA Funds had long been preparing to adopt a new mission after decades as the nation's largest student loan guarantor.

The Dec. 31 ownership transfer of the organization's two guarantor affiliates to a Wisconsin company made getting out of the loan business official. But it had for years been winding that down due to federal regulatory changes.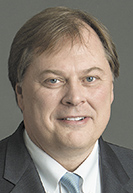 Hansen
Now, it finally has launched under a new name—Strada Education Network—a restructured not-for-profit holding company that aims to move the needle on college completion and workforce development issues.

Strada, armed with more than $1.2 billion in assets from its guarantor days, has been stepping up its philanthropy efforts while simultaneously investing in educational ventures and buying higher-education-related businesses. So far, it's plowed more than $50 million into investments and acquisitions.

All those efforts are focused on advancing Strada CEO Bill Hansen's "completion with a purpose" mantra, which means making sure high school and college graduates are armed with the necessary workforce skills, and helping people make better choices on the pathway from high school to careers or college.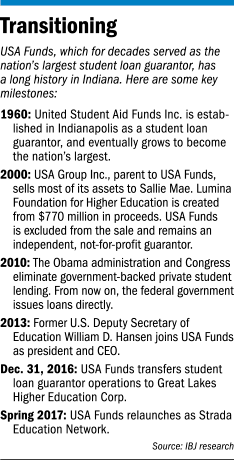 "Our universities are not producing graduates with the skill sets our businesses and companies are looking for," said Hansen, a former deputy secretary of education under President George W. Bush hired for USA Funds' top job in 2013. "I feel like we could improve our economy overnight if we could get alignment solved."

Strada is also planning in early 2018 to move its 75 employees from its Fishers headquarters to downtown Indianapolis. Hansen said its decision to lease and renovate 36,000 square feet in Market Tower was important to help the organization "form a new brand and a new culture."

"As we are changing our company to this new kind of holding company with the philanthropic, investment and operations arms, I thought it was important for us … to be more in the nerve center," he said.

In its 56-year history, USA Funds served 22 million students through its guarantor business. Federally funded loans traditionally were initiated by banks. Guarantors effectively insured lenders against nonpayment by borrowers. But as a result of 2010 regulatory changes eliminating government-backed private lending, the guarantor business wound down, and loans are now funded directly by the Treasury.

Its deal with Madison, Wisconsin-based Great Lakes Higher Education Corp. meant transferring ownership of affiliates United Student Aid Funds and Northwest Education Loan Association. The two groups had combined portfolios of $50 billion.

"That was a very momentous event for us," Hansen said. "It was not taken lightly. This was our legacy."

Strada officials say adoption of the new mission comes at an opportune time. There's increased attention in higher education on workforce development and rethinking the college experience.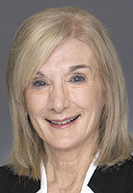 D'Amico
"We intend to put our imprint on this issue of making sure people get the right education for them and are able to launch a career as a result.," said Carol D'Amico, a former Ivy Tech Community College executive who's now Strada's executive vice president of mission advancement and philanthropy.

"One path [isn't] the right way for everybody. The environment is ripe for our issue. We'd like to think we're one of the leading philanthropic organizations devoted to this issue. I'm really encouraged."

In the organization's new structure, Hansen said, the best way to quickly and directly affect students and adults was to zero in on already-existing organizations and solutions that he believed could be expanded or boosted through philanthropy, investments or acquisition.

"We can hopefully lift each [organization] to be more impactful," Hansen said. "Some foundations that are the same size as us are a little more limited on what they can do. They can do policy research and grant making. By us being an operating company … we'll be able to affect thousands and thousands of students."

More change

While USA Funds awarded grants, Strada plans to do so on a larger scale. Hansen said the organization plans to dole out up to $40 million annually the next few years.

In contrast, in 2015 IBJ reported USA Funds was giving out $25 million per year, which was a jump from its 2013 giving level of $10 million.

Some of its grantees have included colleges and universities that have "reinvented the first-year experience," D'Amico said. It also funds Washington, D.C.-based Complete College America and Virginia-based Jobs for America's Graduates, as well as a range of Indianapolis not-for-profits, including the Center for Leadership Development, the Indiana Latino Institute and the summer-jobs organization TeenWorks. It even has given seed money to startup schools, including the Purdue Polytechnic High School in Indianapolis.

Strada also aims to spur change by investing in education-related venture funds and startups.

Hansen, who called the investment strategy an "evolving dynamic," said some education companies are looking for something different from the typical investor, where there is a "different expectation on return, speed of return, or exit strategy."

For example, in 2016 USA Funds teamed with the investment firm University Ventures and the private equity firm Eden Capital to invest in Revature, a Virginia-based coding boot camp.

Some of the bets will pay off, Hansen said. Others won't, but Strada still will learn from the experience.

"If it works, it works," he said. "If it doesn't, we've hopefully moved the needle to some extent and hopefully learned to some extent. There's some brilliant people trying to solve these challenges."

Making a mark

But officials say Strada's biggest impact might be its recent acquisitions of five small education-related companies that Hansen said are primed for growth.

That strategy started in 2015 when USA Funds bought a minority stake in California-based Roadtrip Nation, which sends teens on road trips to explore different careers and produces related educational content. Strada is now its sole owner.

Roadtrip Nation cofounder Mike Marriner said that, before Strada's investment, it had 20 employees. Now, it has about 80.

"We realized there was a lot we weren't doing because we didn't have the resources or support to do it," Marriner said. "Now we have access to more resources to make investments that we otherwise weren't making and doing it in a way that is mission-aligned."

Also in 2015, USA Funds acquired Ohio-based Education at Work, which operates call centers on college campuses.

For instance, it operates a PayPal center at Arizona State University, where students get paid hourly for part-time jobs answering emails and doing social media and back-office work for the online-payments company. Depending on students' grade-point average, they also can earn tuition assistance.

Senior Vice President Tanya Gantzer said Strada's acquisition opened opportunities for the business. It was "because we're part of the Strada brand that we were able to attract colleges like Arizona State University and engage them," she said.

DXtera Institute Inc., a Washington, D.C.-based not-for-profit that helps member colleges connect information systems, became a Strada affiliate in September.

President Dale Allen said "the challenge that most colleges and education agencies face is, you have all this data you collect about students, your finances, business operations, but the software cannot pull [meaning] out of the data efficiently or effectively."

USA Funds last July launched Student Connections, which uses technology to help students overcome barriers to enrolling in college and completing degrees, and also helps colleges analyze student borrower data. In October, it became a stand-alone, not-for-profit affiliate.

And most recently, Strada in May acquired Portland, Oregon-based InsideTrack. InsideTrack coaches—available via voice, video, email and social media—help students navigate college hurdles.

For instance, Ivy Tech Community College hired InsideTrack coaches to work with its 21st Century Scholars students, who were dropping out at high rates.

Students who conferred with their coach five or more times through the year were 20 percent more likely to maintain good academic standing than those who did not, according to a company case study.

CEO Pete Wheelan said the company had not been looking to sell but decided to do so in part because it felt Strada could "elevate the social impact of what we do."

Hansen said he's aiming for the "double bottom line" on Strada's investments: good performance and positive impact.

"Owning a business is as important as making an investment," Hansen said. "You'll hopefully be making the same bottom line, but you're also getting the impact of the services the business is delivering."•