No doubt you've heard many an eatery described as a hole in the wall.

Well, Chef Oya's The Trap (3355 N. Keystone Ave., 317-762-6172) is, literally, a hole in the wall. There's a wall. There's a hole—OK, a window—in it.

A takeout window built into the side of a liquor store, Chef Oya's offers a limited selection of seafood offerings and just one picnic table in front on which to devour it. A steady stream of converts speaks to local loyalty for the easy-to-miss operation.

It's good to have some idea of what you are getting before you reach the window, especially if folks are lining up behind you in the parking lot. Just keep in mind that sauce selection is as important a decision as which seafood combination is going to bathe in it.
First question: Just seafood (aka The Classic Trap)? Or do you want potatoes, broccoli, corn and a boiled egg in the mix (aka The Loaded Trap)? As fans of a mix of flavors, we went with the latter.

Next question: What combo of crab legs, lobster tail, shrimp and salmon do you want? There is a Trap Salad available, too, and before you say that's not what you are here for, consider that you can have it with YoungBae Steamed Shrimp or YoungBae Poached Salmon on top. (The seasoning is available by the tin for $12.)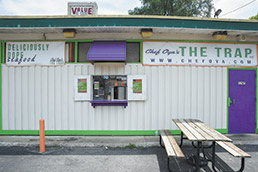 Diners order through a window. Claim the sole table early if you want to eat your seafood on site. (IBJ photo/Eric Learned)
Finally: Which sauce?
We opted for Salmon with Shrimp ($15) and Lobster Tail with Shrimp ($27), giving one the Island Curry treatment and the other the OG Garlic Herb. Our naive question about whether the sauces could come on the side was dismissed out of hand: That's not how things are done here.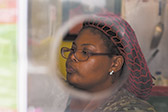 (IBJ photo/Eric Learned)
Once the food was delivered, the reasoning was clear. The seafood itself was fine—if returning, we'd stick with the salmon and shrimp since the lobster tail, while good, wasn't worth the monetary upgrade—but the house-created sauces are what makes it all distinctive. (The two we ordered—as well as Yaad Jerk and Sweet Thai Chili—are also available by the bottle at $11 each.) The sauces not only upgraded the seafood but also enhanced the veggies and starches that swam with them. If there were a polite way to sip the remaining sauce, well ...

Speaking of drinks, you can go to the other side of the building and pick up a soft drink in the liquor store. Or you can have whatever drink Chef Oya is offering that day. In our case, it was a strawberry slushie that added a bit too much sugar shock to the otherwise subtle meal.

Final advice: If you are going to dine at the picnic table, make sure you're with someone you're comfortable getting messy in front of. Snag plenty of napkins and dig in.•

—Lou Harry