Lew Miller never envisioned he would be living alone in the tight quarters of a one-bedroom apartment at East 21st Street and College Avenue.

He served four years at Altus Air Force Base in Oklahoma and then finished his schooling, earning a degree in business management and economics. For years, he held a steady job with General Electric in Indianapolis.

But after a divorce from his wife of 23 years and being placed on house arrest for operating a vehicle with an alcohol concentration equivalent to 0.15 percent or more, Miller needed a new place to stay.

As an Air Force veteran, he was eligible for services from the Hoosier Veterans Assistance Foundation of Indiana, which connected him with Indianapolis real estate investor John Gremling.

The 52-year-old has lived in one of Gremling's apartments—recently renovated with fresh paint, new countertops and new carpeting—since March.

"It's been a breath of fresh air," Miller said. "It's clean. It's spacious and at the end of the day, it's mine."

Miller's new home came as a part of Gremling's six-year effort to help house formerly homeless veterans while saving for his own retirement.

Using funds in a self-directed Roth IRA account, Gremling buys and sells property to rent out to tenants, including veterans seeking help from organizations like HVAF. The money exchanged in this account can't be removed without incurring tax penalties until Gremling is at least 59-1/2 years old.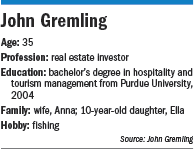 At age 35, Gremling already owns about 25 buildings through his IRA. He said 21 of his 83 units currently house formerly homeless veterans, and that he's helped place 125 veterans since 2011.

"These apartments are great," Gremling said. "This is not transitional housing, but if you think of something past that—hopefully, this is where people can get stability and then keep moving."

Gremling began investing through his self-directed IRA after doing well on traditional real estate investments.

His career started out in a different direction. After studying hospitality at Purdue University, he worked for his parents' document-management company and used his commission checks to make real estate investments.

He eventually left the family business to become a full-time landlord and real estate investor, drawing in part on his experience as resident assistant at Purdue. He said he branched into investing through a self-directed IRA because of its tax benefits.

Unlike traditional IRAs, self-directed Roth IRAs allow earnings, like rent payments, to accumulate completely tax-free. This money can then be reinvested in areas like property maintenance or additional real estate purchases.

Gremling opened his first self-directed IRA in 2009 with $3,500. He used the entire amount to buy a partially occupied apartment building that needed fixing up. The property is now worth $350,000, he said.

Saving for retirement in this way is uncommon. Most IRA custodians restrict investing to stocks, bonds, mutual funds and CDs. One of the exceptions is Gremling's custodian, Westlake, Ohio-based Equity Trust Co.

Another factor that makes this path less traveled is that most people hold the bulk of their retirement savings in company-sponsored 401(k)s, said Matt Wilson, Equity Trust's CEO.

"Most 401k(s) don't provide the option to go to an alternative or a real estate self-directed-type investment," he said.

Opportunity to help

Two years after opening his IRA, Gremling learned of HVAF's program to place veterans in affordable housing near bus routes and employment opportunities.

Gremling's low-rent apartments on Indianapolis' near-north side fit the program's requirements, providing safe, clean and affordable housing in an optimal location. The fact that HVAF helps cover rent and utilities gave Gremling confidence that housing veterans was a safe investment.

The more he learned about the challenges veterans face, the more interested he became in getting involved.

"There's a lot of people that you run across in real estate as a line of work and most of them don't appreciate what we do," he said, referring to landlords. In contrast, the veterans "really appreciated the opportunity for a second chance."

Last year, 663 veterans were homeless in Indiana, according to the Indiana Housing & Community Development Authority's 2016 Point-in-Time Homeless Count.

Many of Gremling's veteran tenants had spent nights in Wheeler Mission, in other transitional housing or with friends. Some now pay rent as low as $400 to $425 a month with utilities included.

Gremling rarely turns away veterans. He said he accepts many with criminal records, unless they have a background of drug dealing or violence.

"We accept people … that have had a hurdle, people that are wearing ankle bracelets," Gremling said. "Life happens. That's part of giving a second chance."

Many veterans face "unique barriers," said Debra Des Vignes, HVAF's vice president of communications.

"When you think of all the things they've seen and they've experienced during service, a lot of times there's certain dependencies that veterans can fall into, whether it's drugs or alcohol or post-traumatic stress disorder," she said.

Jumping through hoops

Financing apartments through a self-directed IRA can bring challenges for investors like Gremling.

The investment tool is subject to strict Internal Revenue Service rules. Any money earned through the IRA, such as rent, must go directly into the IRA—never into the investor's personal account. Likewise, any money spent must come directly from the IRA. This means that, for a trip to the hardware store for repairs, Gremling must request money from his IRA custodian, rather than writing a check himself.

Even though Gremling won't be allowed to touch the returns of his investment for more than 24 years, he said his Roth IRA is putting him on a path to retiring the way he wants.

He has even helped his 10-year-old daughter open her own self-directed IRA, which she used to buy a duplex that houses a veteran.

Gremling said he doesn't expect to expand any larger than operating 100 units. He takes pride in the rapport he builds with tenants like Miller.

"I don't plan on becoming a huge landlord," he said. "I don't think I could serve people as well. I enjoy the human side, the interaction of getting to know people."

Miller's life has not been easy during the four months he's lived in Gremling's apartment. Miller's 24-year-old son recently died, and going to work every day grew increasingly difficult.

Two weeks ago, Miller lost his job, and coming up with rent for the next month looked tough. But when he called Gremling to let him know he would be late on rent, it wasn't a problem.

"Anybody that communicates with me and tells me what's going on, it's taken care of," Gremling said.

Miller, who said it's been difficult learning to accept help, is grateful for Gremling's flexibility and open-mindedness.

Miller said he doesn't expect to live in his current apartment long, but he'll likely turn to Gremling when looking for his next one.

"It's been a rough road, having to put your pride aside and having to do some things you never thought in a million years you would do," Miller said. "I feel very lucky to have the resources I have, to be able to work with John in this type of setting."•